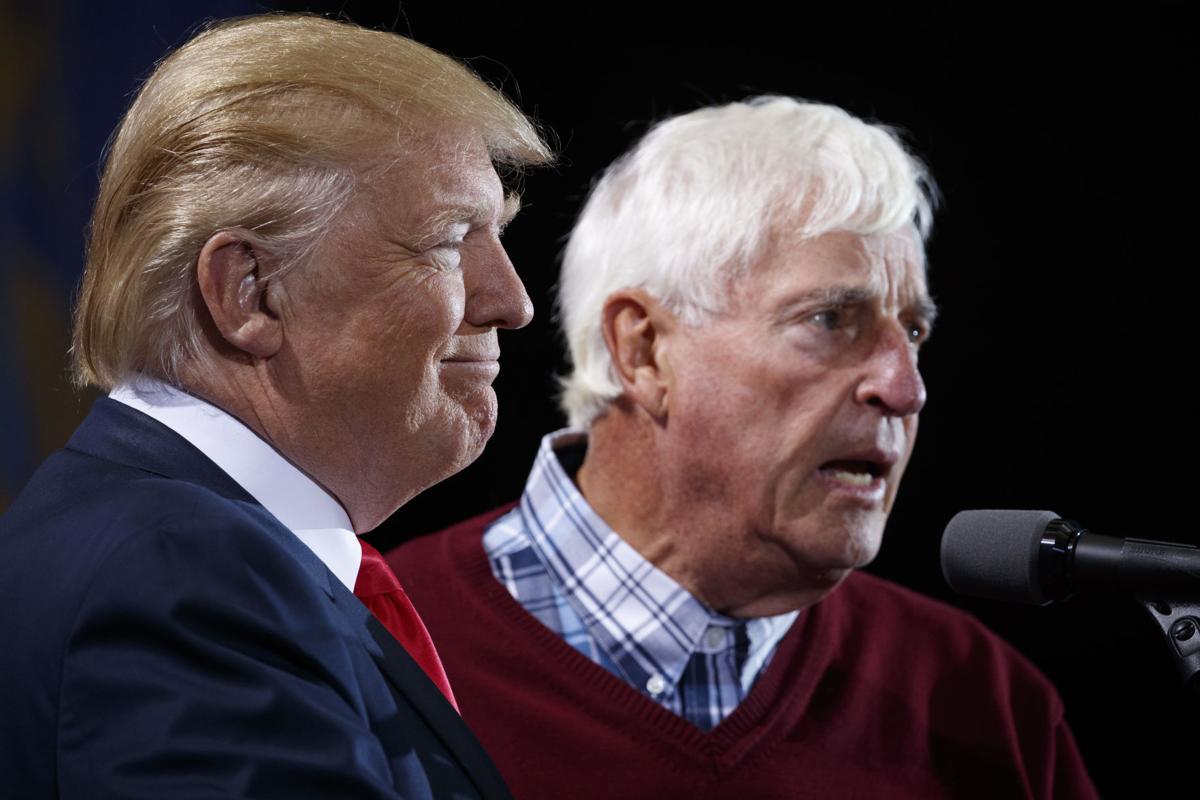 Republican nominee Donald Trump enters the homestretch of the volatile 2016 presidential campaign by making a strong push for votes in Wisconsin — despite consistently trailing in the polls here and lacking support from key conservatives.
Trump and running mate Indiana Gov. Mike Pence are scheduled to campaign in Eau Claire on Tuesday, one week before Election Day and amid a campaign shaken up by revelations of a renewed FBI investigation into emails tied to Democratic nominee Hillary Clinton.
It would be Trump's fifth campaign stop in Wisconsin since the Republican National Convention in July. And his Wisconsin campaign spokesman confirmed Monday he has plans for a sixth event in the state before Nov. 8.
By contrast, Clinton hasn't campaigned in Wisconsin since the April primary, instead sending surrogates and vice presidential nominee Virginia Sen. Tim Kaine, who will stump in Madison on Tuesday.
The campaign has taken a number of twists and turns throughout October, a month that began with revelations about Trump not paying federal income taxes, segued into allegations he groped women, and last week turned to questions of a renewed FBI investigation into Clinton's private email server.
The latest Wisconsin visits by Trump and Kaine could signify that the presidential contest in Wisconsin is tightening slightly, or it could be the latest symptom of a race that has defied all traditional rules for presidential campaigns, said UW-Madison political science professor Ken Mayer.
"Normally, you would expect a candidate to only go to where they think they're competitive," Mayer said, referring to Trump. "You could tie yourself up into knots trying to figure out the strategy by applying the traditional rules."
Trump is scheduled to speak at 7 p.m. Tuesday at Zorn Arena in Eau Claire. The 3,500-seat venue is in a county that favored Democrats in the past four presidential elections by on average 7.5 points more than the statewide results.
Mayer said in the final week a candidate's time becomes the most precious resource for a campaign. For that reason the visit fits with other "perplexing" stops for Trump, including two this week in Michigan, where Clinton is faring even better than she is in Wisconsin.
"Trump has got to find 270 electoral votes somehow, some way," said Democratic pollster Paul Maslin. "The truth is he's been blocked in North Carolina, Virginia and maybe Colorado. He's got to do something somewhere to change the dynamic."
Jim Miller, GOP chairman of the 7th Congressional District, which Trump won in the primary, said Trump is appealing to many voters who aren't mainstream Republicans.
"These are new people who are energized by Trump and wouldn't have come out for Republicans in the past," Miller said. "Normally, southeast Wisconsin will pull us across the finish line. We're trying to pad any numbers up north by getting as many votes as we can in the northern counties."
Wisconsin has 10 electoral votes.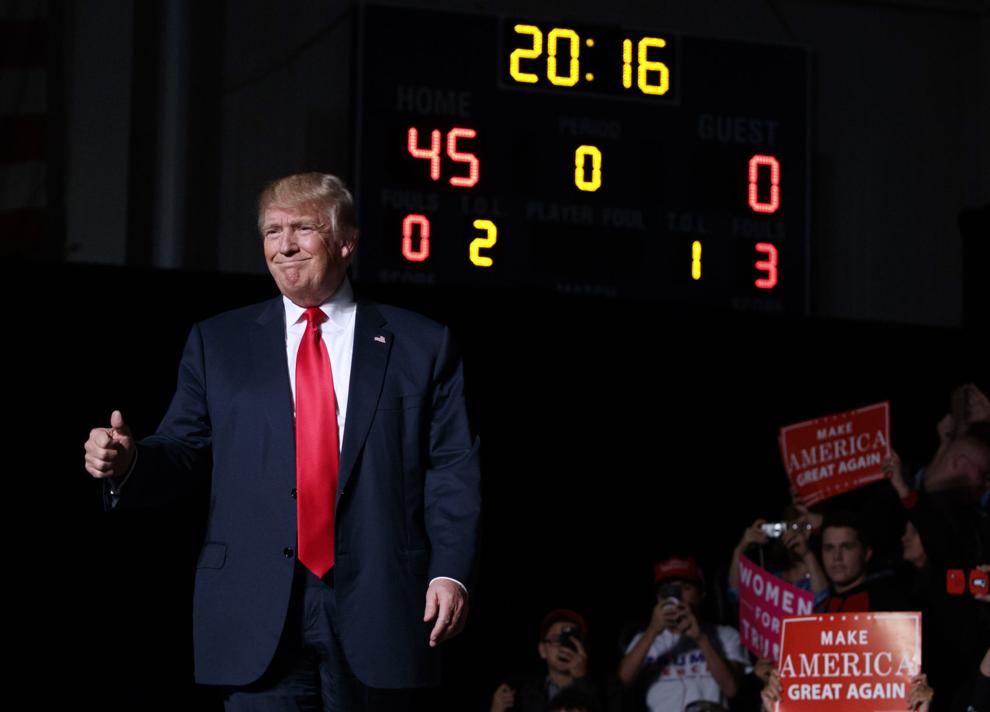 Struggles in Wisconsin
Trump failed to win the Wisconsin GOP primary after top state Republicans and other conservative leaders backed Texas Sen. Ted Cruz. Since then polling has showed him struggling to win the kind of Republican support in the Milwaukee suburbs he would need to win the state.
Mitt Romney, the 2012 GOP nominee, led Barack Obama 65-29 in the Milwaukee suburbs in early October 2012, according to the Marquette Law School Poll. By comparison, Trump leads Clinton 39-37 in the same area.
Trump's efforts in Wisconsin were complicated after an 11-year-old recording surfaced of him making predatory comments about women. House Speaker Paul Ryan of Janesville disinvited Trump from a Republican unity event in Elkhorn and later said he wouldn't defend nor campaign with his party's nominee.
Ryan will be campaigning with House GOP candidates in Indiana, Michigan and New York on Tuesday, his spokesman said.
Gov. Scott Walker will be campaigning with Trump in Eau Claire, his spokesman said. It will be the second time Walker, a former presidential contender who signed a pledge to support the nominee, campaigns with Trump in the state, and the first since the Elkhorn event.
A spokesman for Sen. Ron Johnson, who is seeking re-election, didn't respond Monday to a request for comment on whether Johnson will campaign with Trump. Former New York Mayor Rudy Giuliani will campaign for Trump in Green Bay on Tuesday.
Trump told ABC News last week that he expects to win more than the toss-up states of North Carolina, Florida and Ohio, adding "we just got great numbers on Wisconsin." His campaign didn't elaborate on what those numbers are.
According to the Washington Post, Trump campaign CEO Steve Bannon is looking to devote time and resources to three states that traditionally vote Democratic that he thinks Trump can win: Michigan, New Mexico and Wisconsin. Trump's Wisconsin campaign spokesman Matt Schuck said the Badger State is in play and Trump will be back again before Nov. 8.
"Donald Trump is running to represent every American who is tired of the status-quo approach to politics that have stagnated economic growth, sent our jobs overseas and weakened our military," Schuck said. "We can persuade a vast majority of Wisconsin voters with this message."
Trump trails in the latest RealClearPolitics average of Wisconsin polls by 5.7 points. Election forecasting website fivethirtyeight.com gives Clinton an 83 percent chance of winning the state, though that's trending down from two weeks ago. A new Marquette Law School Poll is due out Wednesday, the first in three weeks.
First skip in decades?
Clinton has yet to visit the state during the general election and could become the first major party candidate since 1972 to skip it, according to UW-Madison political science professor Barry Burden.
However, Clinton has been sending several surrogates. Vermont Sen. Bernie Sanders plans to attend a rally in Milwaukee on Wednesday, and daughter Chelsea Clinton is planning to campaign in Eau Claire and Oshkosh on Wednesday and Milwaukee on Thursday.
When Kaine visits Appleton and Madison on Tuesday it will be the third time both Trump and Kaine are in the state on the same day.
"Hillary for Wisconsin has been working hard for months talking with voters about the stark choice in this election, and early vote numbers show that Wisconsinites are turning out for Hillary Clinton," Clinton's state campaign spokeswoman Gillian Drummond said. "While Hillary understands the challenging world in which we live and will keep us safe, Donald Trump is too erratic and dangerous to have control of nuclear weapons."
Campaign ad spending in Wisconsin is down from the past two election cycles. In 2008, the presidential candidates spent $20.2 million in Wisconsin, and in 2012 they spent $14.4 million.
The Trump campaign didn't begin spending in Wisconsin until the week of Oct. 9 and Clinton's campaign started spending on ads this week. In its first two weeks, the Trump campaign spent $820,647.
State Journal reporter Molly Beck and The Associated Press contributed to this report.
Percentage of respondents who would vote for candidates in the most recent Wisconsin polls.