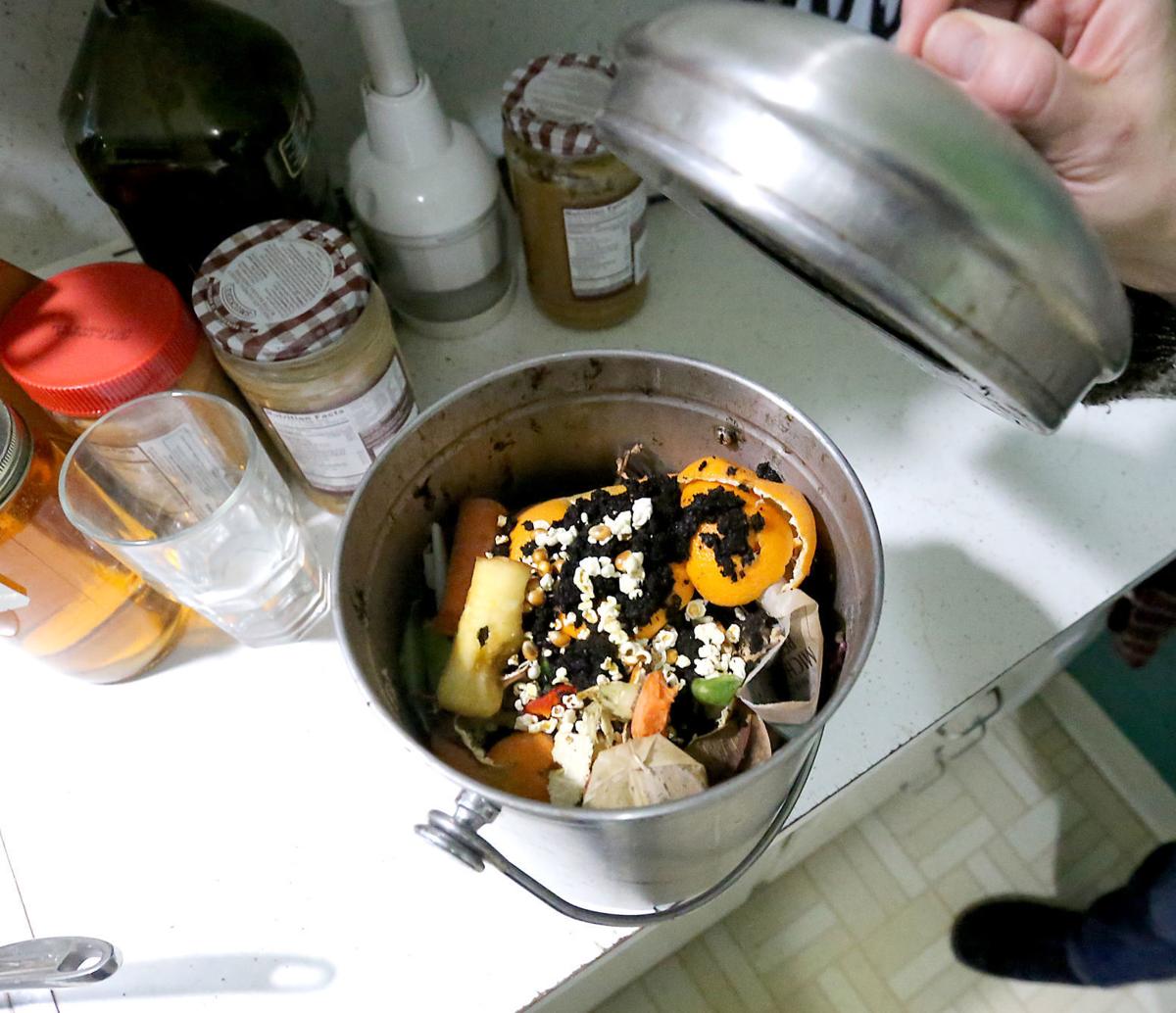 With new rules and new branding, the city of Madison is set to conduct another experiment in an eight-year-long quest to divert food waste from the landfill.
But many other items — bones, eggshells, nut shells — cannot be collected. Thus, the city's emphasis on avoiding the C word — composting — or, for that matter, the O word — organics.
"Calling it a 'food scraps' program is deliberate," said city recycling coordinator Bryan Johnson. "The previous program's name was a little opaque, we think. The term 'organics' allows for some room for interpretation by the volunteers, which could very well be why we wound up with things like linens and yard debris in the carts."
Terry Mouchayleh, who moved with her husband from Texas to the Parkwood Hills neighborhood of Madison in 2017, are among the West Siders who have agreed to be the city's guinea pigs.
"Wisconsin is such a gorgeous state and people really work hard here to make it stay that way," Mouchayleh said, explaining why she signed up.
Amy Irving's four-person, Sauk Ridge Trail household — including two children — already composts the used bedding from its chickens and used to take its food scraps to a collection point at UW-Madison, where she works.
"Years ago, back when the original pilot began, I was excited to hear that Madison would start curbside collection for food scraps," Irving said. "I kept waiting for a full roll-out, but it never came. When the notice came for this new pilot, I immediately signed up. Our household has a good amount of food scrap waste as we eat a lot of fresh foods."
Weekly curbside collection of the scraps of about 200 households will run from Aug. 2 to Sept. 20 on Fridays. Scraps will go to the Envision biodigester in rural Middleton. The biodigester, owned by Gundersen Health System, now accepts cow manure and some food scraps to generate biogas to help fuel the system's power needs.
Other than the new rules and new name, the biggest change from the earlier pilot program will be oversight.
Rather than using Madison's automated fleet of garbage trucks that employ a mechanical arm to pick up trash and recycling carts, the city will use two-person teams — one to drive the truck and the other "to inspect the cart at the curb to look for contaminants," Johnson said.
Carts containing no-nos will be left at the curb and picked up later for transport to the landfill, he said, and the guilty party will get an "oh, no!" letter from a field supervisor and an email.
Mouchayleh hasn't composted before, but wasn't worried about the extra sorting the pilot program would require. She's retired, "so (I) don't have as many things on my mind," she said.
The city is also working with a Weston company to create a smartphone app that will help volunteers navigate the dos and don'ts.
Having a container full of rotting food in one's kitchen can be among the downsides of composting, but Irving wasn't "too worried, especially because we can empty that smaller container into the garage bin whenever we need."
The city's earlier organics pilot program started out taking a wide variety of materials, including disposable diapers, pet waste and greasy pizza boxes.
That list contracted over the years as it became clear there were few places that would accept such a diversity of materials and as some items mucked up the works at processing sites. Plastic bags in particular were a continual problem.
Johnson said operators of the Middleton biodigester are worried that "shells and bones, when ground up, can act like sandpaper when passing through their system."
The city wants participants to put the scraps in the cart loose — meaning not in bags, Johnson said, but "if the volunteer really needs to bag their food scraps, we're willing to accept simple brown paper bags, like grocery bags, or even newsprint.
"But no compostable plastic bags," he said. "No biodegradable plastic bags. No plastic plastic bags."
Results of the pilot will be used to guide the city's refuse policy going into 2020.
"I really feel that composting is going to become as common as recycling has," Irving said. "It always takes some time to work out the kinks of a new system, especially when doing it on a scale as large as a citywide program. But I think if anyone can do it, we can."
There are at least two private curbside composting companies advertising their services in Madison. Rooted Curbside Compost offers weekly or every-other-week pickup for $10 and $12, respectively, while Curbside Composter offers weekly pickup for $7.
Both companies reported having more than 100 residential and commercial accounts each in municipalities including Madison, Monona and Middleton.
Get Government & Politics updates in your inbox!
Stay up-to-date on the latest in local and national government and political topics with our newsletter.