MIDDLETON — Her face still glistening with coconut oil — the residual effect of burying her face in Stormy Daniels' chest — Fawn Stenson was overwhelmed with emotion after meeting the famous porn star at a strip club here Friday night.
"She has given me strength to stand up and talk about things I had been too scared too talk about," said Stenson, a freelance makeup artist who was granted the intimate introduction after showering Daniels with 100 $1 bills.
"It's not just me she has helped," Stenson said. "She has helped millions of women to stand up for themselves. She's a national hero to so many of us."
Stenson was among the hundreds who packed Silk Exotic to watch Daniels, the 39-year-old porn star who says she had an affair with President Donald Trump in 2006.
Daniels, whose real name is Stephanie Clifford, is suing Trump so she can be released from a legal agreement reached before the 2016 election that included a $130,000 payment to stay quiet about the affair. More than a sensational political story, the scandal has also raised Daniels' profile as a performer, something she has not been shy about cashing in on with a nationwide tour of strip clubs, including a stop in Milwaukee Saturday night. Daniels' chatter with reporters and her fans, like her wardrobe, is kept to the bare minimum..
Security was tight at Friday's show, which featured two 15-minute performances by Daniels in front of a mixed crowd of Trump supporters and detractors. There was a $30 cover charge to see the shows, and the club also sold all 21 of its reserved tables and all six of its VIP tables, according to Silk Exotic general manager Kyle Zubke.
Dozens stood in line between the shows for the opportunity to pay Daniels $20 for a signed photograph or take a selfie with the star. Autographed caps promoting Daniels' tour could be had for $50.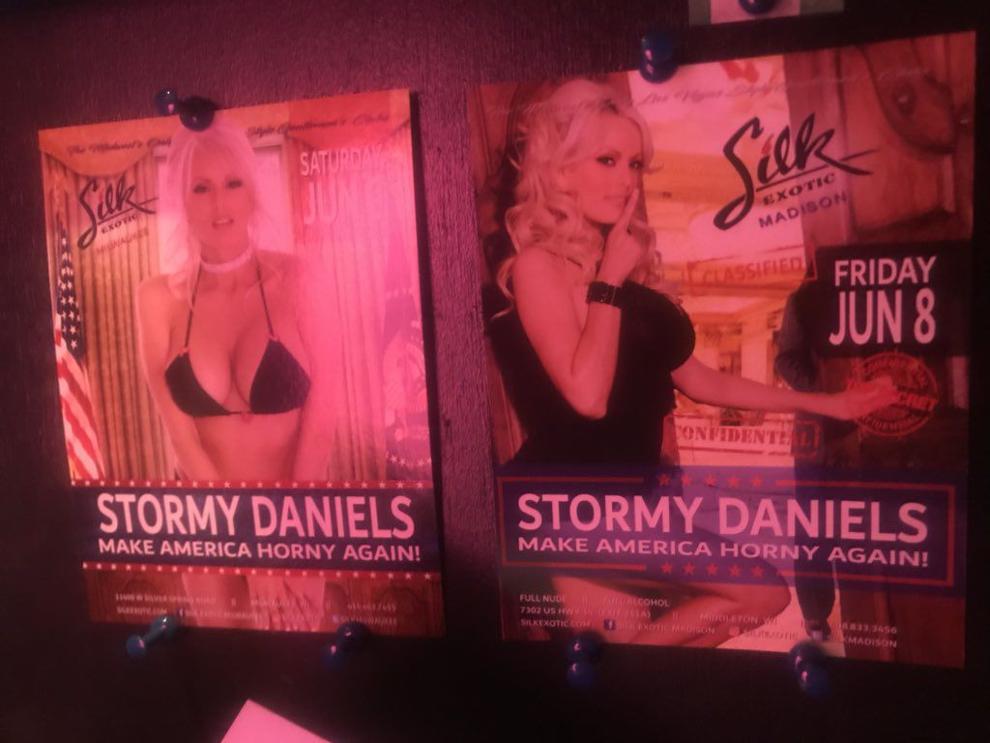 Duane Marxen, of Middleton, bought a reserved table for himself and three friends and was the first to buy an autographed cap.
Describing himself as a progressive Democrat, Marxen admitted he left his wife at home on their 33rd wedding anniversary so he could spend the evening at Silk Exotic as a show of support for one of the president's chief tormentors.
"I hope every buck spent here tonight goes to help her out with her legal expenses," Marxen said.
Others said that they came just to catch a glimpse of someone who has been so much in the news.
Hannah Wehner, of Oregon, was hoping to get close enough to Daniels to shake her hand.
Denny Fossati, of Madison, was drinking a "Dark and Stormy"— two parts rum to one part ginger beer — and hoping to get Daniels to autograph the cover of a magazine that featured an article about Daniels. Laughing with a group of friends, Fossati recalled Daniels' claim that she once spanked Trump with a magazine. "I hope she slaps my butt with it," he said.
Kelly Richards, 22, of Minneapolis, drove five hours with four friends to see Daniels' performance and get photographed with her. She also got Daniels to autograph her upper thigh with a Sharpie. "I'm going to take a picture of it and keep it forever," she said.
Richards and Stenson were among the hundreds of women in attendance who were the loudest and most supportive of Daniels during her first performance. There were as many women as men seated around the raised performance floor throwing money at Daniels as she paraded around to "American Woman" during her first performance; many more crowded close to the floor.
Asked whether it's foolish to idolize a porn star, Richards responded sharply. "I say to those people that they should stop living in the 1500s," she said.
"Stormy Daniels is an inspiration, an icon. She's progressive in her views and her body positivity. She's not just a porn star. She's so much more than that," Richards said. "Look at the hold she had on the people here tonight. Both sides were represented and there was no trouble because of their fascination with her."
Richards says she respects Daniels for taking control of the story surrounding her and benefiting financially from it.
"We're not talking about white feminism here. All women can learn from her that they need to tell their stories, that they need to be heard. She's a necessity in this day and age," Richards added.
Mia Morrisette, of Madison, offered similar sentiments.
"In her you see a sex-positive person in charge of her future," she said. "She speaks the truth. She embodies feminism and conflict that women face in their everyday lives. All of that is wrapped up in this club tonight."