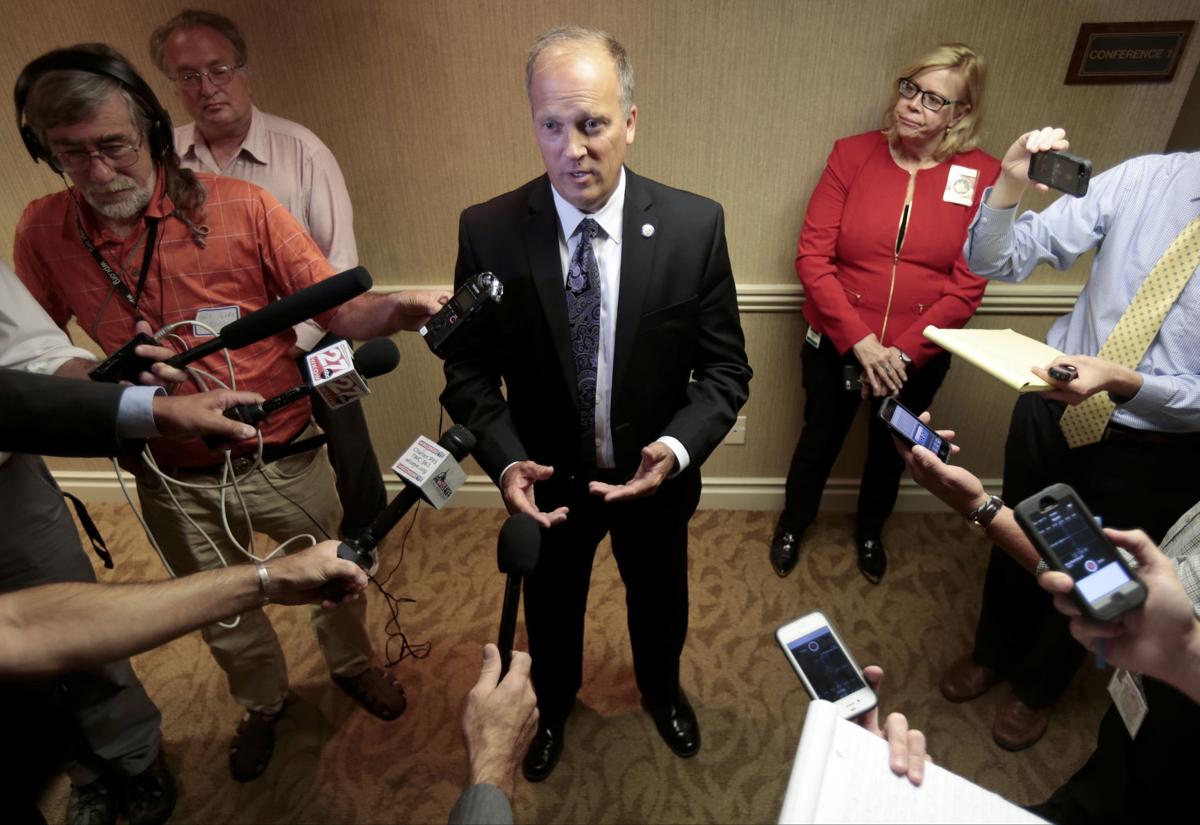 A newly disclosed state ethics investigation would likely have remained secret as required under state law had Attorney General Brad Schimel not revealed its existence in a recent report on leaked documents from a now-shuttered investigation into Gov. Scott Walker's 2012 recall campaign.
The Wisconsin State Journal has confirmed that the state's former ethics agency, the Government Accountability Board, authorized the ethics investigation into whether lawmakers or taxpayer-paid legislative staff members were campaigning on state time — a review reminiscent of the widely publicized caucus scandal that roiled the Capitol after the Wisconsin State Journal first reported it in 2002.
In this case, the newspaper has learned, the GAB — a panel of six retired judges appointed by the governor — closed the 16-month investigation in March 2013 without recommending criminal charges or penalties. State law requires such inquiries to remain secret unless they result in penalties or criminal charges.
It was not publicized until Schimel this month issued his report on the leaks stemming from the so-called John Doe II investigation into Walker's recall campaign. Schimel's report for the first time unmasked the identities of subjects of the previously undisclosed ethics probe, including state Sen. Leah Vukmir, R-Brookfield, who is now running for U.S. Senate.
In his report, Schimel erroneously referred to the separate GAB ethics probe as "John Doe III," even though it wasn't a John Doe investigation — a separate type of secret law enforcement tool with different rules.
Schimel's report stated Department of Justice investigators were "not able to discern any limit into this investigation," but didn't mention that it was authorized by the GAB or that it had a start and end date.
The State Journal confirmed additional details of the ethics investigation with multiple sources, most of whom asked that their identities not be revealed because the state's confidentiality rules governing ethics investigations prohibit their disclosure with a penalty of up to a $10,000 fine and nine months in jail.
Former GAB ethics administrator Jonathan Becker said he was not aware of there ever being a "John Doe III," a term Schimel coined to describe GAB investigation No. 2012-01, the one looking at whether state employees were campaigning on taxpayer time.
That type of activity was at the center of the 2002 legislative caucus scandal, which resulted in felony convictions of top legislative leaders. Two of the six felony convictions in what is now known as the John Doe I investigation into Gov. Walker's Milwaukee County office were also related to campaigning on taxpayer-funded time.
Becker said the Milwaukee County District Attorney's Office provided evidence it had collected during the John Doe I investigation to the GAB, which did not seek warrants for records itself. It is not unusual for the state's ethics agency to conduct secret investigations when presented with evidence in a complaint or a referral from law enforcement.
"There was an investigation that I can't talk about," Becker said. "I have maintained confidentiality my whole professional career on this stuff, unlike the Attorney General who may have violated (the confidentiality laws related to ethics investigations) by talking about this stuff in his report."
Schimel spokesman Johnny Koremenos said DOJ agents were authorized to review the contents of the GAB investigation because the agents suspected they included records related to the John Doe I and II reviews.
Koremenos didn't respond to a request for comment on why Schimel referred to the authorized ethics investigation as "John Doe III" or why he was able to disclose the identities of those under investigation publicly.
Records custody
at issue
The John Doe II also originated from evidence collected by Milwaukee County investigators as part of the John Doe I investigation, which closed in February 2013. The second John Doe was eventually shut down by the Wisconsin Supreme Court, which ruled the underlying legal theory advanced by Becker and others at the GAB was invalid.
Milwaukee County District Attorney John Chisholm declined to comment on his office's role in gathering evidence for the ethics probe.
"I am still subject to those secrecy orders, as would be the Attorney General unless specifically authorized," Chisholm said in an email.
Schimel's report criticizes the former GAB for lax record-keeping that allowed secret documents from the John Doe II investigation to be leaked to the Guardian U.S. newspaper, which published previously unknown details of the investigation in September 2016.
It called for contempt-of-court proceedings against nine individuals and spurred state legislative leaders last week to call for the resignation of the administrators of the Ethics and Elections commissions.
The report takes issue with John Doe special prosecutor Francis Schmitz and Ethics Commission staff for not turning over the "John Doe III" records, which were found in May in the Ethics Commission office's basement storage area in a box labeled "GAB investigation files-closed, 2012-01 State time campaigning." The box was in a file cabinet labeled with former GAB lawyer Shane Falk's name attached and another ethics investigation file box labeled "GAB investigation, 2013-02 Confidential."
The Wisconsin Supreme Court had ordered all records related to the John Doe I and II investigations be turned over to it. Falk's hard drive, which Schimel suspects contains the records leaked to the Guardian, is still missing.
Hard drives held 500,000 emails
Becker said evidence from closed GAB ethics investigations was stored in a locked file cabinet outside his office and after a number of years transferred to a locked storeroom in the basement. Ethics Commission administrator Brian Bell, who wasn't involved in the original ethics investigation, found the boxes in a file cabinet and reported them to DOJ, according to Schimel's report.
Falk said he was not involved in the GAB 2012-01 ethics investigation, though he was able to confirm it was approved by the GAB panel of retired judges in December 2011 and closed in March 2013.
He said when the GAB was reorganized in 2016 it's likely the files were consolidated in storage.
"Either there was space in a box they put my name on or whomever boxed the files up mistakenly believed the 2012 investigation was part of John Doe II or something I worked on," Falk said. "Neither are true, of course."
The report said the boxes contained hard drives with 500,000 emails totaling millions of pages and transcripts of Google Chat logs between several individuals "most of which were purely personal (and sometimes very private) conversations." Many of the emails, including 150 between Vukmir and her daughter, were placed in folders titled "Opposition Research" — a term that refers to political dirt collected on opponents.
Schimel concluded the folder name, the breadth of the records and other statements GAB investigators had made in emails demonstrated "the weaponizing of GAB by partisans in furtherance of political goals."
"I certainly have questions about what in the investigation led to being authorized to get those emails," Schimel told reporters last week. "But I'm more concerned with why did they retain them at all then."
Schimel's report emphasized that no charges were ever filed and his investigators found no evidence to support the allegations of campaigning on state time among the recovered documents. The report doesn't mention that the GAB drew the same conclusion in 2013.
Vukmir 'horrified' over practice
Schimel's report says investigators obtained complete personal email accounts, chat and messenger logs, contact lists and IP login information for 35 people, including Vukmir, the only elected official on the list.
In a recent interview with WISN 12, Vukmir said she was "horrified" to learn her private emails "were obtained and placed on a hard drive in a place that many people had access to."
"It calls into question how a government agency can operate this way," Vukmir said.
She didn't respond to an interview request.
Retired Judge Neal Nettesheim, who oversaw the John Doe I investigation, said in an interview he doesn't have a specific recollection for why Vukmir's private emails would have been subpoenaed. But he said he carefully reviewed every request for a subpoena or warrant that came before him.
Each would have had to state some of kind probable cause or reasonable suspicion that a crime had been committed to acquire the emails.
"I would always want to be satisfied we were not running amok and it was not becoming an unwieldy mess," Nettesheim said. "I was satisfied at the time and remain satisfied that all the areas that were probed in John Doe I were legitimate and proper."
Get Government & Politics updates in your inbox!
Stay up-to-date on the latest in local and national government and political topics with our newsletter.