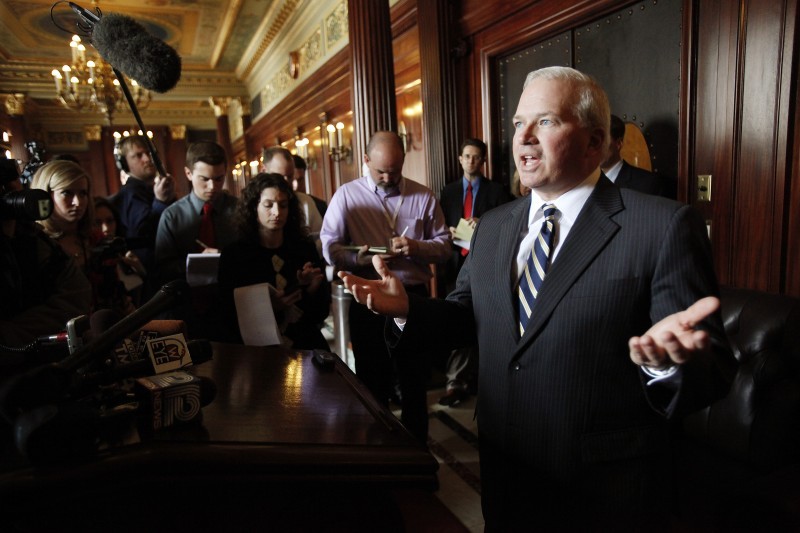 Wisconsin's Republican legislative leaders have said the voting district maps they drew last year were not aimed at political advantage, but new documents made public Tuesday show they discussed ways to increase the number of "safe" and "leaning" GOP districts and to protect conservative incumbents.
In one email, state Sen. Leah Vukmir, R-Wauwatosa, offered these thoughts about redrawing her district: "Western Wauwatosa — yes (more GOP)," "West Milwaukee — No (forgot to mention this part of current district — VERY Dem" and "Milwaukee — cop wards if needed."
She also wrote in the May 4, 2011, message to Tad Ottman, an aide to then-Senate Majority Leader Scott Fitzgerald, R-Juneau, "This is such a big task. So glad we are in control!"
Ottman worked on the redistricting plan out of the office of law firm Michael Best & Friedrich, which helped write the plan.
Vukmir could not be reached Tuesday for comment.
One document released Tuesday detailed how many districts would be safe for Republicans, GOP-leaning, swing districts, safe Democratic, or lean Democratic under at least one version of the redistricting plan. It showed a dramatic increase in likely GOP seats, but Ottman said that chart did not represent the final breakdown.
Another chart shows a breakdown of the last 10 years of Wisconsin elections, and which districts went to Democrats or Republicans.
Ottman confirmed he prepared the charts.
The documents were among hundreds turned over to new Senate Majority Leader Mark Miller, D-Monona, by Michael Best & Friedrich, hired by Republicans when they controlled the state Senate. The law firm turned over its redistricting file to Miller on Friday, and his office shared it with reporters Tuesday.
Republican lawmakers had faced heavy criticism from Democrats for working in secret with the firm, which was paid $431,000 in taxpayer money for its work, to create new boundaries last year. The boundaries will be in effect for the Aug. 14 legislative primary.
Fitzgerald said political advantage was not the goal of the redistricting process.
"My criteria was creating maps that met all of the federal requirements and I could get the votes for," he said. "I have never said there was not a consideration given for incumbents."
And state Rep. Robin Vos, R-Rochester, said potential benefit to the GOP was not the main criteria.
"The three main factors were equal population, compact and contiguous, and maximum minority representation," he said.
Vos, who is also co-chairman of the Republican Assembly Campaign Committee added that GOP leaders always acknowledged the new maps might help the GOP.
"People will naturally choose the one that will give them an advantage at the ballot box. A little bit. Marginally," he said.
But Assembly Minority Leader Peter Barca, D-Kenosha, said the documents show Republicans were lying to the public.
"To me, it's sort-of the smoking gun that shows that all of their efforts were political, partisan and about protecting their power," Barca said. "It shows their deceitfulness. They consistently maintained this was not about politics."