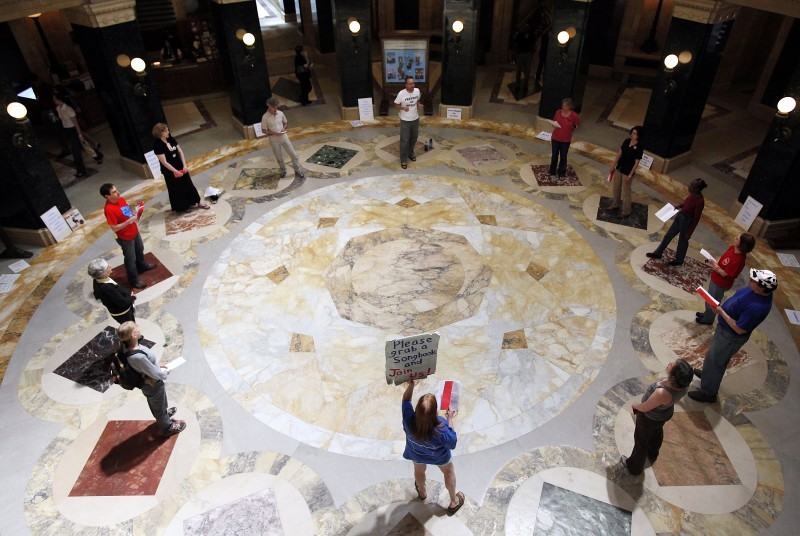 Gov. Scott Walker's administration on Thursday said it will require more permits for events, protests and other gatherings at the Capitol and other state buildings.
And state officials said they may bill people that organize, sponsor, promote or participate in events "for law enforcement expenses arising out of the event," such as the deployment of additional officers and overtime costs.
The updated policy, announced by the state Department of Administration on Thursday afternoon, went into effect that same day. But the DOA said there will be an "educational period" through Dec. 16 to help people learn about the policy, including informational sessions scheduled in the Capitol basement next week.
"Our goal is to provide equal and continual access for all Wisconsinites to their state buildings in a way that is reasonable and safe," DOA Secretary Mike Huebsch said in a statement.
The policy also allows for "spontaneous events" precipitated by unforeseen events.
Wisconsin's state Capitol has been flooded with tens of thousands of protesters over the last year. In February and March, the landmark building was the site of historically large demonstrations over Walker's proposal to all but end collective bargaining for public workers. Smaller protests at the Capitol have continued all year.
DOA spokeswoman Jocelyn Webster said the policy is nothing new, and the "updated policy is meant to remove confusion and create consistency" for both law enforcement officers and the public.
"This is all existing policy," she said, adding that it will now be more strictly enforced.
Under the policy, all displays and activity involving four or more people in the Capitol and other state buildings must be permitted at least 72 hours before the activity or display date, the DOA said.
The policy lays out a series of requirements, including:
• No use of the rotunda or corridors may disrupt building functions, including "unobstructed circulation through the building."
• People who get permits may be required to pay the costs of damage, repair, equipment setup, cleanup or excess security costs.
• All decorations or other items must be freestanding and cannot be attached to or leaned against walls.
• No helium balloons, candles, bubbles or "any other item that could be harmful to the Capitol may be used."
Chris Reeder, who leads the Solidarity Singalong that takes place Mondays through Fridays in the rotunda or outside the Capitol, said the policy "seems to be in response to the ongoing protests, and we are certainly part of that."
Webster said the singers will need a permit; Reeder said they would not seek one.
"We believe we are protected speech," he said.
He added that the group moves outside when there is another event scheduled in the rotunda during the noontime singalong.
"We believe we are an occupation, but we are a very polite occupation," Reeder said.