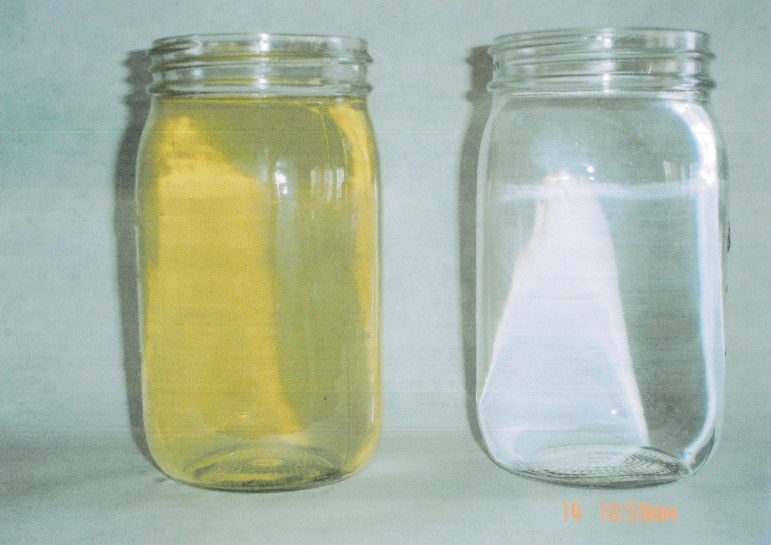 A sophisticated new analysis of conditions around hundreds of polluted wells in Wisconsin found that farming and animal manure pose far greater risks than other factors linked to two contaminants that have consistently posed serious health hazards in places with vulnerable drinking water sources.
The findings released Wednesday offer new insights into the longstanding debate about the role played by the state's agriculture industry — as opposed to septic systems — in the stubborn problems of bacteria and nitrate pollution.
The conclusions of the research led by U.S. Department of Agriculture microbiologist Mark Borchardt are bound to stir controversy because they raise questions about the adequacy of state regulations that are supposed to protect water from the hundreds of millions of gallons of dairy manure stored in lagoons and spread on the ground.
Borchardt described his findings Wednesday in a talk at the annual Midwest Manure Summit at Lambeau Field in Green Bay. In an interview with the Wisconsin State Journal before the conference, Borchardt said the study of Kewaunee County wells is applicable to all parts of eastern Wisconsin and other places in the Midwest with a porous bedrock formation called Silurian dolomite.
Borchardt's research team analyzed conditions around each of hundreds of wells, including distance from farm fields, manure storage sites and septic fields, along with data on well construction, and the depth to bedrock and groundwater.
He said he was surprised to see that the highest risk for coliform bacteria was not how near a well was to farm land, but specifically the well's proximity to a manure storage site.
"That was an analytical bombshell," Borchardt said. "I was thinking there would be other things that would be more important."
Coliform signals the possible presence of other bacteria, viruses and parasites that cause flu-like symptoms ranging from mild to severe to life-threatening. Nitrate is linked to potentially deadly methemoglobinemia, or blue-baby syndrome, as well as thyroid disease, diabetes and cancer in adults.
Both coliform and nitrate can come from human waste or animal manure, so there has been controversy about how to prevent them from getting into drinking water. The new study found the strongest statistical links by far were those linking coliform-polluted water with nearby manure storage. There was also a strong association between nitrate pollution and nearby farmland.
One of the ways farming interests have fended off proposals for tighter regulation of agricultural pollution has been by suggesting residential septic systems were a big part of the problem.
Shelly Mayer, executive director of the Juneau-based Professional Dairy Producers, said Borchardt gave the group's board of directors a preview of his findings, and she came away feeling that much more study was needed to determine next steps.
"There's just so many questions," Mayer said Wednesday. "Let's study, study, study, study. … We don't want to leap before we know. Sometimes when we start messing with systems we can make matters worse."
Law allows leakage
Under federal standards that have been adopted by Wisconsin, manure storage lagoons don't need to be lined with impermeable material, and some leakage is legal.
But the risk from lagoons might not be all about leakage, Borchardt said. Stored manure is spread on fields in the spring before crops emerge. It's expensive to truck the animal waste long distances, so the risk factor could be an indication of heavier land spreading near the storage sites.
"If you really wanted to know about leakage you could put in groundwater monitoring wells," Borchardt said.
Borchardt's study found that certain microbes in human waste were more likely to taint water when a septic system was nearby. But septic systems were not closely associated with coliform or nitrate contamination.
For a household 150 feet from a manure storage site to reduce the risk of coliform contamination by 90 percent, its well would need to be moved three miles away, Borchardt said.
The study's analysis of nitrate pollution found that a well drawing water in the vicinity of 40 acres of farmland faced five times the risk of a well with no farming nearby.
In recent years amid complaints about water quality, the state has offered money for well reconstruction to help families with polluted water, and Evers has said he plans to expand the effort in the budget he was releasing Thursday.
Farming interests have suggested that some drinking water contamination may be the fault of poor well construction.
But wells built to draw from deeper groundwater weren't significantly less likely to be contaminated than shallow wells, Borchardt said.
"You can't construct yourself out of contamination," Borchardt said. "I don't even think people could afford to go as deep as you'd have to go."
Built on DNA from microbes
The research was built on Borchardt's previous studies using DNA markers to identify exactly which types of microbes were in tainted wells. Some pathogens come from farm animals, while others from humans. Still others — such as coliform and nitrate — can originate from either source.
Borchardt said the new study was the first time a highly rigorous risk assessment has been applied to several potential causes and types of water pollution.
"The models are sophisticated in that they account for the effects of multiple risk factors at the same time," Borchardt said.
Silurian dolomite poses public health hazards by allowing pathogens and nitrate from the surface to reach groundwater, Borchardt said.
The findings come on the heels of another study Borchardt was involved in that found 42 percent of wells in three southwest Wisconsin counties were contaminated. That region has another kind of porous bedrock, and areas with different soil conditions. A separate risk assessment is planned for those three counties, Borchardt said.