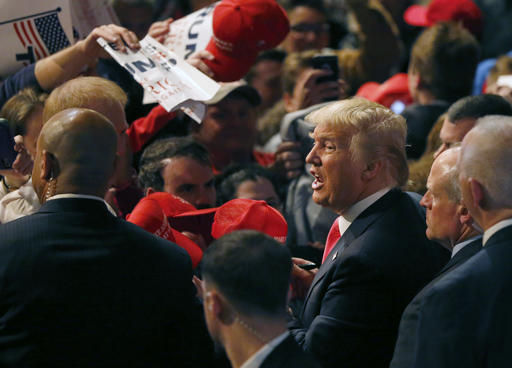 A handful of dissident Wisconsin Republicans are sounding the alarm that nominating Donald Trump for president could spell disaster for the state GOP in November.
They include at least one delegate and two alternate delegates to next month's Republican National Convention in Cleveland. Others, such as the state GOP's former political director Brian Fraley and conservative activist Eric O'Keefe, have in recent weeks written open letters urging support for a Trump alternative.
Several other delegates interviewed by the Wisconsin State Journal, including former Gov. Tommy Thompson, expressed some reservations about Trump but said they will support the party's nominee.
The concerns were heightened last week as the presumptive nominee reported abysmal fundraising and a skeletal national campaign staff, and fired his campaign manager after weeks of missteps, including a race-based critique of the judge hearing a lawsuit against the defunct Trump University and a widely panned response to the Orlando shooting.
"I think there is a real concern that Trump is going to lead the Republicans to a Barry Goldwater-type 1964 defeat," said Roger Stauter, an RNC delegate from Monona. "It just does not seem to be taking shape as a credible presidential campaign as far as content is concerned or the technique.
"This is not going to be won through tweets and speeches at rallies. Republicans who are in responsible positions have endorsed Trump and are trying to make the best of a bad situation."
Stauter, who is currently bound to vote for Texas Sen. Ted Cruz at the convention because he won the most votes in the 2nd Congressional District, said he won't vote for Trump or Clinton in November.
"The thought of Hillary for four years is indeed depressing and I certainly wouldn't vote for her," Stauter said. "I'm not a happy camper."
Different states have different rules for how delegates are assigned to candidates. In Wisconsin, delegates signed an affidavit swearing to support their assigned candidate until that candidate receives less than a third of the convention vote. Thirty-six delegates are pledged to Cruz and six to Trump.
Stauter said he has had some discussion with other Republicans about a national "Free the Delegates" movement, which is urging the 112-member RNC rules committee when it meets the week before the convention to override state rules and allow delegates to vote their conscience.
The movement received a boost last week when both House Speaker Paul Ryan of Janesville and Gov. Scott Walker suggested delegates should be able to do just that. Walker continued to downplay the possibility that he could be drafted at the convention to be the nominee, but reiterated his concerns about Trump.
"I think historically, not just this year, delegates are and should be able to vote the way they see fit," Walker said. "I would imagine there will be plenty of roller coaster rides between now and the middle of July when the convention is going on."
Walker added he will vote for Cruz at the convention "not just because I'm obligated to, but because that's who I supported in the Wisconsin primary."
Earlier in the week Ryan said on NBC's "Meet the Press" that delegates "write the rules. They make their decisions." He also said he wouldn't tell someone to violate their conscience, but said as House Speaker "I should not be leading some chasm in the middle of our party."
Steve Lonegan, national spokesman for Courageous Conservatives PAC and a co-founder of the Free the Delegates movement, said he interpreted their comments as an affirmation that they understand the historic role of conventions in determining the nominee and that Trump could lead the party to a cataclysmic defeat.
He said his group has reached out to Walker for his support without success.
"The concern is that Trump will lose and lose big," Lonegan said. "What we are doing in our movement is challenging Trump to be a better candidate. As of today he doesn't even seem to care to do that."
The group held a conference call last Sunday that purportedly attracted 1,000 participants. One of them was David Blaska, an alternate delegate for the 2nd Congressional District, who also said he won't vote for Trump or Clinton in November.
Blaska said the movement is still collecting contact information for each state's delegates and rules committee members and trying to determine who might be amenable to changing the rules. Blaska said he asked the state party for contact information for the delegates but hasn't received a response.
"We can do the Thelma and Louise thing and go over the cliff with Trump, or we can do one of those Rockford Files U-turns, which I think is what we've got to do," Blaska said. "How did we ever get to this situation where we were handed the most unpopular person in America with Clinton and then were able to trump that with Trump?"
The latest Marquette Law School Poll shows evidence that Republican discontent with Trump is legion in Wisconsin. The poll asked a series of questions about how respondents felt about the candidates, and Trump fared nine points worse on average among Republicans than Clinton did among Democrats.
"Trump does appear to be in somewhat worse standing with his party's voters than is Clinton with hers," poll director Charles Franklin said.
A Republican Party of Wisconsin spokesman said in a statement that its members "are engaged, motivated and have the energy to be successful in November" and that more Republicans than Democrats voted in the primary. The Republican National Committee has dismissed discussion of the anti-Trump movement as "silly" and a "media creation."
Thompson, who has been a delegate at every GOP convention since 1976, acknowledged there are concerns about Trump, but emphasized "at the end of the day Donald Trump is going to be the nominee of the Republican Party" and that he would vote for him.
"You don't even have to be an activist Republican to recognize we've got problems," Thompson said.
Bob Spindell, a delegate from the 4th Congressional District, said the idea that a group without a leader could sweep in and change the rules at the last minute is "pretty far-fetched" and "wishful thinking on the part of some people."
"With Trump overwhelmingly winning the primaries and the delegates, I don't think that's going to go anywhere," Spindell said.
"It's still my feeling that whoever the nominee is we must rally around that person and do every possible thing to get that person elected, knowing the consequences of a Hillary victory," Spindell added.
"If that person is Donald Trump, then I think we must get around him and support him and get him elected. The better he does in Wisconsin, the better it will be for (U.S. Sen. Ron) Johnson," who is running for re-election against Democrate Russ Feingold.
Rohn Bishop, an alternate delegate from the 6th Congressional District who said he won't vote for Trump or Clinton in November, said the broader concern is Trump's candidacy could put a damper on local fundraising and volunteer activity in the state.
In Fond du Lac County, where Bishop is local party treasurer, the GOP raised $20 in May, far less than the hundreds it would typically bring in during the months leading up to a presidential election, he said.
"The Trump people have a lot of keyboard courage, but they're not writing checks and they're not out at the doors," Bishop said. "If the next three weeks are as awful as the six weeks since he clinched the primary, there's going to be some real trouble here."