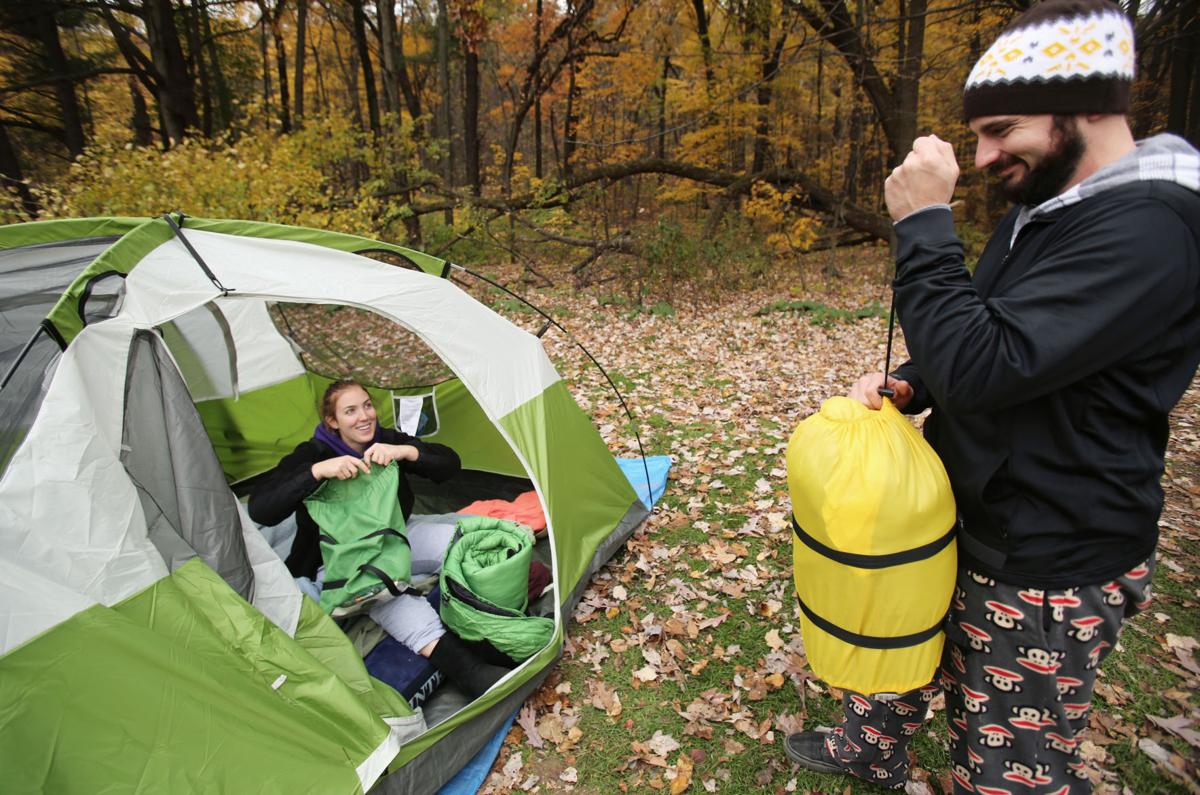 Plans to use conservation wardens instead of state parks rangers to enforce laws in campgrounds and recreation areas run the risk of delays in handling disruptive people, the Legislature's nonpartisan fiscal bureau says.
The changes are already taking place in state parks and forests as part of a reorganization the Department of Natural Resources announced in November. The fiscal bureau analyzed the plans because they are included in Gov. Scott Walker's proposed 2017-19 budget.
"(Relying) on conservation wardens who may not be located on site could result in an inferior recreational property experience for visitors," the bureau wrote in a memorandum for the Legislature's budget committee.
The DNR hasn't provided details, but it maintains it is deploying wardens where they are needed, just as it always has with about 95 park and forest ranger positions that are being stripped of guns and arrest powers.
"Conservation wardens will be providing credentialed law enforcement services during the periods, or shifts, needed to continue to provide the high level of public safety Wisconsin State Parks, Forests, and Recreation Areas are known for throughout the state," DNR spokesman Jim Dick said in a statement.
Park rangers who previously spent about 60 percent of their time on law enforcement will focus more on developing and maintaining park facilities and assisting visitors, the fiscal bureau said. Rangers will be able to make park users aware of activities that violated the law, but would need to notify a warden to deal with visitors who didn't comply.
The changes are aimed at improving DNR law enforcement consistency by making it the exclusive duty of the wardens, who will keep the peace on all department properties in addition to handling current responsibilities enforcing hunting and fishing regulations and investigating pollution violations.
The Legislature's Joint Finance Committee hasn't yet voted on the changes, but a member of the panel's Republican majority who has been a critic of the DNR said the parks plan makes sense. Sen. Tom Tiffany, of Hazelhurst, said DNR officials have told him they are talking with county sheriffs to coordinate efforts.
But a committee Democrat, Sen. Jon Erpenbach, of Middleton, called the changes troubling.
"If a DNR ranger comes across dangerous and disruptive behavior, he or she no longer has the ability to adequately protect the health and safety of the people in the park," Erpenbach said. "They would have to contact a conservation warden, hope that there is one close by, or contact local law enforcement."
Conservation wardens typically work out of their homes and vehicles in assigned territories across the state.
Leaders of nonprofit groups who have been briefed by the DNR said conservation wardens were being assigned to patrol the busiest parks at times when disruptive behavior is most likely to occur.
Highly used places like Devil's Lake State Park in Sauk County and Peninsula State Park in Door County have wardens assigned to eight-hour shifts or longer on weekends and evenings, said Bill Zager, president of Friends of Wisconsin State Parks, a group for hundreds of volunteers at more than 80 state parks and recreation sites.
"They probably have more of a police presence than they had before because the warden is doing nothing but police patrols for the eight hours," Zager said. "There might only be an hour of warden work. The question is what they're going to do the rest of the time."
Smaller parks may occasionally need assistance from local police or sheriff's deputies, and some local governments will be better equipped to help than others, Zager said.
DNR officials "are going to learn how it works," Zager said. "There's positives and negatives to it."
George Meyer, a former DNR secretary who is now executive director of the Wisconsin Wildlife Federation, said smaller parks can be covered adequately by a local warden who wouldn't be on-site.
"In some parks there may not even be one citation a year," Meyer said. "There's no reason it can't work."
Mike McFadzen, the policy chairman for the friends group, was also optimistic.
"I know there are some concerns about response times, but let's face it, state parks are safe places," McFadzen said.
The DNR's spokesman Dick said park rangers whose law enforcement certification hasn't expired will continue to be available for law enforcement duty for a while.
The fiscal bureau memo says that 186 full-time equivalent DNR positions with law enforcement credentials in parks, forestry and land management will be affected. Of the 94.7 current full-time equivalent parks and forest ranger positions, 52.7 would continue to work in parks and forests without law enforcement authority, the fiscal bureau said.
Plans call for 33 to retain credentials and join other wardens in the DNR law enforcement bureau. The rest would work in other areas without credentials.