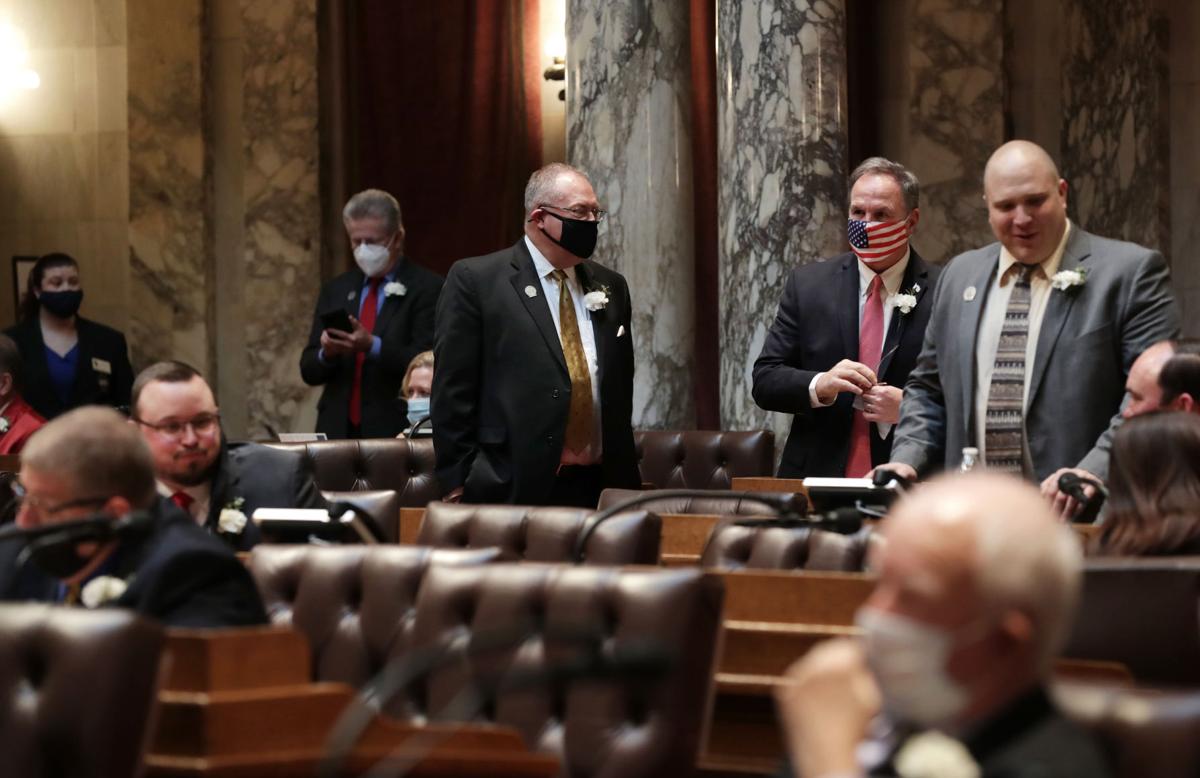 When the state Assembly convened Thursday for the first time in roughly nine months to take up a likely doomed COVID-19 relief package, the partisan divide over the approach to the pandemic was as plain as the masks on — or off — lawmakers' faces.
Most of the Democratic lawmakers, all of whom wore masks and several with face shields, attended the session from the lobby or Assembly gallery. Many Republican lawmakers also wore masks, but most removed them when speaking.
The stark contrast between both parties on not only COVID-19 legislation but also their approaches to public health guidelines raises the question of how the Legislature plans to govern amid the ongoing pandemic, which has killed more than 5,000 Wisconsinites.
On Tuesday, the Assembly's health committee held a hearing on a GOP-authored COVID-19 bill. Only one Democratic committee member, Rep. Jimmy Anderson, D-Fitchburg, who was allowed to participate in the public hearing by phone because of his physical disability, participated in the hearing. All the others watched online from their offices and attended a later session to vote against the bill.
"I expect them to show up to work, we've got one of the busiest committees in the Legislature, and the constituents that we represent have to show up in order to get paid, and so I expect that the Democrats are going to show up to our committee to work," said Rep. Joe Sanfelippo, R-New Berlin, committee chairman.
Several Republicans, including Sanfelippo, did not wear masks while speaking during the meeting Tuesday. Several members of the public testifying at the committee hearing also did not wear masks during the lengthy duration of their testimony.
Sanfelippo said he only removed his mask when he was speaking, something that happened frequently and for extended periods of time during the meeting.
"I don't think that's a problem putting anybody at risk," Sanfelippo said.
Sanfelippo said he expects all members of his committee to wear masks when they're not speaking, but such adherence is not always practiced. When he publishes the committee rules, he said he plans to encourage mask wearing, but not require it.
The federal Centers for Disease Control and Prevention recommends the use of face masks in public settings, especially among individuals who are not in the same household.
Sanfelippo said he doesn't believe his committee can require masks because he doesn't have the authority to require constitutionally elected representatives to wear a mask to attend a hearing.
Sanfelippo said he contacted the ranking Democrat on the committee, Rep. Lisa Subeck, D-Madison, about what accommodations the committee will need to make for Democrats to participate.
"I don't want us to have a dysfunctional committee. I want us to have a committee that's functioning properly," he said.
Masks are primarily meant to reduce transmission of the virus through respiratory droplets, "which is especially relevant for asymptomatic or presymptomatic infected wearers who feel well and may be unaware of their infectiousness to others, and who are estimated to account for more than 50% of transmissions," according to the CDC.
In July, the Department of Administration issued a notice that state employees who do come to work would be required to wear face coverings at all times inside state buildings, "regardless of the number of additional people present or physical space between individuals." The order does not, however, apply to the Legislature, where masks are recommended, but not required.
Unlike in the Senate, the Assembly isn't offering lawmakers the option of calling in to meetings remotely, leaving it up to Democrats to either show up and face intermittent mask wearers, or not show up at all.
"Obviously things look a little differently in the chamber," Speaker Pro Tempore Tyler August, R-Lake Geneva, said during a Thursday floor session. "This is kind of how things are going to be for the foreseeable future. If members wish to give their speeches maskless that will be certainly appropriate for them, but other members will want to keep their masks on. We just ask that if you do take it off to give your speech that you do replace it as soon as you're done."
In her first speech on the Assembly floor, freshman Rep. Sara Rodriguez, D-Brookfield, a nurse and former epidemic intelligence officer with the CDC, said she wore her mask "out of respect for my colleagues, both Republican and Democrat, and to keep you safe."
"Faith in government is earned, not given," Rodriguez said. "We can earn it together by taking the partisanship out of taking care of people. … Let us lead here in Wisconsin, in this chamber, to show others what it looks like to take care of your colleagues and your community."
All eight of the Republicans who also spoke on the floor Thursday, including Assembly Speaker Robin Vos, R-Rochester, removed their masks when doing so.
Unlike the state's first COVID-19 relief package, which received largely bipartisan support back in April, the GOP-authored bill passed along party lines. With Senate Republicans expected to unveil their own package and Gov. Tony Evers likely to veto the measure if it reaches his desk, the legislation appears unlikely to be signed into law.
Speaking in favor of the Assembly's GOP-authored bill, Rep. Tony Kurtz, R-Wonewoc, also took aim at his Democratic colleagues for not attending the Assembly inauguration ceremony on Monday. Democratic members were sworn in online a week earlier.
"I'm glad you're here today, but we've got work to do. You need to do your jobs," Kurtz said. "If I'm offending people I don't care. That was disrespectful to this body not to be here on Monday."
But while GOP leadership in the Assembly allowed accommodations for lawmakers to attend the April session from home, no such exemption has been granted for the 2021-22 session or committee meetings. The Senate does allow virtual attendance.
"The decision by Republican leaders in the Assembly to not allow a virtual option is sort of symbolic of the kind of weakness we're seeing among too many people today as Americans that aren't willing to do their part to sacrifice, to look out for others, to have the intestinal fortitude to do what it takes to help us get through this," said Assembly Minority Leader Gordon Hintz, D-Oshkosh.
Speaking on News/Talk 1130 WISN Wednesday, Vos drew comparisons between state Democrats' participation in the Legislature to that of U.S. Rep. Gwen Moore, D-Milwaukee, who announced on Dec. 28 that she had tested positive for COVID-19, but less than a week later on Sunday said she was medically cleared to travel to Washington D.C. to vote for Rep. Nancy Pelosi as House Speaker.
"Not a Democrat has been critical of (Moore) for doing that but then they can't come to Madison and come to the chambers — where we are socially distant, the vast majority wearing masks and making sure we are doing things safe — because 'it puts their health at risk,'" Vos said. "It's the hypocrisy that gets to me more than almost anything else."
Hintz told the Wisconsin State Journal he was "insulted" by Republicans' demands for in-person attendance, particularly following a moment of silence held by Republicans during the inauguration ceremony on Monday for Wisconsinites who have died from the coronavirus.
"What kind of person ignores 5,000 people dying in nine months?" Hintz said. "Hospitals are being run down, they're literally begging us not to do the very things that (Republicans) are doing and they have the audacity to scold us for not showing up for votes with a bunch of people that are not even willing to wear masks?"