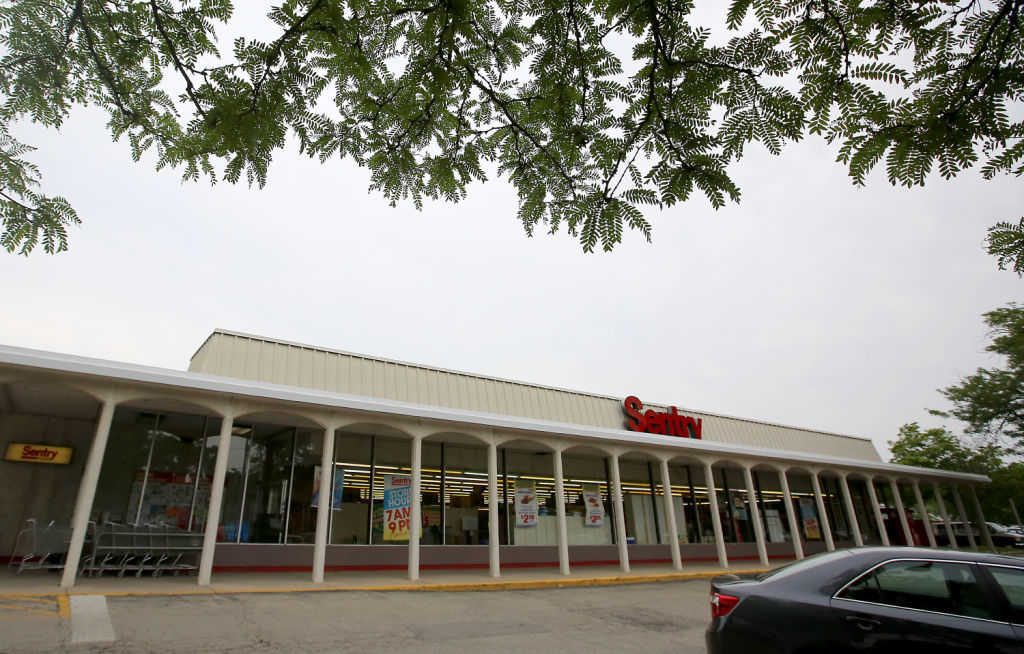 A development team is proposing a $16 million, 70-unit low-cost housing project with commercial space for the long-blighted former Sentry grocery store site on the Far East Side.
Nonprofit Movin' Out and for-profit Mirus Partners are proposing to demolish the former 22,230-square-foot grocery building for a four-story structure with 64 housing units, a community room, 10,000 square feet of office space, and a two-story building with six townhouses at the corner of Acewood Boulevard and Cottage Grove Road.
It's the third proposal for the site since the Sentry store closed after four decades of operation amid growing competition in 2014. The city has since rejected a proposal for a Kwik Trip and discouraged one for a UW Credit Union at the site. Both were one-story, single uses.
The city's Cottage Grove Road Activity Centers Plan of October 2017 shows a four-story, mixed-use building with parking behind it at the corner.
The Movin' Out-Mirus proposal fits with city and neighborhood desires for the site — "redevelop and revitalize the corner with mixed-use residential and commercial," Movin' Out real estate developer Dave Porterfield said. "Our intent is to deliver what they want."
Ald. Amanda Hall, 3rd District, who represents the area, said she's supportive of the city's effort to create affordable housing and believes the district has room for new residents and the project is a good fit for the blighted site, considered a gateway to the Rolling Meadows neighborhood.
"Housing is a really tough challenge in Madison," she said. "We've all got to do our part in all of our neighborhoods."
Of the 70 units, 11 will be restricted to those making up to 80 percent of Dane County median income, or $66,080 for a family of three, and the rest will be for those making up to 60 percent of median income, or $49,560 for a family of three, an application for city financial assistance says.
Sixteen units will be for those making up to 30 percent of median income, or $24,780 for a family of three, and marketed to tenants who either have a permanent disability or are military veterans, and households who have experienced or are at risk of homelessness.
Those tenants will have access to supportive services provided by various providers, including Wisconsin Family Care and the Department of Veterans Affairs.
You have free articles remaining.
The project would offer 22 one-bedroom units, 34 two-bedroom units and 14 three-bedroom units with rents ranging from $410 to $1,240 a month.
The developers are negotiating with a social services provider to occupy all 10,000 square feet of office space, Porterfield said.
The project would provide an outdoor picnic/play area with playground equipment for residents and could offer a community garden.
There would be 55 underground parking spaces, 53 surface spaces, and six garages for the townhouses.
The developers will make a presentation on the project at a neighborhood meeting set for 6 p.m. Thursday at Messiah Lutheran Church, 5202 Cottage Grove Road. City staff also will make a presentation on housing needs in Madison.
Movin' Out and Mirus have teamed on low-cost housing projects in Wisconsin Dells, Watertown, Waterloo, and one with 48 units to open this fall at 2230 W. Broadway on Madison's South Side.
For the new project, they are seeking $2.17 million in public support from the city's Affordable Housing Fund and $500,000 from Dane County, and this fall will apply for federal low-income housing tax credits through the Wisconsin Housing and Economic Development Authority.
In response to a request for proposals, the city has received six applications from developers, including Movin' Out-Mirus, for low-cost housing projects with the total sum of city assistance sought exceeding $11 million, far more than the city has to deliver in this round of awards, said Jim O'Keefe, community development director.
City staff will make recommendations to the City Council Oct. 2 on which projects should receive money, with council decisions expected on Oct. 16 or 30, O'Keefe said.
The developers intend to submit land-use applications to the city next month, Porterfield said.
If land-use approvals and financing are secured, the developers hope to begin demolition and construction in summer 2019 and open the project about 10 months later.
Get Government & Politics updates in your inbox!
Stay up-to-date on the latest in local and national government and political topics with our newsletter.