In another big change for a main gateway to the state Capitol, a developer is proposing to demolish nine vintage buildings Downtown for a six-story housing project on the 500 block of West Washington Avenue.
Madison Property Management hopes to raze a series of residences used for student housing between 519 and 547 W. Washington Ave. for the six-story structure, which would provide 132 to 140 housing units and about 160 underground parking stalls and 13 exterior guest parking spaces.
"MPM has managed this property for 32 years," company president Jim Stopple said. "The owner was willing to sell it, and I personally feel West Washington is a fantastic residential location. The 500 block of Washington Avenue is relatively quiet: five blocks from the Capitol, five blocks from State Street, five blocks from the lake and three blocks from the Kohl Center."
The proposal is another early test of the city's new neighborhood plan and zoning for the corridor of two- and three-story houses — converted to student dwellings long ago — that tie together the Bassett and Mifflin neighborhoods which meet along the 400 and 500 blocks of West Washington Avenue.
The city's 2012 Downtown Plan singled out the area between West Dayton and West Main streets and North and South Bedford and Broom streets — playfully dubbed "Mifflandia" — as a place meriting special attention and a separate process for a detailed development concept plan, design standards and implementation strategy. The City Council adopted the plan in late 2019.
Already, Keller Real Estate Group has demolished six houses between 504 and 516 W. Washington Ave. and three more houses between 8 and 14 N. Bassett St. for a $22 million, six-story structure now under construction that will offer 2,300 square feet of first-floor commercial space, 103 apartments and parking for 98 vehicles.
The plan recommends mixed-use, four-story buildings with two more stories if upper floors are stepped back, and using building setbacks from the sidewalk to allow for greater density in the area while keeping it pedestrian-friendly.
"The height restrictions limit the number of units per acre significantly," Stopple said. "The setbacks are also constraining."
The MPM project would step back after the fourth story and provides a mix of studios and one-, two- and three-bedroom units. It has not been determined if any will be low-cost units. The project would have high-end amenities including a large social room with exterior deck on the sixth floor and rooftop access.
"The demand will come from all types of clientele from young professionals to retired people who want to live in Downtown Madison," Stopple said.
Downtown Ald. Mike Verveer, whose 4th District includes the site, said the proposal appears to conform with the Mifflandia plan. He welcomed the proposed increase in density but said he worried the relatively affordable housing in the area would be replaced by housing that will command higher rents.
Jonathan Cooper, chair of the Bassett District of Capitol Neighborhoods, said there's a need for more housing Downtown and across Madison and predicted the project likely won't be controversial but echoed Verveer's concerns about the loss of lower-cost housing.
The neighborhood plan also identifies historical and cultural assets in the area.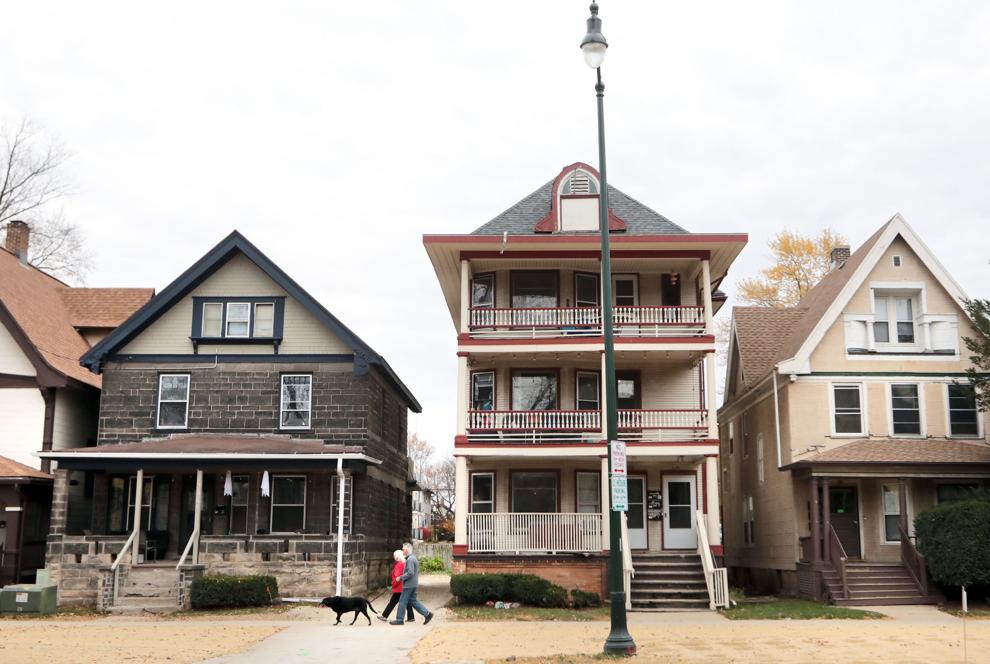 "The current units have been student-occupied for many, many years," Stopple said. "They do not have any historic value. In most cases, they have outlived their useful life."
The city has files that document the history of many properties in Madison, but has files on only three of the buildings at the proposed redevelopment site, city preservation planner Heather Bailey said: 525, 527-529, and 541 W. Washington Ave.
"The history that we have for these three structures is indicative of the history of development along this stretch of West Washington Avenue," Bailey said. "From the 1890s to the 1920s, there was a housing boom and this route to the heart of the city was lined with working-class and professional rental housing. "There does not appear to be anything particularly historically or architecturally significant about any of these properties, but they are a part of the vernacular architectural history of Downtown Madison."
Stopple said it's still unclear when he will make a land use submission to the city, as well as when the project might start and be completed.