A developer is detailing plans that feature a 10-story housing tower and refurbished vintage building as final pieces of the ambitious Archipelago Village project rising in the 900 block of the booming East Washington Avenue corridor on Madison's Near East Side.
Curt Brink is proposing a 10-story building with 75 housing units and 5,436 square feet of first-floor commercial space at an empty lot at 920 E. Main St., and a refurbished Wisconsin Telephone Co. building, 946 E. Main St., to eventually provide another 10,600 square feet of commercial space as other elements of the development are completed.
"Everybody's been talking about activating the street, but the street is not activated," Brink said. With the housing, "we get a whole different vibe."
The big hurdles are likely to be convincing the city to allow the height and new housing in an area zoned for employment use.
Already, Brink has renovated the five-story, brick-facade former Mautz Paint building and constructed a contemporary, five-floor structure next door to create the 144-room Hotel Indigo at the corner of East Washington and South Paterson Street.
In May 2019, he won city approvals for a glassy, 11-story, 230,000-square-foot mixed-use tower that will have office space, a green roof with trees and grass, and commercial space on the first floor to the immediate east of the hotel at 929 E. Washington Ave. The project could begin late this year, Brink said.
"When it's all done, it's going to be something," said Brink, who is partnering with major investors Jim and Marlene Korb.
Brink is scheduled to make an informational presentation on the new proposals to the city's Urban Design Commission on July 29. The proposal will need Plan Commission approval of conditional uses in the Traditional Employment district and UDC approval for new construction in Urban Design District 8, city planner Tim Parks said.
Ald. Marsha Rummel, 6th District, who represents the area, has asked Planning Division staff to initiate a Plan Commission special meeting or brief initiative to review and establish standards for housing in Capitol East District employment areas.
"I don't want a piecemeal approach," she said. "We identified the need to grow employment on the south side of East Washington and that's still my priority."
Although the city has prioritized employment uses on the south side of East Washington, Brink believes the need for a vibrant mix of uses, including housing, on the redeveloping south side of the 900 block is clear.
It would be impossible to provide the amount of additional parking required by additional office tenants, Brink's submission to the city says. The proposed apartment building use would reduce peak traffic and parking stalls needed during business hours while making use of the costly parking structure and green roof during non-business hours, it says.
The residential use also activates the block by providing increased activity during evenings and weekends, while the housing creates a balanced city block where one can work, live and dine out without having to drive, it says.
The project will have 20% of its units classified as affordable to those making up to 80% of Dane County's median income, or $57,550 for a household of three.
The 10-story building follows requirements of Urban Design District 8, with the upper two floors stepped back and clad in a lightweight metal and glass facade to create a unique top for the building, the submission says.
Rummel noted that zoning allows eight stories plus two bonus stories if certain conditions are met. "I'm not a person that gives bonus stories very easily," she said. "It's got to have something other buildings don't have."
The facade of a former building at 924 E. Main St. that is now in storage after the rest of the building was demolished will be incorporated into the front of the housing tower, plans show.
"This isn't strictly historic preservation in the traditional sense, but about creative salvage of vintage building materials and a reference to what had previously been on site," city historic preservation planner Heather Bailey said. "This project is a mix of both the old and the new."
The Wisconsin Telephone Co. building's original brick-and-stone facade will be restored, and new windows added to existing openings, Brink's submission says. He had proposed a five-story building with 25 apartments and more commercial space behind the building but withdrew that element at Rummel's request. Rummel applauded the move.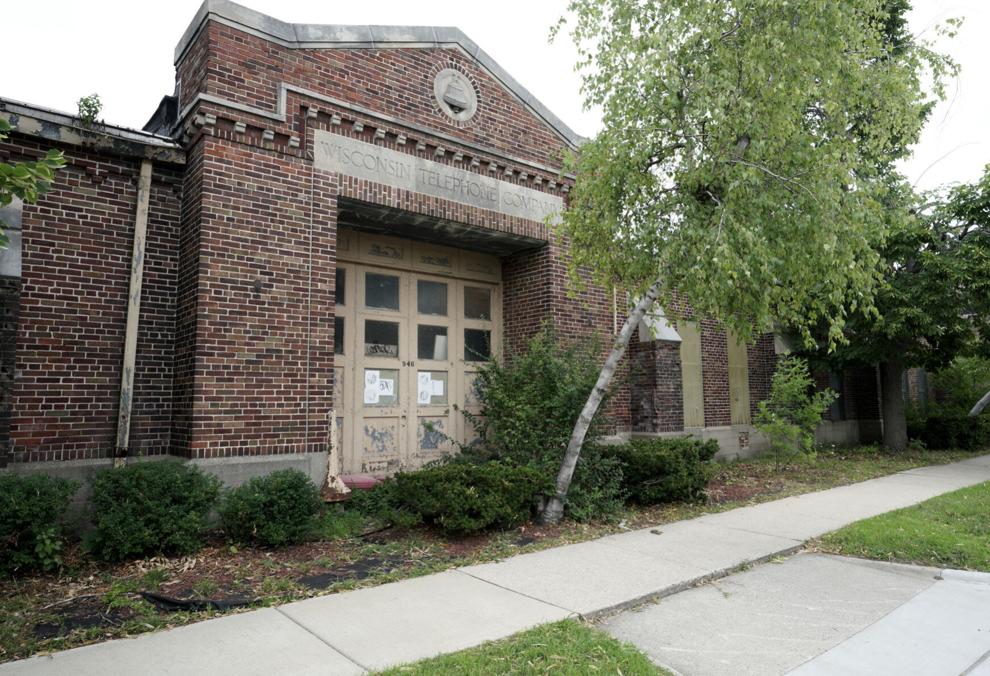 Brink said he'll restore the exterior of the building but hold off on the interior until construction of the larger structures is completed.
"I can't commit anything to it now," he said. "It will be commercial space. A lot of people would like to get into it. I don't know what will go in there yet."