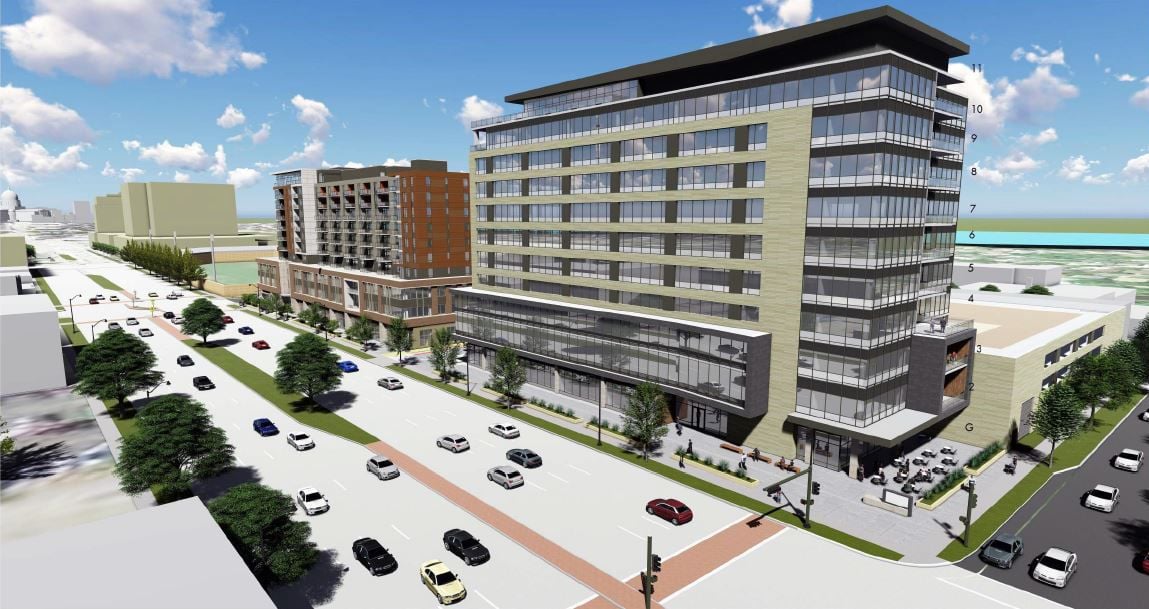 A Madison developer is looking to build a 10-story office tower on East Washington Avenue.
Stone House Development has preliminary plans for at least 100,000 square feet of office space, some 20,000 square feet of retail space and a roughly 350-stall parking structure for the 1000 block of East Washington Avenue at the intersection of North Ingersoll Street, said Richard Arnesen, vice president of Stone House.
Townhouses would likely be proposed for the project's frontage on East Mifflin Street, which would be similar to the townhouses behind the Lyric building, Arnesen said. A shared conference space and outdoor terrace would make up an 11th floor.
The above-ground parking structure would be between the office tower and townhouses.
"There's a ton of excitement on East Wash," Arnesen said. "It's a unique opportunity in Downtown Madison to be able to potentially do an office building of this size."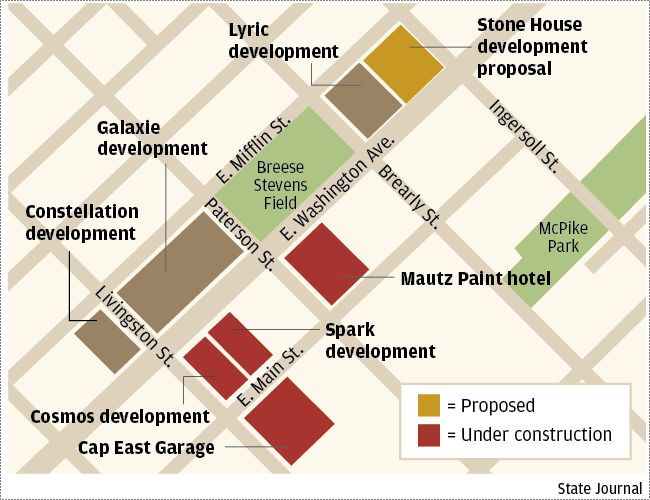 At a neighborhood meeting Wednesday on the 11th floor of the Lyric, nearby residents expressed concerns largely relating to traffic and the effect of shadows the building could produce.
Some said traffic on North Ingersoll Street, where the building's main parking garage entrance would be located, is already backed up during evening rush hour, and the influx from potentially hundreds of employees could further congest the street's intersection with East Washington Avenue.
Arnesen said Stone House would work with the city to determine whether dedicated turn lanes on North Ingersoll Street to get onto East Washington Avenue could be added to alleviate some traffic issues.
Stone House would likely seek tax incremental financing from the city to assist in the development, Arnesen said, and the company is in talks with potential anchor tenants.
While plans have not been officially submitted to the city, Stone House would need conditional-use permits for the project. A change to the Urban Design District ordinance that governs the area would also be necessary to allow for the office tower's proposed height as commercial floors generally require higher ceilings than residential floors, said Helen Bradbury, president of Stone House.
If all goes well, construction could start in early 2019, Arnesen said.
The building would add to the rapidly evolving Capitol East corridor.
A few blocks closer to the Capitol, the Spark, a 158,000-square-foot, eight-story building being developed by American Family Insurance, will provide office space for the company and a home for entrepreneurial start-up hub StartingBlock Madison when the building is expected to be finished later this year.
Adjacent to the Spark is Gebhardt Development's eight-story Cosmos building, also under construction, that will have office and retail space across 100,000 square feet and include a 2,500-person performance venue.
At the intersection of East Washington Avenue and South Paterson Street, a development team is renovating a brick-facade building, formerly home to Mautz Paint, and constructing an adjacent five-story structure for a 144-room hotel.
Get Government & Politics updates in your inbox!
Stay up-to-date on the latest in local and national government and political topics with our newsletter.