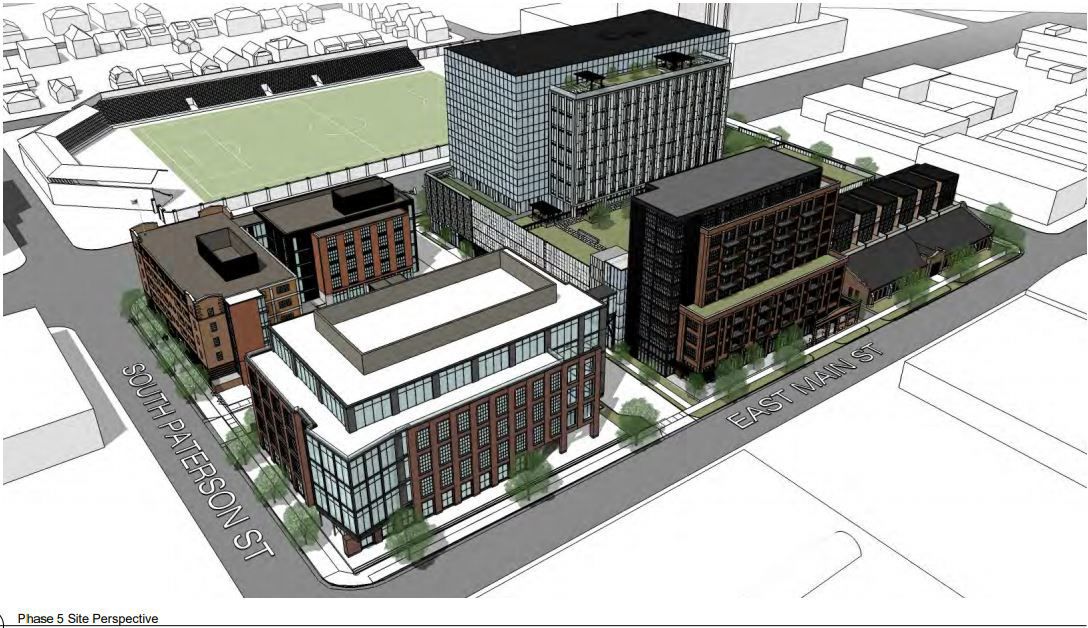 Developer Curt Brink is proposing a five-story office building as the next phase of his massive Archipelago Village rising across the street from Breese Stevens Field in the 900 block of East Washington Avenue.
The Wisconsin Housing and Economic Development Authority would relocate its offices from 201 W. Washington Ave. to the top three floors of the new office building to be located at the corner of East Main and South Paterson streets.
The project, coupled with a 10-story housing tower likely to be proposed in the near future, would largely complete one of the most expensive, dense and diverse redevelopments on the booming East Washington Avenue corridor.
"I'm really pleased the way things are looking right now," Brink said. "We're very happy."
In May, Brink won city approvals for an 11-story mixed-use tower — different from most Madison developments in that it will be dominated by glass — that will have office space, a green roof with trees and grass, a parking structure and commercial space on the first floor to the immediate east of the hotel at 929 E. Washington Ave.
The project is on hold as Brink secures a major tenant. "We'll know soon," he said, adding that construction could start as soon as July.
Now, Brink is proposing the five-story, 92,000-square-foot, brick office building on what's now a parking lot for Hotel Indigo at 902 E. Main St.
WHEDA would occupy the top three floors of the new building and lease the lower two floors. The top floor would be stepped back and made up of mostly lighter-weight metal and glass.
You have free articles remaining.
"I'm trying to provide a classic building, a little contemporary, but a design that will last over time," Brink said, adding that if approvals are secured, construction could begin in July.
Ald. Marsha Rummel, whose 6th District includes the site, said, "I'm pleased with the addition of employment as recommended in adopted plans like the Capitol Gateway Corridor plan. My focus has been on growing office and commercial as principal uses on the south side of East Washington."
Parking needs
Brink, who is scheduled to make an informational presentation to the city's Urban Design Commission on Wednesday, is also seeking approval for more parking in case the five-story building is built before the 11-story structure.
If the five-story building is done first, part of the parking approved for the 11-story office building would be built as a standalone structure in the center of the block. The structure, to be used by the hotel, WHEDA and its tenants, would have a revised metal panel screening system and eventually be tied to the 929 E. Washington Ave. project as well as the yet-to-be proposed mixed-use apartment building on East Main Street.
The standalone parking structure would be screened by lighter perforated metal panels rather than previously approved materials. Temporary walls would be provided at the base of the building facing East Washington Avenue and East Main Street to serve as a canvas for artists' murals.
The previously approved plans for 929 E. Washington Ave. will be altered by eliminating commercial space for more parking spaces on the second and third floors.
Livable vision
For the future, Brink is showing a 10-story, mixed-use apartment building with some lower-cost units along East Main Street. He said he understands that housing is not a city priority for that block, but said he believes the benefits of multiple uses are clear.
A strictly commercial purpose would result in overloaded parking requirements and a "ghost town block" during non-business hours, Brink's submission to the city says.
"The residential use creates a balanced city block where one can work, live, dine (as well as, drink whiskey and rum) without having to drive," it says. Brink said the residential building is already designed and that he's looking for feedback at Wednesday's meeting before making a formal proposal. "I'm ready," he said.
Rummel said Brink has previously mentioned housing but that she hasn't seen details for the current proposal. The zoning does allow some housing, "so I will take a careful look," she said, adding that she intends to schedule a neighborhood meeting soon.