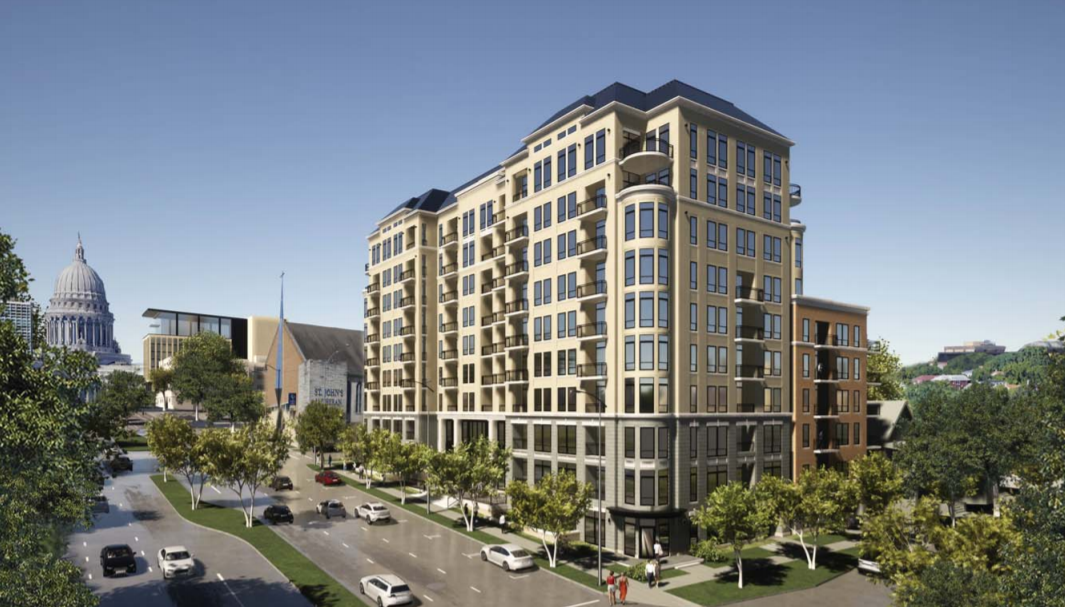 A developer is getting neighborhood feedback before city committees consider a revised proposal to demolish multiple Downtown buildings for a large, controversial, mixed-use project on the 400 block of booming East Washington Avenue.
In July, the Plan Commission narrowly rejected LZ Ventures' proposal to raze a series of buildings on the block plus three houses on North Hancock and North Franklin streets for a 10-story apartment building with 156 units, 3,300 square feet of commercial space and underground parking. After the proposal came within one vote of passage, members agreed to let the developer come back with a modified plan.
Now, LZ Ventures is proposing to still demolish the Klinke Cleaners building, three multi-flat houses and two single-story commercial buildings, all between 402 and 414 E. Washington Ave., as well as multi-flats at 9 N. Hancock St. and 8 and 12 N. Franklin St., for a nine-story structure with 148 apartments, 1,226 square feet of commercial space, and 2.5 floors of underground parking. It removes one story from the original proposal facing East Washington Avenue and North Franklin Street.
"The new proposal is certainly an improvement when compared to the last," said Ald. Patrick Heck, 2nd District, who also sits on the Plan Commission and voted against the project last time. "The negative impacts on the adjacent neighborhood are not eliminated, but they are lessened to a certain extent."
The U-shaped building, which features a pitched Mansard roof along East Washington Avenue, would drop to six stories with flat roofs along North Franklin and North Hancock streets. A lobby would lead to a central courtyard between the wings.
A 10th floor is contained within the roof and houses a large community room, exercise facility, rooftop terrace with swimming pool and mechanical equipment.
LZ Ventures has consistently argued that the project responds to an undersupply of housing, low vacancy rates and growth in Madison, and that the existing residential buildings show a lack of maintenance and are in poor condition.
The city's Downtown Plan designates the site for eight stories plus two possible "bonus" stories for exceptional design or meeting other standards.
Those initially opposed believed the request for two bonus floors was not warranted, that the building was too big to fit with nearby homes and that demolition of homes would hurt the historic nature of the neighborhood, Heck said.
The development team presented its revised proposal in an online neighborhood meeting on Oct. 1.
"My impression from the neighborhood meeting is that most of the participants who also were members of the previous proposal's steering committee were not convinced that the negative impacts were substantially lessened," Heck said. "In particular, the disconnect in scale between the proposed nine-story building and the two- to three-story homes and multi-flats was still a concern, as was the increasing gentrification.
"That said, there seemed to be a few more participants who expressed support for the proposal due to its addressing the needs for more housing and increasing density," he said.
A James Madison Park District steering committee of Capitol Neighborhoods Inc. will evaluate the revised proposal at an online meeting at 6:30 p.m. Thursday. To participate, email Heck at: district2@cityofmadison.com.
The proposal is expected to come before the city's Urban Design Commission on Nov. 4 and Plan Commission on Nov. 9.



Photos: Madison's Wilson Street Garage opens