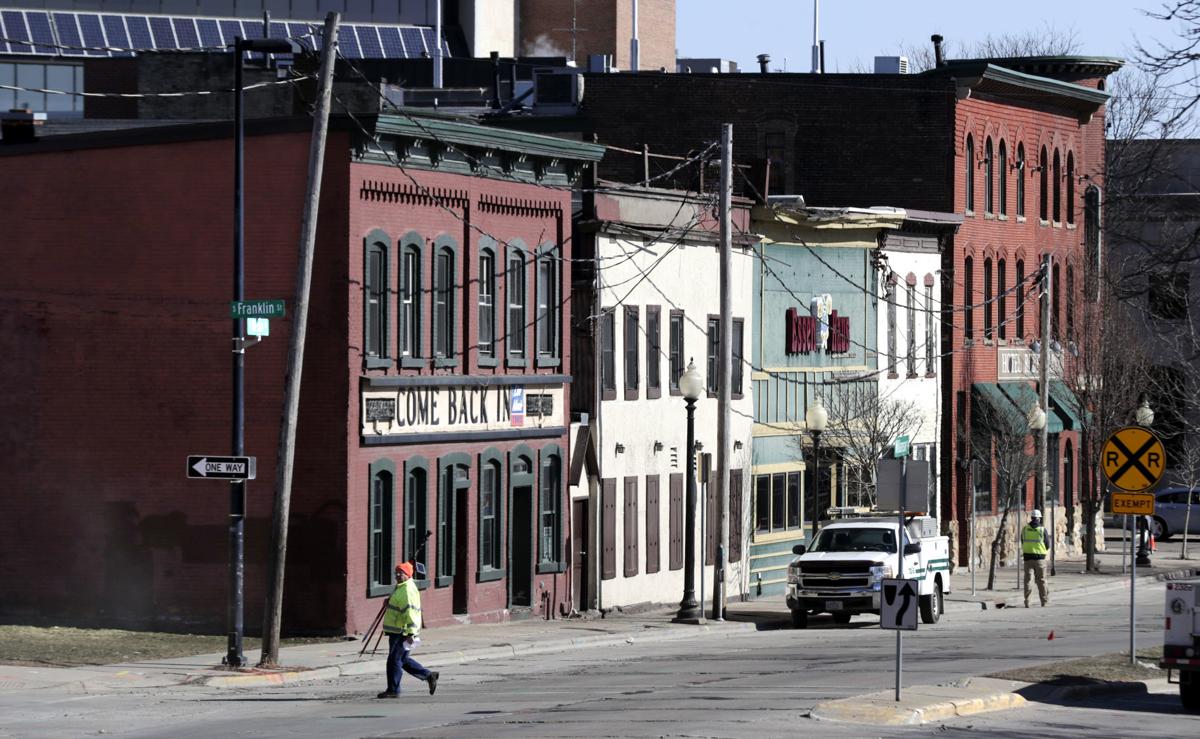 Facing a redevelopment wrecking ball, Downtown's venerable Essen Haus German restaurant has been spared for now.
Developer Lance McGrath has dropped plans to buy the Essen Haus, the Come Back In and another building on the 500 block of East Wilson Street, a large parking lot behind them, and four houses from 110 to 120 S. Blair St. for a mixed-use project.
McGrath shared the decision with Ald. Marsha Rummel, 6th District, in an email Monday afternoon.
"It's a long, messy story but we had to terminate the offer on Friday night or lose our earnest money deposit," he wrote. McGrath could not be immediately reached.
The developer intended to raze the Essen Haus, 514 E. Wilson St., and a small adjacent commercial building in poor condition at 518 E. Wilson St., for a five-story structure that would have 153 apartments, 11,000 square feet of commercial space and 220 internal, structured parking stalls called "The East End."
The Come Back In would have been renovated as a separate building, which would have provided some of the commercial space for the overall project. The four houses at 110 to 120 S. Blair St. would have been preserved, as some in the neighborhood had sought.
McGrath Property Group has been under contract to buy the properties from Robert Worm, who has owned the buildings and the popular establishments since 1983. McGrath wasn't buying Worm's landmark Hotel Ruby Marie and its Up North Bar at the corner of East Wilson and South Blair streets or tiny vacant lots Worm doesn't own at 502-504 E. Wilson St.
Worm could not be reached. But Angie Gilner-Scott of the Essen Haus and Come Back In sent an email to Rummel Monday saying, "Bob asked me to email to let you know that Lance McGrath has terminated his offer to purchase the Essen Haus block property on Friday."
McGrath's proposal had received a mixed response from the neighborhood and city officials. Supporters said the project would be a vast improvement for the block and deliver much-needed housing, but others said it was too big, would bring congestion to South Franklin Street and change the character of the First Settlement Historic District.
To move forward, McGrath needed Landmarks Commission approvals for a land combination and for construction of a new principal structure in the historic district. Most of the site is in the historic district, but the East Wilson Street frontage is in the National Register of Historic Places, not the local historic district.
Last week, the Landmarks Commission delayed decisions in order to get a city attorney opinion on whether the land combination question must be addressed first before proceeding to the construction approval. The proposed lot size must be compatible with adjacent lot sizes and the lot size pattern of the historic district. The commission also offered suggestions for reducing the massing of the redevelopment.
In a report, city preservation planner Heather Bailey said staff did not believe the proposal met standards for either approval and recommended the commission refer the proposal so changes could be made to satisfy requirements. The project also needed approvals from the Plan and Urban Design commissions, and if McGrath sought to exceed height limits, it would also go to the City Council.
On Monday, Rummel said she wasn't surprised by McGrath's decision, given how things went at the Landmarks Commission meeting.
"It seemed like it got a lot more complicated," she said. "I think he and his team were well suited to find a solution. I'm disappointed we couldn't find one."
McGrath had already down-scaled an initial proposal in late March that called for a five-story redevelopment that would have delivered 240 apartments, up to 20,000 square feet of commercial space, 340 parking spaces and required demolition of the housing.
The revised concept still showed a taller single story along both East Wilson and South Blair streets to allow for better commercial spaces and to shield the parking structure. Above that level on those streets would be four stories of housing. The structure would step down from five to three stories, the scale of the neighboring Germania Condominiums, on South Franklin Street.
At last week's meeting, McGrath told the commission, "It's a challenging site. We're trying to balance a lot of things here. It has to be financially feasible. I just can't see a smaller, more intimate development ever happening on this site."
The venture is at least the third bid to redevelop the roughly two-acre property.
In 2016, Worm and a partner shared preliminary concepts to demolish the Essen Haus and Come Back In buildings and raze the four duplexes but preserve the Hotel Ruby Marie and Up North Bar. The project would have re-established the bars in a redevelopment that could have included a new hotel, housing, commercial space and a parking structure. The concepts were never pursued.
In 2004, developers were seeking to buy the land from Worm and offered a 16-story mixed-use project that was withdrawn amid protests from residents and city officials. A scaled-back, eight-story redevelopment with condominiums, retail space and parking fell through in 2005.
Rummel has offered to meet with Worm and city staff to help determine what a successful project on the properties might look like.
"There are all these questions," she said. "We don't know the answer to them yet."
Get Government & Politics updates in your inbox!
Stay up-to-date on the latest in local and national government and political topics with our newsletter.