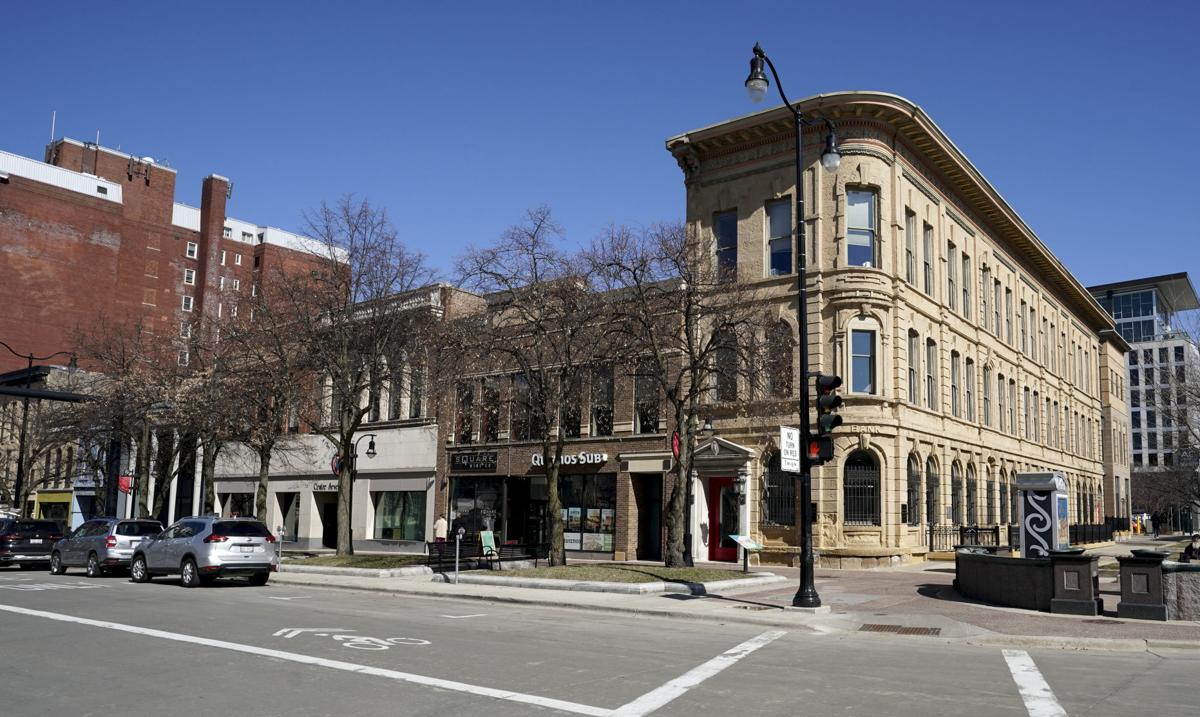 One of the city's preeminent Downtown developers is donating prime commercial space on Capitol Square to the Boys & Girls Clubs of Dane County for temporary use as offices, a volunteer center and a space where nonprofits and minority businesses can offer events and pop-up shops.
Urban Land Interests, which owns multiple properties on the Square and recently won city permission for a $125 million redevelopment on the 10 block of North Pinckney Street, is temporarily donating first-floor space on that block for the "Club on the Square," which will be a new focal point for several nonprofit organizations.
Urban Land Interests will donate space at the landmark American Exchange building, 1 N. Pinckney St., which will be preserved in its redevelopment, and an adjacent building that formerly held a Quiznos sub shop and wine shop at 5 N. Pinckney St. until construction begins. That date is dependent on the COVID-19 pandemic and expected to be no sooner than late 2022.
The Boys & Girls Clubs will use the space for an office and as a nonprofit volunteer center and training space, and it will become a home to the grassroots organization Feeding The Youth and the Black Men Coalition of Dane County. Online publication Madison365 and Boys & Girls Clubs of Wisconsin will also have a presence there.
The club will also work with nonprofits and small minority-owned businesses to host events and pop-up shops in the retail portion of the property, which can generate revenue for them and serve as a distribution center for nonperishable items for families in need.
"It's a use that will really advance the expansion of a really important initiative for the Madison community and further the vision of what Madison as a community can and should be," Urban Land Interests principal Brad Binkowski said.
Michael Johnson, president of the Boys & Girls Clubs of Dane County, said the space will provide a presence in the heart of Madison, be the club's volunteer hub and serve as a catalyst for diversity Downtown. "We're very thankful," he said. "Hopefully, it will be a signal to others to help bring diversity and equity."
Urban Land Interests, the Boys & Girls Clubs and others will share details at a news conference at the American Exchange Building at 11 a.m. Thursday. The clubs will have an open house Friday.
The Boys & Girls Clubs will begin to use the space immediately, initially for about 25 volunteers to assemble 400 Easter baskets on Friday, Johnson said. The following week, the UW-Madison School of Pharmacy and Fitchburg Family Pharmacy will offer a clinic providing the one-shot Johnson & Johnson COVID-19 vaccine, he said. The location can also be a base for new, diverse events in the core Downtown, he said.
Meanwhile, other nonprofits will now have a new presence Downtown.
Feeding The Youth, started during the first protest in Madison following the death of George Floyd, has continued to serve the community through various events. Black Men Coalition of Dane County, focused on creating positive outcomes for young Black men, offers programs in financial literacy, business enrichment, employment, mentoring and youth development. It recently signed an agreement with River Food Pantry to deliver food to needy families.
Urban Land Interests' "American Exchange" project, named after the landmark building, retains the historic scale of facades facing the Square and would provide 22,000 square feet of first-floor retail space and a design that steps back to a striking glass and stone tower reaching the Capitol height limit with 300,000-plus square feet of office space. It would have 840 underground parking spaces.
____________________________________