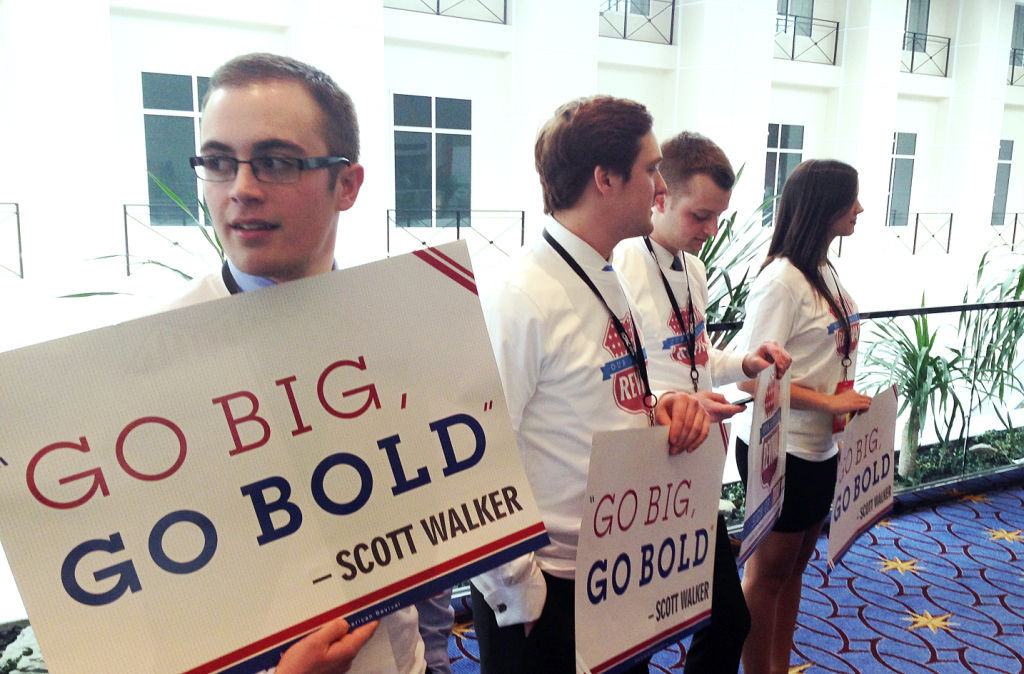 NATIONAL HARBOR, Md. – For the third time in as many weeks, Gov. Scott Walker spoke and his critics pounced, resulting in clarifications by Walker or his team.
But the top-tier 2016 presidential contender dismissed suggestions that the series of comments — including one Thursday comparing union protesters to Islamic State terrorists — demonstrate that the second-term Republican governor is not ready to compete on a national stage.
"Three times in four years winning some of the biggest races in the country shows that we're ready for prime time when it comes to elections," Walker told reporters Friday at the Conservative Political Action Conference. "Certainly when you look at issues, no other governor out there in America has pushed the kind of big issues that we've done, and I think people want results."
In fact, Walker has had his share of embarrassing moments as Wisconsin governor from which he usually recovered.
He admitted being duped by a blogger pretending to be billionaire conservative donor David Koch, has been dogged by a secret investigation into campaign finances and, recently, reversed course on a budget provision that would have removed "the search for truth" from the University of Wisconsin's mission statement, known as the Wisconsin Idea.
Walker's resolve and ability to handle such mishaps has won him praise from conservatives as he barrels toward a 2016 presidential bid.
But he risks alienating moderate Republicans the more he is compelled to clarify existing statements, said Joel Aberbach, a UCLA political science professor and expert on executive branch politics who recently edited a book on the conservative movement.
"That undermines that whole image of the sort of straight-talking, says-what-he-means, strong character," Aberbach said.
CPAC controversy
The latest dust-up came during a question-and-answer segment after Walker's speech Thursday in front of thousands of conservative activists from across the country.
Asked how he would handle the Islamic State as commander-in-chief, he offered his experience standing up to 100,000 demonstrators during the 2011 protests over his collective bargaining law.
"If I can take on 100,000 protesters, I can do the same across the world," Walker said.
He later clarified his remarks to say he wasn't trying to draw a parallel, but rather explain how he could handle difficult situations.
Critics, including some conservatives, decried the comparison. Former Texas Gov. Rick Perry, another GOP presidential contender, told MSNBC that connecting unions with people "who are the face of evil" is "inappropriate."
"That is a terrible response," wrote Jim Geraghty of the conservative National Review. "First, taking on a bunch of protesters is not comparably difficult to taking on a Caliphate with sympathizers and terrorists around the globe, and saying so suggests Walker doesn't quite understand the complexity of the challenge from ISIS and its allied groups."
The top Democratic leaders in the state Legislature demanded Friday that Walker apologize. And Iraq War veteran and Madison firefighter Sam Yackel challenged Walker to retract his statement, saying he questions the governor's standing to discuss foreign threats and the military.
"Scott Walker does not know the first thing about terrorism or fighting for our country," said Yackel. "He owes me and everybody who wears a uniform a retraction."
Yackel said he was among those who descended on the Capitol in 2011 to protest Act 10.
On Friday, Walker again said that he wasn't comparing the two groups, but stood behind the connection between his experience standing up to protesters and his readiness for international leadership.
"We reacted to that (situation) with strong leadership, and our state is better because of it," he said of the protests. "In a different way we're pointing out it requires the same level of leadership (in international affairs) which is by no means any implication. I think most people here heard it the way I intended it which was not to make that connection."
Many of those who attended the speech were unfazed by the comments. They said Walker's handling of a heckler was a bigger highlight, and the terrorist-protester connection was barely noticeable.
Walker made similar remarks to a gathering of free-market economists in New York a week earlier, though media reports about the event focused on Rudy Giuliani's comments that President Barack Obama doesn't love America, which Walker declined to critique.
Grover Norquist, president of Americans for Tax Reform and a board member for the group that runs CPAC, said in an interview that the continued media scrutiny signifies that Walker "is truly the frontrunner."
"It's completely true" that Walker's resolve in standing up to death threats and massive protests is "a transferable position," Norquist said. "I want a guy with that toughness negotiating with (Russian president Vladimir) Putin."
MSNBC talk show host and former Republican Congressman Joe Scarborough said in an interview that from everything he's heard from conference attendees, Walker did "an extraordinary job."
"This is pre-season and you've seen with everything that's come out his poll numbers go higher," Scarborough said.
He was referring to previous flaps in which Walker refused to answer questions about his position on evolution and Giuliani's comments on Obama.
"The guy is doing better than anybody would ever have imagined him doing," Scarborough said.
Bonnie Heuring, 52, a U.S. Navy employee from Bloomington, Indiana, said the line about the 100,000 protesters stood out for her because it showed that Walker was willing to do something tough about the Islamic State.
"I don't know too many people could have survived with them occupying the statehouse like that," Heuring said. "He stood his ground, he didn't buckle, he didn't cave."
Friday gathering
Walker addressed a gathering of several hundred conference attendees Friday morning. He was introduced as "the archenemy of liberal activists across the country." The speech highlighted accomplishments from his time as governor, including a magazine headline about him during the 2011 protests that declared "Dead Man Walker."
"My approval rate at that point was somewhere in the 30s. It was a challenging time," he said.
But he said as he traveled between his home in Wauwatosa and Madison, he saw hand-made signs along the highway that said "We Stand with Walker" — the same message on signs that some in the crowd at CPAC were holding.
"Thinking along the way, how powerful that was, that every day citizens stood up and said, 'You know what? If this governor and his allies in the state Assembly can stand up with us as hardworking taxpayers, we're going to stand up with him,' " he said. "And every day since we've been in office we've made sure we've done the exact same thing."
State Journal reporter Steven Verburg contributed to this report.