Despite a last-ditch effort by Gov. Tony Evers to halt in-person voting, several legal challenges and mounting concerns over the ability to hold a fair and safe election amid the COVID-19 pandemic, Wisconsin's presidential primary and spring election is still on for Tuesday — with some altered absentee voting rules.
The election, which has gained nationwide attention, is guaranteed to be unlike anything Wisconsin has ever seen. The National Guard will be at polling sites; the state's largest city, Milwaukee, will only have a handful of voting locations; and in-person turnout on Tuesday could trickle to the single digits, though requested absentee ballots already total 60% of all votes cast in the high-turnout spring 2016 election.
COVID-19 has catapulted Wisconsin into a nearly all-mail election that has not only changed how and when Wisconsinites vote, but likely altered the makeup of the electorate from what it was looking like a few months ago. The battle for the Democratic nomination between former Vice President Joe Biden and Vermont Sen. Bernie Sanders is all but over, likely dampening Democratic voter enthusiasm and making Wisconsin an afterthought in the primary.
Amped-up Democratic voter enthusiasm was expected to propel liberal-backed Dane County Circuit Court Judge Jill Karofsky to a win. But depressed enthusiasm and the health risks of voting on Tuesday make the race much more competitive, increasing conservative-backed Justice Dan Kelly's chances of winning.
"Yes, there are still two Democrats running for president, but that contest, which had the possibility of driving turnout, has been put on the back burner," said Joe Zepecki, a Democratic strategist. "As a result, an informed assumption we can make is this is not going to be a particularly Democratic-favorable electorate. It's going to be very close to 2019's electorate, and therefore it's probably a tossup race."
Less than four days before the election, Evers called on the GOP-led Legislature to convene Saturday to take up emergency legislation to eliminate in-person voting and extend the deadlines for requesting and returning absentee ballots. The proposal also would mail an absentee ballot to every remaining voter in the state who has not requested one.
In sparsely attended skeletal sessions Saturday, the Legislature opened sessions in the Assembly and Senate, but both plan to adjourn Monday without taking action. Evers has said he is considering further action if Republicans ignore the proposal, but forcing the order would almost certainly result in a lawsuit.
Whatever the result of voting, Wisconsinites won't know about it until almost a week after the in-person election on April 7.
Judge's ruling
A federal judge on Thursday rejected calls to postpone Wisconsin's presidential primary and spring election, but did push back the deadline for filing absentee ballots until April 13. The deadline to request an absentee ballot also was extended a day.
U.S. District Judge William Conley also temporarily barred enforcement of a state law requiring absentee voters to get a witness to sign their ballot envelope, so long as they provide written notice that they tried and were unsuccessful, but the 7th Circuit Court of Appeals blocked that allowance.
Despite a possible lack of enthusiasm, Democrats may benefit from Conley's extension for returning absentee ballots. UW-Madison political science professor Barry Burden said late ballots — those returned after Election Day — tend to favor Democrats, who tend to be younger, more transient and newer to voting.
"More often than not, the more accommodating elections officials are of late-arriving ballots, the more that tends to help Democrats," Burden said.
More than 1.2 million absentee ballots had been requested in the state by Saturday, shattering previous records for any election. So far, about half, or more than 650,000 ballots, have been returned.
Even so, many pundits agree it's virtually impossible to tell whether the various upsets to the status quo favor Democrats or Republicans.
"We certainly don't have anything to compare this to historically to guide what we think is happening," Zepecki said.
Presidential primary
In addition to hundreds of municipal contests and a Wisconsin Supreme Court race, Tuesday's ballot also includes the presidential primary, where a surging Biden faces Sanders, who won the state primary four years ago.
National political analysts say it's all but certain that Biden enjoys an insurmountable lead.
"I don't see any reason why Joe Biden is anything other than the de facto nominee at this point," Amy Walter, political analyst and national editor of The Cook Political Report, said Friday. "In order for Bernie Sanders to have any chance at all of winning the nomination, he'd need to pull in something like 64% of the vote ... in every primary that has not been held."
Larry Sabato, director of the University of Virginia Center for Politics and Sabato's Crystal Ball, said outside of Biden dropping out of the race for some reason, the former vice president's roughly 300-delegate lead is too significant.
"It's over," Sabato said.
However, Sean Ward, Sanders' state coordinator in Wisconsin, said Sanders' campaign is pushing forward, albeit with a more virtual approach to getting out the vote with more phone calls and online efforts.
"As the senator has said, I think he's accurate that we have a narrow path, but we certainly have a path," Ward said. "Any political strategist that you talk to right now is definitely going to admit there is so much up in the air right now with how much of an impact the COVID-19 virus has played both in peoples' lives but also in an election, as we're seeing in real time. It's just really difficult to make any assumptions, given how much change happens on a daily basis or even on an hourly basis."
Julia Krieger, regional communications director with Biden's campaign, also noted the impact the coronavirus outbreak has had on campaign efforts.
"Wisconsin is going to be a critical battleground for the general election and that's why our campaign has heavily invested early-on across the state," Krieger said in an email. "Amid the current pandemic, we've aggressively adapted, expanded, and strengthened our efforts on digital and remote platforms to ensure that we can reach Wisconsinites — no matter where they live and regardless of their age or economic status."
Both Ward and Krieger said they have been strongly encouraging voters to cast their ballots absentee.
Marquette poll
The latest Marquette Law School Poll, released Wednesday, shows Biden surging ahead.
Biden has the support of 62% of Democratic primary voters, nearly double the 34% for Sanders, according to the poll. In February, when the field of candidates remained more crowded, Sanders led with 29% support compared to Biden's 15%.
"It's a giant shift," said Charles Franklin, director of the poll. "That's just the enormous consolidation of support behind him, but it's interesting that, with all the other candidates that dropped out, Sanders' support has only gone up 3% from February."
However, Franklin cited caution, due to the uncertainty surrounding record absentee ballot requests and an unknown Election Day turnout.
"I'm confident that this represents public opinion about the Democratic race, but I'm less confident about who will actually vote and whether the actual voters will be more favorable to Biden or more favorable to Sanders," Franklin said.
The poll also found a close race between Trump and the eventual Democratic presidential nominee. In the latest poll, 48% of respondents said they would vote for Biden, while 45% said they'd vote for Trump, well within the poll's margin of error. In the other match-up, Trump has 47% support compared with 45% for Sanders, also within the poll's margin of error.
On Thursday, the Democratic National Committee announced the nominating convention originally planned for mid-July in Milwaukee will be delayed until mid-August.
Despite the outcome of the nomination, national political analysis newsletter Sabato's Crystal Ball on Thursday listed Wisconsin as one of only four toss-up states in the presidential election, along with Pennsylvania, North Carolina and Arizona.
"If you forced us to guess today (which) would be the state or one of three that would determine the presidency," Sabato said Friday, "Wisconsin is right in there, that is part of ground zero for Election Day 2020, no question about it."
Turnout still key
Karofsky's assumed lead going into April's Supreme Court race has evaporated, analysts say. The threat to Kelly posed by Democratic primary enthusiasm is now looking far less assured given the primary is nearly sewn up. Early on in 2018, Republicans viewed the Democratic primary enthusiasm as such a risk to Kelly's prospects that they unsuccessfully attempted to move the date of the election.
"It still could be anybody's race," said Brandon Scholz, a Republican strategist.
A Wisconsin State Journal analysis of the most recent absentee voting statistics shows an overall tight Supreme Court race based on turnout. Dane County, one of the wealthiest and most liberal counties in Wisconsin, unsurprisingly has the highest percentage of eligible voters who have requested an absentee ballot, at nearly 42%.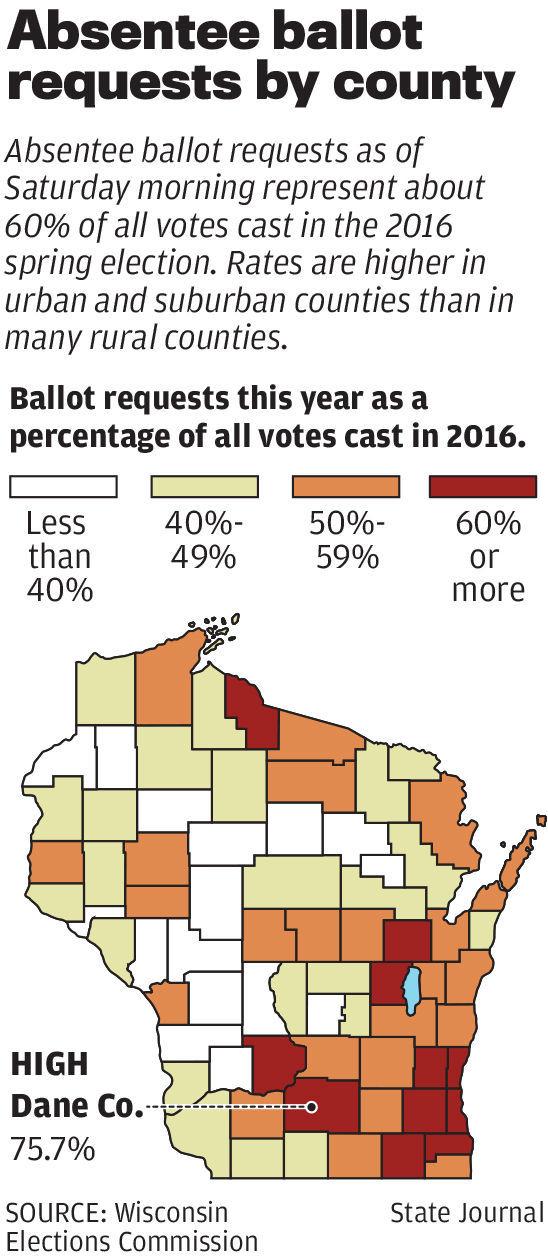 Turnout via absentee ballot is now about 76% of the total turnout in the spring 2016 presidential primary in Dane County. The boost Dane County gives to Democrats could be countered by the conservative Waukesha, Ozaukee and Washington counties ringing Milwaukee, which combined have about 40% of eligible voters requesting absentee ballots.
Milwaukee County, the state's largest county, has had the largest number of absentee ballots requested with more than 190,000, but in terms of the percentage of eligible voters that amount is right at the state average of just under 28%. Fewer than 20% of eligible voters have requested absentee ballots in 30 mostly rural counties where Republican fare better.
Burden said urban areas, especially Milwaukee and Madison, may have greater problems running Election Day smoothly, while rural areas may not. That, however, could be counteracted by the higher elderly population in rural counties, which could drive that population to stay home.
In Milwaukee, Christine Neumann-Ortiz, director of Hispanic outreach group Voces de la Frontera, said Wisconsin officials' choice not to postpone the election will almost certainly disenfranchise minority voters. She said the Hispanic population often relies on same-day voter registration.
The online and mail-in registration deadline has already passed, so many voters in that community may not vote if they think registering and casting a ballot in person is too much of a health risk.
Concerned about COVID-19?
Sign up now to get the most recent coronavirus headlines and other important local and national news sent to your email inbox daily.