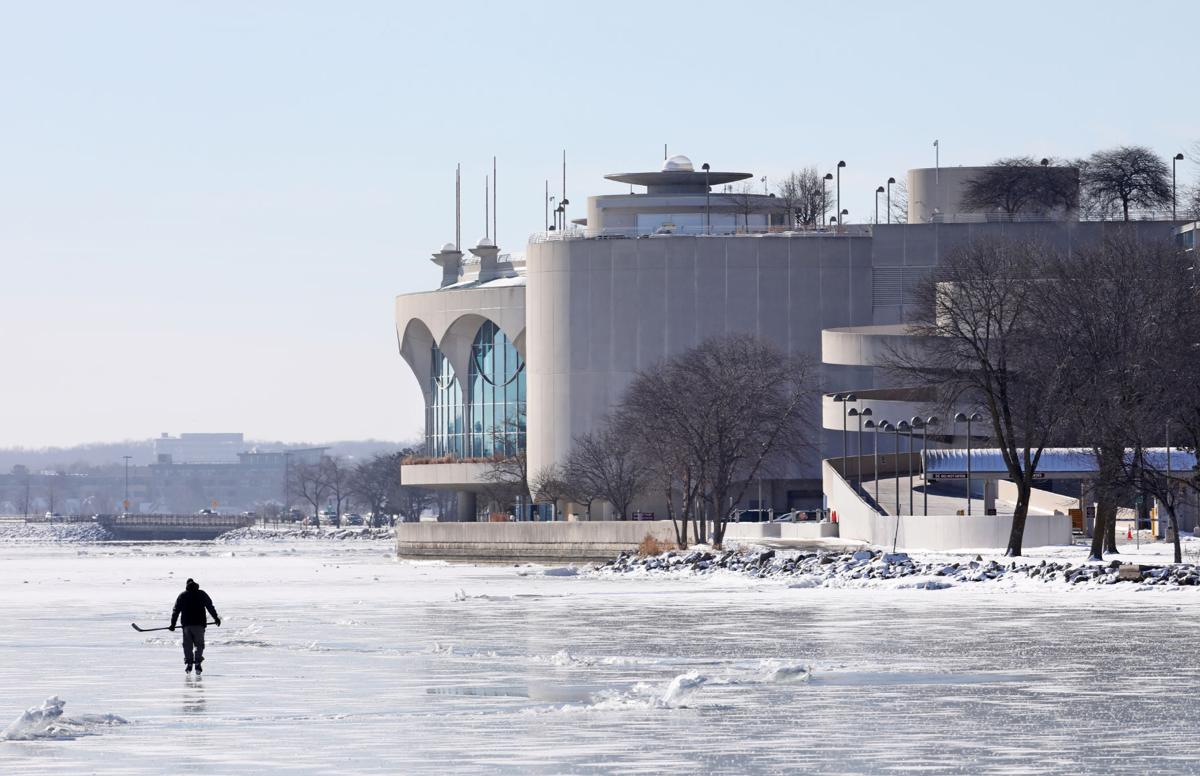 After decades of ideas but little action, the city is launching a competition to help transform the much-used but uninspired Lake Monona waterfront between Williamson Street and Olin Park into a "must see" regional destination.
The coming competition will invite designers to craft a master plan that would better connect Capitol Square and nearby neighborhoods to the lake, improve water quality and aquatic habitat, celebrate Frank Lloyd Wright's architectural legacy and preserve the lake's cultural history from the Ho-Chunk Nation to present.
Based on preliminary work, the master plan could be modest to monumental, including pedestrian bridges or even a terraced park built over John Nolen Drive to the lakeshore, extending Law Park into the lake, creating better spots for shore fishing and other activities, expanding Monona Terrace, and a striking public boathouse and marina designed by Wright in 1893.
The city's draft "request for qualifications," the first step in identifying potential designers, says the master plan should transform the city's premier lakefront into a "beautiful, activity-rich, signature park" and calls the challenge "a once-in-a-generation opportunity to shape the future of Madison's urban waterfront."
Up to three design team finalists would get $75,000 apiece to create draft plans, while the chosen team would receive a contract of up to $200,000 to refine a preferred master plan that would be recommended to the mayor, City Council and Park Commission.
A resolution introduced by council president Syed Abbas and four council members whose districts touch the waterfront would authorize the competition and create a 13-member ad hoc committee to select finalists and recommend a preferred master plan by Sept. 1, 2023.
"Our lakes are an incredible asset," Mayor Satya Rhodes-Conway said. "This planning process is an opportunity to create a vision for better access to them, and to reorient this space away from cars and toward people. It's an opportunity to create all sorts of connections, and to center equity and inclusion in the process."
Physical limitations
The concept of an elaborate park on the Lake Monona shore has stirred the imagination for more than a century.
The shoreline park was originally conceived in 1911 by John Nolen in his plan "Madison: A Model City," which envisioned a 5,000-foot-long esplanade that connected the lake to the state Capitol. In 1943, a greatly reduced park was built on filled lake bed, establishing the current configuration of 2,500 feet of shoreline on 4.7 acres.
But instead of being connected to Capitol Square, the park is separated by a 35-foot drop and the six-lane John Nolen Drive and railroad tracks. Access is limited to the far ends of the park and by elevator and stairs through Monona Terrace, which opened in 1997.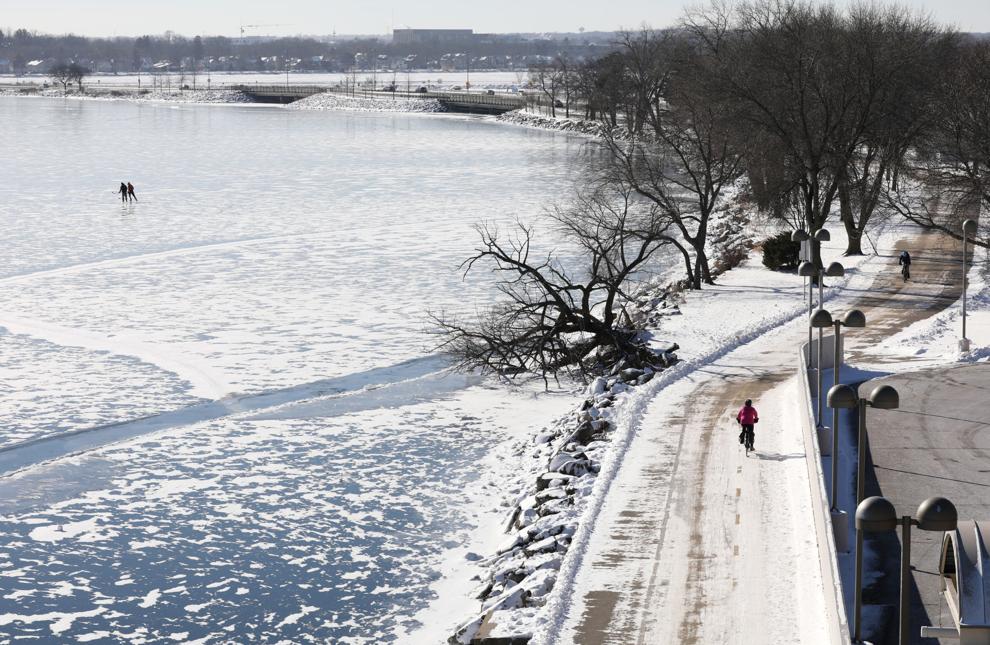 "Clearly, people want to be at the water's edge," parks superintendent Eric Knepp said. "But it's a vexing issue because of the grade separation. It will take an inspired design."
Many imaginative plans to reconnect Downtown to the park have been offered over the decades, but none has been implemented.
To 'think boldly'
The current planning effort, started in 2019, now includes 1.7 miles of shoreline and 17 acres of parkland including Law Park, the John Nolen Drive causeway and the northern part of Olin Park.
The Lake Monona Waterfront Project is tied to plans to transform a two-story building and 3.65 acres of shoreline next to Olin Park, purchased by the city in 2019, into a community amenity with Parks Division offices; the reconstruction of John Nolen Drive, slated for 2026; and creation of a "Destination District" around Alliant Energy Center, aimed at connecting the South Side to the lake and Downtown.
The city spent $260,000 for a consultant to produce a 216-page preliminary report completed in May 2021. It will now spend $225,000 — half of that privately funded — for design challenge stipends, and another $200,000 for the chosen team to refine the preferred master plan.
"By bringing in national and international firms for the design challenge, the city and its community partners, are encouraging visionary, creative, significant and meaningful plans for this incredibly important section of our region," said Jason Ilstrup, president of Downtown Madison Inc. "It's time for our community to think boldly about how all of us access our water; this challenge is a great start."
The city's Capitol Improvement Plan includes $2.5 million for a demonstration project along the waterfront, but making the master plan a reality will require continuing support from project advocates and the private sector, officials said.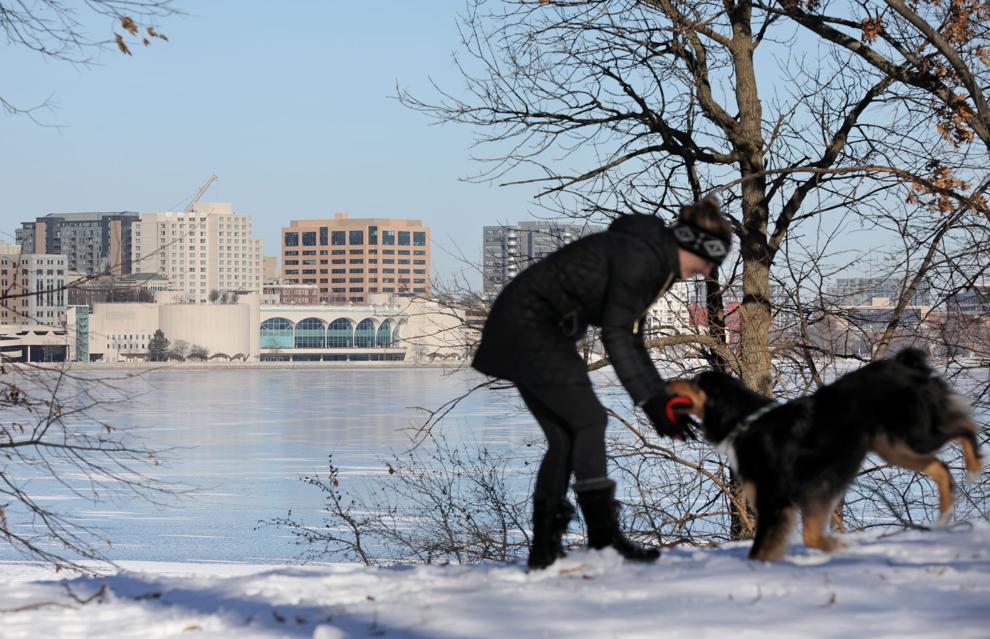 While plans for the waterfront have come and gone, what's different this time is the level of cooperation between the public and private sectors — plus the timing of the John Nolen Drive reconstruction, including the causeway bridges, and the city's acquisition of the two-story Olin Park Facility, Rhodes-Conway and others said.
"It will be very hard to do," Knepp said. "But it's what we have to do. This is the time. It's this generation's opportunity. (But) it's not a Parks Division project. It must be a community project. It will not be successful if we don't have broad support of policymakers and the public."
Sky's the limit
It's unclear who will participate and what concepts might emerge, but the city's draft request for qualifications is ambitious and sweeping.
The park, it says, must be a family-centered destination that's welcoming to people of all social, economic and racial backgrounds. It must inspire a deep connection with nature, history and place. Designers are asked to consider a number of water-based activities such as shore fishing, kayaking, sailing, paddle boarding, boating and swimming. The design must also expand public gathering and event space. The Frank Lloyd Wright boathouse would give the city two major structures in close proximity by the renowned architect, whose designs inspired Monona Terrace.
The plan is seen as a catalyst for jobs, development, new businesses and tourism.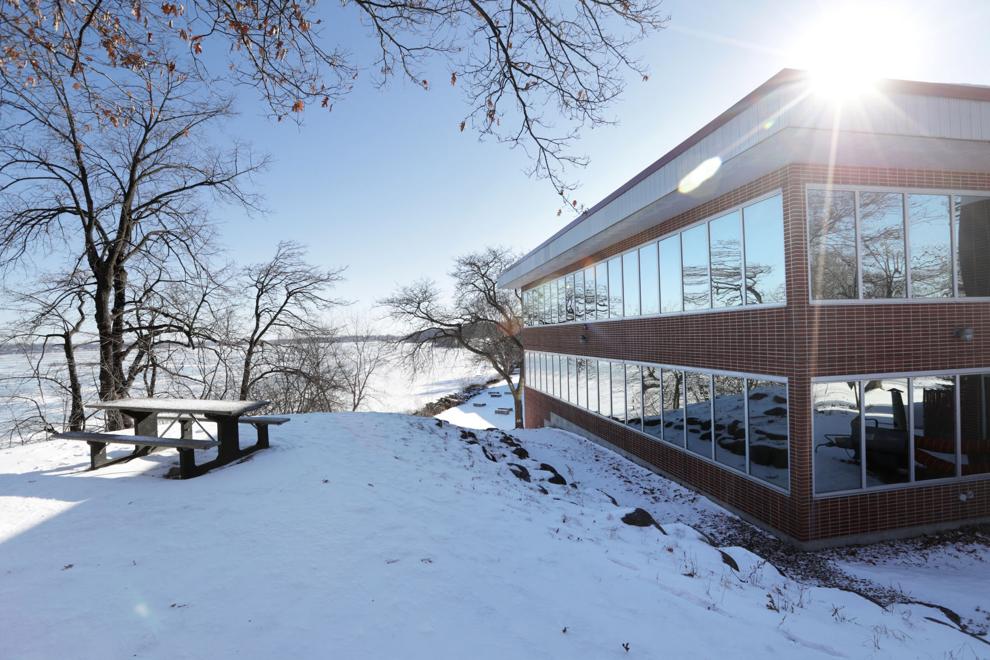 "The project's significance requires an approach beyond the Parks Division's standard park planning process," said parks landscape architect and project manager Michael Sturm. "Design competitions help raise project awareness and draw greater knowledge and talent to challenging projects."
Downtown Ald. Mike Verveer, 4th District, said the city has a rare opportunity. "I'm really excited by the extraordinary opportunity that's before us," he said. "I'm heartfelt and confident the design challenge will lead to a vision that will serve future generations.
"Law Park has never achieved its full potential. It is very popular and at times is bursting at the seams," he said. "I'm most excited about the expansion of Law Park."
The space between Law and Olin parks is "a blank canvas of opportunities," said Ald. Tag Evers, 13th District. "There's great interest in activating this space, perhaps creating a boardwalk of some sort along the shoreline. I'd like to see bump-outs with places for kids to play, families to picnic, and folks to relax and enjoy the spectacular view.
"There are safety concerns currently with pedestrians and bicyclists sharing a narrow path; separating these users should be a priority," he said.
Access to water
Along with the potential for more interactive uses of the waterfront, the design challenge should offer greater access to the water for the whole community, Ilstrup said, including residents living Downtown and on the East and South sides.
The goal should be a welcoming space for all Madisonians, a diverse space accessible by transit, perhaps even a trolley of some sort, Evers said.
"Right now the waterfront is dominated by high-speed traffic along John Nolen Drive," he said. "If we want to see the waterfront meet its potential, we'll need to recalibrate that equation."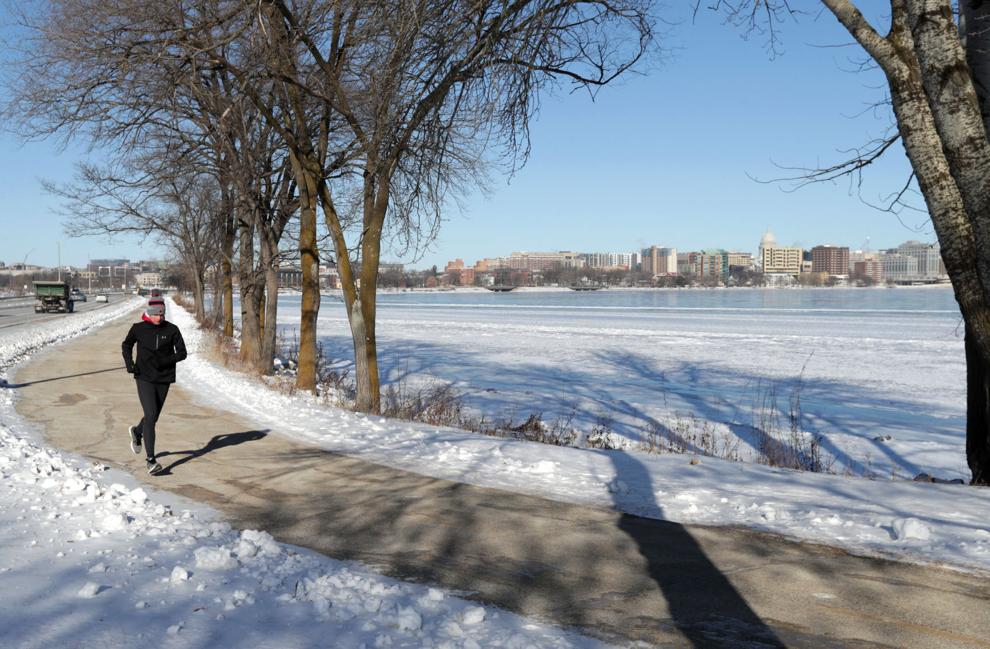 The ad hoc committee will include seven community representatives; a professional civil/structural engineer; members of the Park Commission, Parks Foundation and Monona Terrace and Public Works boards; and a member of the Friends of Nolen Waterfront.
The Parks Division expects to issue the request for qualifications in March with initial submissions due in May and up to three teams selected the following month. A public review could begin in November and conclude in February 2023. A preferred master plan could be selected in March 2023, refined, and introduced for city approvals in August 2023.
The Yahara Lakes: Giants Among Us
The Yahara lakes are the Madison-area's dominant natural feature. They affect our daily lives, yet we may not know them well. This Wisconsin State Journal series examines the history, impact and health of our lakes.
"This is the time. It's this generation's opportunity."

Eric Knepp, Madison parks superintendent