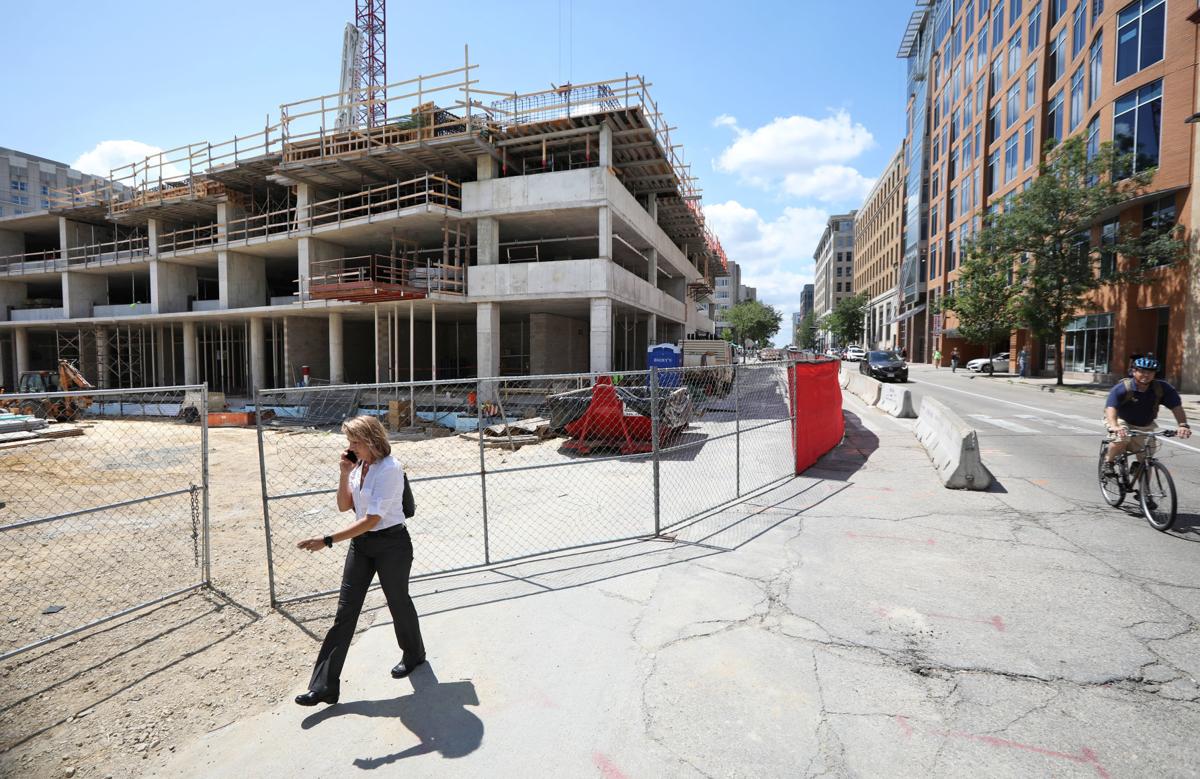 The leader of the state Department of Safety and Professional Services has announced changes to how the department handles regulation of commercial building construction following criticism from lawmakers and industry groups over delays.
The new measures unveiled by DSPS Secretary Dawn Crim would affect the department's review of commercial construction plans. They follow complaints last year from contractors that troublesome delays created barriers to the construction process. They've already received pushback from some Republicans critical of Crim.
One of DSPS' responsibilities is to review commercial construction plans to ensure they comply with Wisconsin laws and regulations. Contractors pay a fee to the department for such plans to be reviewed.
Crim, who hasn't yet been confirmed by the Republican-controlled Senate, is under political pressure as Republican senators have brought attention to the plan review issue. The Senate is scheduled to meet Tuesday and isn't planning to take up Crim's confirmation.
Crim's announced changes include encouraging contractors to submit their construction plans early and with payment to have the opportunity to have their plan be reviewed earlier than scheduled.
Crim also plans to prohibit duplicate appointments for plan review and require contractors to pay the department before it reviews a construction plan.
"Our goal is to shorten the amount of time it takes for our customers to have their plans reviewed by our staff," Crim said in a statement. "We collaborated with industry partners to align our solutions with the way our customers conduct business. We recognize our important role in the construction process and economic development. These changes will enable us to better facilitate both."
Sen. Duey Stroebel, R-Saukville, said he appreciate's Crim's work but that the changes miss the mark.
"She seems focused on blaming the delays on the actions of contractors," Stroebel said in a statement. "I find it hard to believe that internal practices at DSPS have no role in the increased review times contractors are experiencing under her leadership."
Stan Johnson, president of A.C.E. Building Service in Manitowoc, said he's recently seen improvements in delays to the plan review process, but that it could simply be due to the slower winter construction season.
"There's not much meat there," Johnson said.
Additional changes are being considered — such as making fees paid by contractors for plan review nonrefundable — but would need legislative approval. Other changes that would likely need legislative approval include relaxing regulations and reducing the types of buildings in need of plan review.
Johnson said the department's plans to eliminate duplicate appointments could help, but that his company and other contractors he knows haven't ever made it a practice of booking duplicate appointments. He said he supports changes that would lessen the need for more minor commercial projects to be reviewed, which could lessen the department's workload.
Contractors have complained they have experienced delays of up to 10 to 12 weeks for their construction plans to be reviewed. They had been accustomed to six to eight weeks. DSPS data show it has generally taken the department longer than under former Gov. Scott Walker's administration to finish reviewing plans, but such delays began occurring under Walker's tenure.
Get Government & Politics updates in your inbox!
Stay up-to-date on the latest in local and national government and political topics with our newsletter.