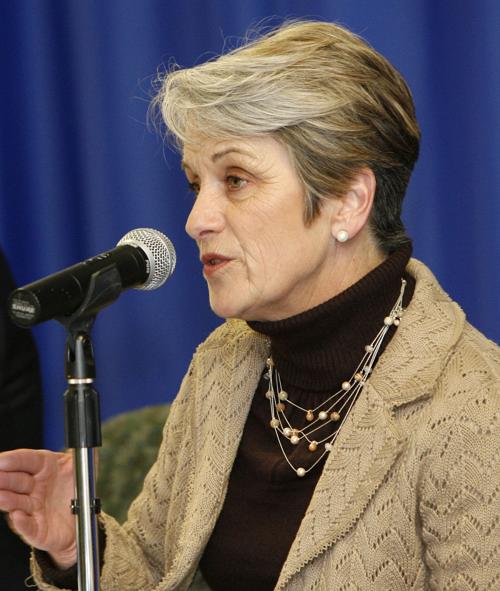 State Department of Health Services Secretary and former state legislator Kitty Rhoades died Saturday after falling ill in the past week, Gov. Scott Walker's office announced. She was 65.
The cause of death was not disclosed. DHS spokeswoman Julie Lund declined comment Saturday, citing a desire to respect Rhoades' family's privacy.
Her death shook elected officials and others who served with Rhoades over nearly two decades of state service.
"On behalf of all of my fellow legislators, Democrats and Republicans alike, we send our deepest sympathies to the family of Secretary Kitty Rhoades," Assembly Speaker Robin Vos, R-Rochester, in a statement. "She was gracious, generous and incredibly talented at finding workable solutions to get things done."
Rhoades, Vos said, helped him "become a better legislator, taught me to focus on solving problems and find common ground when possible."
In a statement, Walker praised Rhoades' years of service to the state, adding that "she leaves behind a long list of accomplishments as her legacy."
"She also leaves behind many friends in my administration, who admired her tenacity, spirit, and leadership," Walker said.
Rhoades was named a deputy secretary of DHS in January 2011 and took the top spot in 2013, replacing then-secretary Dennis Smith.
She took over at a time when Medicaid programs were undergoing major changes under Walker, and after the governor rejected an expansion of Medicaid under the federal Affordable Care Act.
Those changes included requiring childless, able-bodied participants in the state's FoodShare food stamp program to work at least 80 hours per month or seek employment. In the first year, more than 41,000 lost their benefits, but nearly 12,000 found jobs through the program's new job training program, DHS reported in April.
"Wisconsin employers are looking for qualified, skilled workers, and increasing the ability of able-bodied adults to fill these positions will allow more employers to grow and expand, improving the state economy and offering more Wisconsinites a path to independence and prosperity," Rhoades said at the time.
Rhoades' time with DHS also included overseeing the mental health initiatives in Walker's 2013-15 budget, which included the opening of three peer-run homes that offer respite for people with mental health or substance use challenges.
"No one knows what a person with a mental illness or an addiction is going through unless they have been there themselves," Rhoades said in announcing the program. The centers, Rhoades said, "are designed to promote self-directed recovery, with the goal of preventing crises and reducing hospitalizations."
In February 2014, DHS proposed a plan to redesign dementia care in the state to help address growing need. The plan included adding more social workers to help families find Alzheimer's services, certifying more caregivers trained in dementia care and expanding emergency placement programs.
"Secretary Rhoades was a leader, a partner, a champion who has left an indelible mark on health care policy and will be gratefully remembered by the countless people she helped during her career in public service," Wisconsin Hospital Association President and CEO Eric Borgerding said, describing her as "one of a kind."
Before joining DHS, Rhoades, of Hudson, served in the state Assembly from 1999 until 2011, representing the 30th District in northwestern Wisconsin. During her service, she co-chaired the Legislature's powerful budget committee, among other leadership positions.
In 2005, she and Sen. Sheila Harsdorf, R-River Falls, introduced legislation to restrict the sale of pseudoephedrine — a main ingredient in cold medicines — which can be used to make methamphetamine, a growing threat in northwestern Wisconsin. The bill eventually passed.
"Wisconsin lost a great advocate, leader, and servant today," Attorney General Brad Schimel said in a statement Saturday that thanked her for her efforts to combat opiate addiction. "Kitty Rhoades dedicated her career to improving the lives of Wisconsin citizens and her passing will be felt throughout the state."
Get Government & Politics updates in your inbox!
Stay up-to-date on the latest in local and national government and political topics with our newsletter.