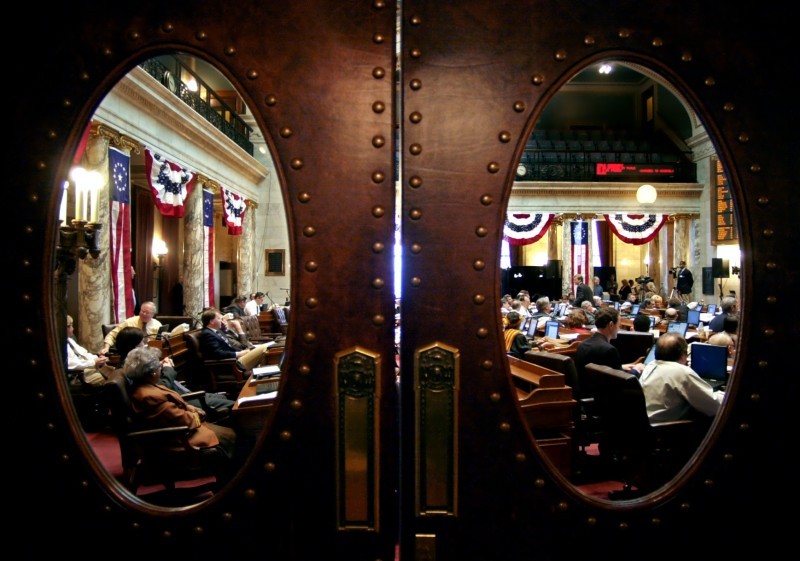 Dejected Democrats quietly ended a messy lame duck session to approve state contracts Thursday, hours after one of their key leaders unexpectedly turned on them and voted the deals down.
Senate President Fred Risser gaveled the Senate in and gaveled it out seconds later to officially end the session. No one was in chamber besides Risser, Sen. Mike Ellis, R-Neenah, Senate Minority Leader Scott Fitzgerald, R-Juneau, new Senate Majority Leader Dave Hansen, D-Green Bay, and the Senate chief clerk's staff, who didn't even bother to turn on the chamber's lights.
"Now it's up to Gov. Walker to deal with it in the future," Hansen said, referring to Republican Gov.-elect Scott Walker. "We'll see what happens."
Democratic Gov. Jim Doyle's administration announced last week it had completed negotiations on 17 contracts covering 39,000 state workers ranging from teachers to janitors. The deals included no pay increases, factored in 16 furlough days Doyle ordered state employees to take in the current state budget and called for 5 percent increases in health care contributions.
The contracts have been a hot issue for Walker. He demanded Doyle's staff stop work on the agreements last month, saying they could hamstring him as he grapples with a $150 million deficit in the current fiscal year and a $3.3 billion shortfall in the next two-year budget.
He wants state workers to make deeper concessions and even suggested he would consider abolishing state employee unions after he takes office.
Democrats pushed on despite Walker's demands, saying he's not the governor yet. But no one realized that former Senate Majority Leader Russ Decker, D-Weston, wasn't on board.
The first signs of dissension surfaced on Tuesday, when Assembly Democrats approved a lame-duck session to vote on the contracts. Decker would not follow suit, though, and offered no explanation why.
Irritated members of his caucus planned to approve the session without his consent, but on Wednesday morning Decker relented and allowed the session to begin. He then took his place on the Legislature's employee relations committee and voted to approve the contracts and send them to both houses for a full vote. Everyone thought he was ready to move ahead.
Assembly Democrats convened first Wednesday evening and barely got the contracts through, approving 16 of them by one vote and the last by three votes. The swing voter was Rep. Jeff Wood, who convinced a judge to release him from jail long enough to travel to Madison and vote. Wood, a Chippewa Falls independent who often sides with Democrats, is serving 60 days for impaired driving in Marathon County.
A gaggle of reporters chased Wood through the Capitol after the vote, but he ducked into an office without saying anything to them.
The Senate convened moments later, with Republicans complaining that Democrats were so desperate to tie Walker's hands that they pulled a lawmaker out of jail.
Then, moments before the vote on the first contract, Decker got up and said he couldn't support any of the deals. He said Doyle should have had the contracts ready months ago and the next Legislature should deal with them.
He and Sen. Jeff Plale, D-Milwaukee, voted against the contract, creating a 16-16 tie with Republicans. A tie vote meant the contract failed.
Enraged Democrats immediately recessed to a closed door meeting, stomping angrily out of the chamber. Decker seemed in good spirits on his way into the meeting, laughing when a trailing reporter joked he was getting more media attention than Wood.
When Democrats remerged they had stripped Decker of his leadership post and handed it to Hansen. They returned to the floor and voted on the remaining 16 contracts, but Decker and Plale didn't change their minds and every one of the agreements failed, 16-16. Decker, a 20-year Senate veteran, sat in his chair as the votes went on, looking unaffected. He had nothing to lose; he lost his re-election bid in November and will be out of the Legislature in three weeks anyway.
"I have no regrets," he said before he ducked into his office after the vote.
Plale, meanwhile, also lost re-election in the September primary. He said Democrats should let the next Legislature deal with the contracts rather than try to ram them through.
But all eyes were on Decker, whom Democrats painted as a traitor.
Sen. Bob Jauch said he was "dumbfounded" by Decker's move. No one saw it coming, he said.
Decker has never gotten along with Doyle, Jauch said, but it was selfish to use state workers to hurt the governor one last time.
"It's really offensive," Jauch said. "No matter what his motive is, he's sticking it to a lot of middle class people."
Wisconsin State Employees Union executive director Marty Beil wasn't so polite. He called Decker "a whore."
Walker, meanwhile, declared victory, issuing a statement saying he'd won the flexibility he needed to balance the state budget.