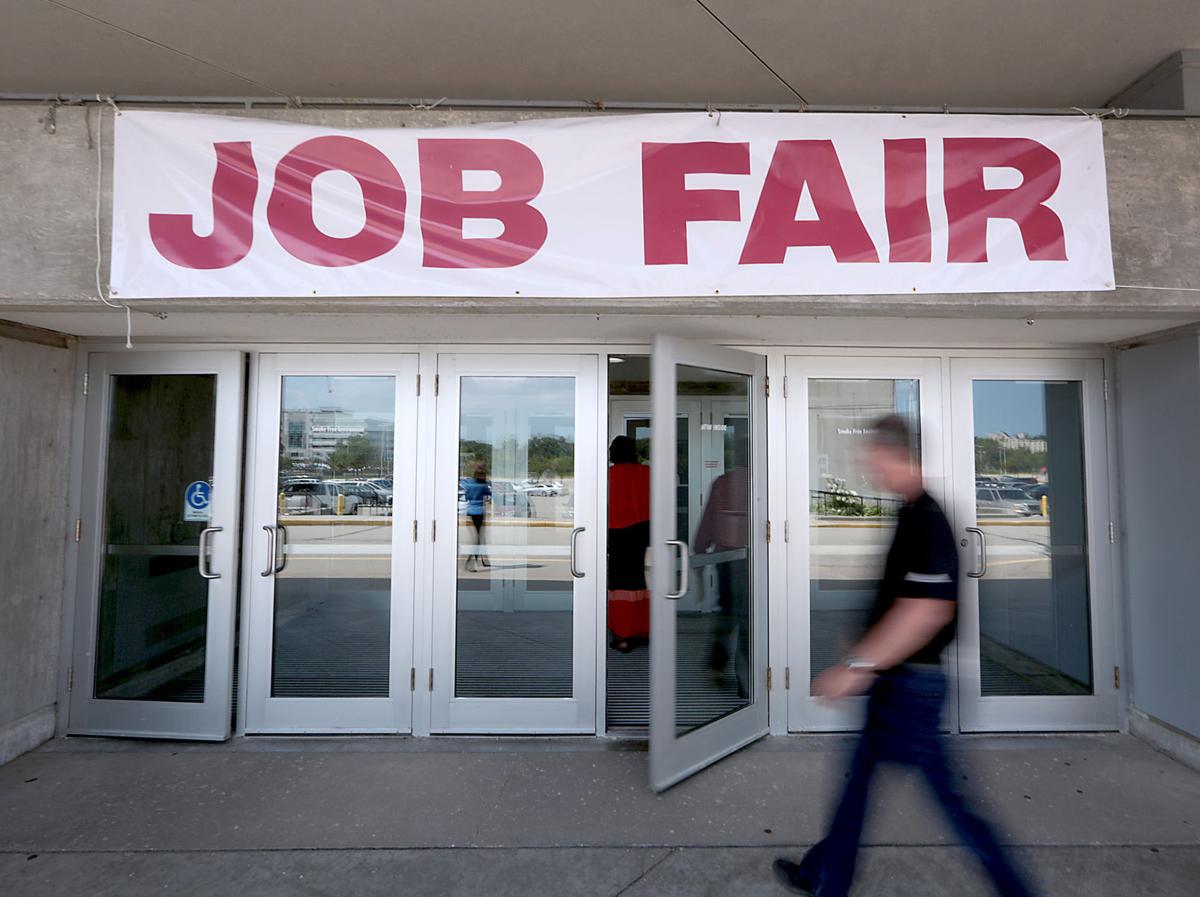 Democratic Attorney General Josh Kaul is taking a "shift in approach" from his Republican predecessor on prosecuting criminal fraud cases against unemployment benefit seekers.
After taking office in January, Kaul temporarily froze such prosecutions for about two months to reassess the Department of Justice's approach, according to spokeswoman Gillian Drummond. She framed it as one of several areas in which Kaul has re-evaluated the approach of his GOP predecessor.
Gov. Tony Evers' Workforce Development secretary, Caleb Frostman, wouldn't comment on whether his agency is similarly scaling back unemployment fraud enforcement — even as agency data show a significant drop in prosecution referrals compared with recent years. But he said his agency is looking to streamline surveys and paperwork for claimants in the state's unemployment insurance program, amid concerns that it is confusing for some to navigate.
Frostman acknowledged concerns that the state's anti-fraud crackdown, mounted in recent years under former Attorney General Brad Schimel and former Gov. Scott Walker, both Republicans, became so aggressive that it deterred at least some qualified applicants from seeking jobless claims because they feared an honest mistake could land them in trouble.
Schimel and Walker framed their efforts as holding criminals accountable for ripping off the state's unemployment insurance safety net. The program provides temporary weekly benefits to people who lose their job through layoffs or other reasons not linked to employee fault.
Referrals of unemployment insurance fraud cases for criminal prosecution grew sharply in the second half of Walker's eight-year tenure, state data show, even as the ranks of people filing jobless claims declined to record lows as the economy grew out of the Great Recession.
Most commonly, such fraud involves claimants concealing information from the state, such as hours worked, that would reduce their benefits. In most cases, the department works to collect jobless benefit over-payments — benefits that are clawed back from claimants if they later are deemed to have been ineligible for them — as well as surcharge penalties.
In a few more serious cases, DOJ or county district attorneys may prosecute fraud cases referred to them by the Department of Workforce Development, which administers the state's unemployment insurance program.
In a recent Wisconsin State Journal interview, Kaul said his approach to enforcing all criminal laws, including unemployment insurance fraud, is to focus on "prosecutions (that) are directly addressing significant criminal activity and have a general deterrent effect."
"I think it's important that we use our limited prosecutorial resources to focus on those more significant cases," Kaul said.
Kaul added that it's important for the department to look at unemployment insurance fraud whether it's committed by an employee or employer. Evers recently announced formation of a new state task force on the latter issue, employee misclassification, in which employers violate the law by classifying employees as independent contractors to avoid paying taxes, including for unemployment insurance.
Some Republicans now fear Evers' proposed changes to the unemployment insurance program, such as eliminating a one-week waiting period for benefits, could erode the recent push to crack down on fraud.
Critic: Goal is 'to trip people up'
From 2015 to 2018, Workforce Development officials referred 402 fraud cases to prosecutors to bring criminal charges. That compares to 112 referrals the four previous years, from 2011 through 2014.
So far in 2019, since Evers took office, Workforce Development officials have referred only 10 cases for prosecution, according to data provided by the department.
Critics of the Walker crackdown say it was part of a resource-intensive war on some of the state's poorest residents. They say state officials sometimes failed to differentiate between intentional fraud and honest mistakes by applicants.
Madison attorney Victor Forberger, whose clients include unemployment insurance claimants facing fraud charges, said complex, multi-part survey questions frequently bewilder claimants. That can lead them to make mistakes in their answers that state officials later treat as fraud, he said.
"They've designed the system to make it harder for people to provide information, to trip people up," Forberger said.
In a recent State Journal interview, Frostman said the department is eyeing changes to "streamline" its application process for jobless benefits, including by clarifying questions to applicants.
"We want to be sure folks who are eligible for the program feel like that they can navigate our system accurately and that they can feel confident that the questions are clearly asked," Frostman said.
Former GOP state Rep. Joe Handrick, who led the department's unemployment insurance division from 2014 until January, acknowledged what he described as a multi-pronged approach to crack down on fraud at the department during his tenure.
There was a legislative push by Walker and GOP lawmakers to enhance surcharge and criminal penalties for unemployment insurance fraud. Another law made it easier for state officials to substantiate fraud allegations by removing a requirement that the state had to prove a claimant had an intent or design to receive benefits to which they knew they were not entitled.
The approach also involved working more closely with prosecutors to identify and prosecute serious fraud cases, Handrick said, and adopting new, more advanced methods to detect fraud.
"The department has a lot more tools at its disposal now to catch fraud, mostly by employing technology," he said.
Handrick said he fears those efforts could lose momentum under a provision of Evers' plan for the next state budget, which calls for eliminating the one-week waiting period. Handrick said the waiting period was crucial in enabling state officials to catch fraudulent applications.
'Only the worst of the worst'
Handrick also rejects claims that some people prosecuted for fraud only made mistakes, saying the department long has distinguished between intentional and inadvertent omissions by claimants that lead to benefit over-payments.
"The things that get assigned as fraud are where the person clearly and intentionally attempts to defraud the people of the state of Wisconsin," Handrick said. "Only the worst of the worst get referred to district attorneys for prosecution."
Ben Jedd, the current Workforce Development spokesman, also said prosecution referrals are reserved "for the worst offenders" — less than one-half of one percent of all cases the department investigated in the last decade.
Kaul's deputy attorney general, Eric Wilson, told the state Unemployment Insurance Advisory Council last month that factors the department will consider in prosecuting cases include proving the claimant had an intent to defraud the state and whether they lied to investigators or obstructed the case. Another factor is whether the amount of benefits alleged to have been collected illegally justifies the expenditure of state resources to prosecute, Wilson said.
The rate of eligible workers filing for jobless claims has plummeted in Wisconsin in recent years, even in relation to the downward turn in the unemployment rate. The last time the unemployment rate was nearly this low, in the late 1990s, nearly twice as many eligible workers were filing for unemployment, Federal Reserve data show.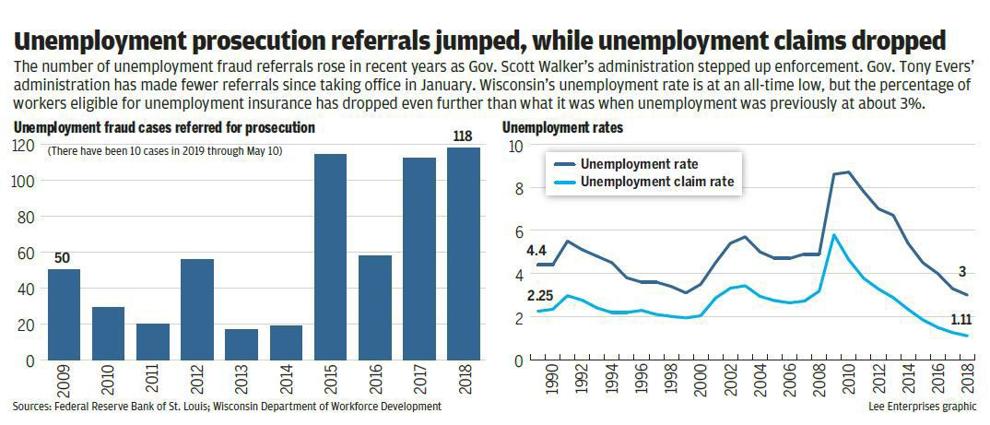 Critics such as Forberger question if this is due to the state's anti-fraud efforts, as well as other new requirements placed on claimants such as work searches.
Frostman said his office will continue to actively combat unemployment insurance fraud. When pressed, he would not comment on whether the department has changed or plans to change enforcement practices.
But Frostman acknowledged he has heard the state's anti-fraud efforts created a disincentive for people "who certainly qualify for unemployment insurance" but fear being charged with a crime for a mistake..
"That has been a deterrent for people that are undeniably eligible for unemployment insurance due to losing a job through no fault of their own — that they decided not to even pursue it because of the ramifications that a mistake might carry," Frostman said.