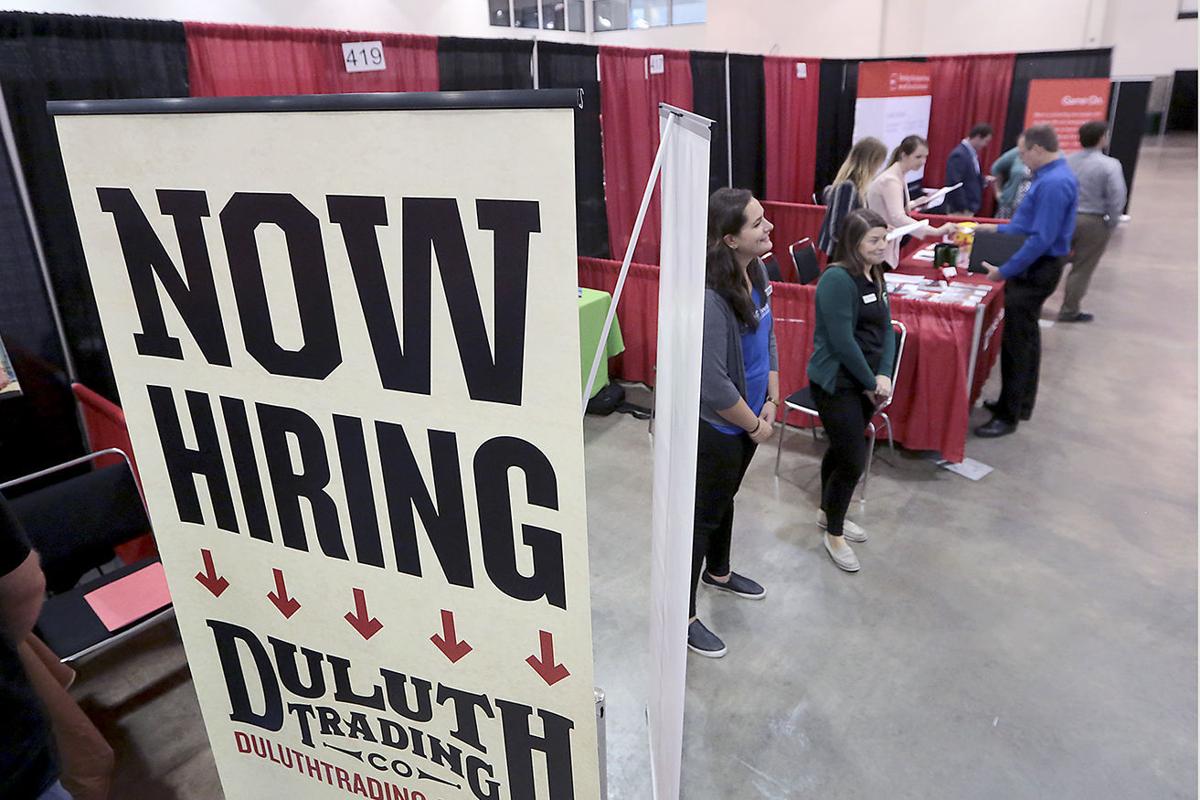 After seven years under Gov. Scott Walker and Republican control of state government, Wisconsin's economy continues to lag behind the nation in job creation while doing slightly better in wage growth.
Those mixed results have presented an opening for Democrats running for governor to offer an alternative vision for how to grow the economy. All 10 campaigns provided several ideas for how to spur job and wage growth in response to a Wisconsin State Journal inquiry.
Unlike Walker, they all support raising the state's $7.25 per hour minimum wage with most targeting $15 per hour either immediately or over time.
Several see offering free technical college, expanding Medicaid access, refinancing student loan debt and increasing funding for roads and high-speed internet as keys to attracting more young workers as the state faces a worker shortage.
Walker meanwhile is pointing to record-low 2.8 percent unemployment and a strong labor participation rate as a sign the state is on the right track. He is also counting on a $10 billion Foxconn manufacturing campus in Racine County to deliver a shot in the arm to the state's economy, while emphasizing workforce development grant programs as a way to address the labor shortage.
"We will continue cultivating an environment that fosters job growth, provides tax relief for hard-working families, and invests in education so that Wisconsin can continue leading and win the 21st century," said Walker campaign spokesman Austin Altenburg.
When he first ran for election in 2010, Walker promised to create 250,000 private-sector jobs in his first term. But after seven years the state still hasn't reached that milestone.
Part of the reason for that is Wisconsin's industrial mix continues to rely on agriculture and manufacturing, which have been buffeted by globalization and automation.
"What many people have to realize is this is a state that has been built on very traditional industries at a time when those industries are in a great state of flux," said Jason Stein, research director for the nonpartisan Wisconsin Policy Forum. "If any politician comes along and tells you that they can transform that, you should be very skeptical as a voter."
According to annual figures released by the Quarterly Census of Employment and Wages, a survey of nearly every employer in the country that Walker described as the "gold standard" for measuring his jobs pledge, the state added 226,135 private sector jobs from 2010 through 2017.
Had Wisconsin's job growth kept up with the national rate, it would have surpassed Walker's goal in 2015 and the state would have an additional 116,322 private sector jobs today.
Instead the state for the first time fell behind Minnesota in total jobs, even though Minnesota has 240,000 fewer people.
Since 2010 the state's Democratic governor has raised income tax rates on those making more than $150,000, increased spending on health care and education, and hiked the minimum wage to $9.50 with automatic inflationary increases that now put it at $9.65.
Wisconsin, which cut income tax rates across the board, froze property taxes and college tuition, nearly eliminated income taxes on manufacturers and farmers, relaxed environmental and business regulations, and committed $3 billion in future tax credits to Foxconn, has added more businesses than its neighbor since 2010.
Economists pointed to some fundamental differences between Minnesota and Wisconsin, including that Minneapolis-St. Paul has grown as a hub for corporate headquarters while Milwaukee's growth has stagnated over time. Still, the data undermine the notion that Wisconsin's approach is inherently superior, said Laura Dresser, associate director of the liberal-leaning Center on Wisconsin Strategy at UW-Madison.
"I don' t think there's strong evidence that these policy promises have played out in terms of job production," Dresser said. "There was real commitment to this strategy as a strategy for bringing jobs to the state and to have such consistent lag with even the national rate certainly raises questions about the policy."
Noah Williams, director of the conservative-leaning Center for Research on the Wisconsin Economy at UW-Madison, said the main reason Wisconsin has lagged in overall job growth is that population growth here has been very slow over the past decade, less than half the national average.
"By most measures of living standards and experience of individual people in the state this is a pretty good time," Williams said. "We do see somewhat less dynamism and growth."
Minnesota's nominal annual wages grew 20.6 percent since 2010, compared with Wisconsin's 19.4 percent growth rate. Both were better than the national average of 19.1 percent.
UW-Madison economist Steven Deller said many of the jobs the state is creating are lower-wage jobs, but he acknowledged economic growth has begun to pick up.
"If the economy is doing well, Walker stands a pretty good chance," Deller said. "If we continue to see the kind of economic growth that we're seeing now, most people are going to say, 'It's not broken, why fix it?'"
No promises
on job growth
Shortly after Walker announced his 250,000 jobs goal in 2010, Democrat Tom Barrett suggested the state would add 180,000 jobs if he were elected.
This year the Democrats — state schools superintendent Tony Evers, former party chairman Matt Flynn, businessman Andy Gronik, political activist Mike McCabe, firefighter union president Mahlon Mitchell, corporate attorney Josh Pade, former state Rep. Kelda Roys, Mayor Paul Soglin, state Sen. Kathleen Vinehout and state Rep. Dana Wachs — aren't making predictions about how many jobs would be created if they were elected, though Roys pledged to ensure Wisconsin is no longer ranked last in an annual entrepreneurship index put out by the Kauffman Foundation.
Asked about how they would spur job creation, various camps emerged:
Evers, Roys and Vinehout emphasized more funding for education.
Gronik proposed creating regional job training programs "that pay families a living wage while they acquire the job and life skills needed to be successful."
Mitchell and Pade highlighted tax incentives for small businesses and entrepreneurs.
Flynn and McCabe talked up broadband infrastructure and renewable energy.
Wachs said the first step is to expand BadgerCare, then improve the roads and increase teacher pay.
Soglin's response was: "Placemaking in every Wisconsin community," which he described as providing "great public schools, transportation systems, safe and healthy communities with an emphasis on recreational and cultural opportunities, and a clean and sustainable environment."
All would raise
minimum wage
All the Democrats support raising the minimum wage, though with different approaches to getting to $15 an hour, which fast food workers, unions and liberal groups have advocated:
Mitchell and Wachs called for immediately increasing it to $15 as a baseline.
Soglin called for $15 by 2022 and McCabe said $15 within five years.
Evers, Flynn and Roys support raising it incrementally to $15 without a specific timeline.
Gronik and Vinehout support the increase to $15 in principle though didn't offer a timeline.
Pade said he would "partner with businesses and community leaders" to find a path to $12 an hour, then index it to inflation after that.
The candidates also offered other ideas for raising wages in the state with a few calling for the repeal of Act 10, Walker's law barring most public workers from collectively bargaining over benefits and working conditions. McCabe said he would "make joining a union a civil right."
Mitchell proposed creating regional bargaining commissions where private sector employers, employees and the state collectively adjust wages based on sector and location.
Wachs called for reinstating the state's wage board, which historically advised state government on how to set a minimum and living wage.
Soglin would only allow the state to provide economic development incentives to companies that pay $15 an hour, while Gronik proposed allowing public workers to invest in a new venture capital fund and private workers to invest in the state retirement system. Evers, Flynn, Pade and Vinehout called for more government spending on education, health care or infrastructure as ways to raise wages.
Nine of the candidates said they would eliminate the Wisconsin Economic Development Corp. and turn it back into some kind of state agency subject to more public oversight, while Pade said he would ensure hiring Wisconsin workers is a priority for the agency.
McCabe said he would "make Wisconsin cool" by offering debt-free education and legalizing marijuana. Roys also mentioned those ideas, as well as more affordable childcare, which Evers also supports. Mitchell and Wachs highlighted offering free technical college.
Gronik proposed allowing workers to direct their income taxes to paying off their own student loan debt, a program he called "BadgerCLAW."