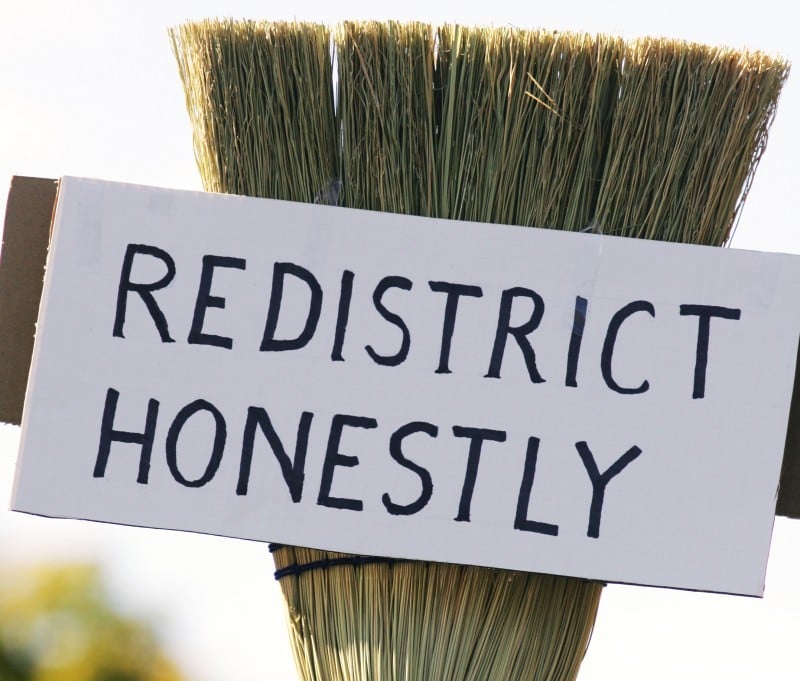 Democratic leaders expressed shock and anger Friday after Republicans unveiled their proposal for redrawing the state's congressional and legislative districts, saying the new lines favor the majority party and target Democrats involved in upcoming recall elections.
But according to Republicans, 22 legislators will be affected, either by being drawn out of their district or by being paired with another legislator in their district. Of that group 12 are Republican, GOP leaders say.
The maps, released by Assembly Speaker Jeff Fitzgerald, R-Horicon, and his brother, Senate Majority Leader Scott Fitzgerald, R-Juneau, are intended to rebalance individual districts to reflect changes in the state's population. The state constitution requires new maps after every 10-year census.
Wisconsin gained more than 320,000 residents since 2000. But while northern Wisconsin and cities like Milwaukee lost people, the Fox Valley suburbs and Dane County grew substantially.
Democratic Party chairman Mike Tate Friday accused Republicans of using the maps to push Democratic challengers in the upcoming recalls out of their current districts. Nine recall elections will take place by Aug. 16; six for Republican senators and three for Democratic senators. If the Democrats win six of the recalls, the party will take control of the state Senate.
Tate said the proposal would knock state Rep. Fred Clark, D-Baraboo, out of Senate District 14, where he is running to replace Sen. Luther Olsen, R-Ripon. Tate also said former De Pere Mayor Nancy Nusbaum would no longer live in District 2, where she is running against Sen. Robert Cowles, R-Green Bay.
"How can they pretend this is a fair, representative map?" Tate said. "This tells me the Republicans know they're going to lose the Senate."
Tate said the proposed map would leave Sen. Bob Wirch, D-Pleasant Prairie, living outside of his current district. If approved, it appears Wirch would live in District 21, which is represented by Sen. Van Wanggard, R-Racine.
Tate also said the new map adds Republican voters to the 8th District, represented by Sen. Alberta Darling, R-River Hills, one of the Republicans facing recall next month.
While the changes would not take effect before any of the recalls, Tate said they would be in force by the 2012 election and could conceivably help Republicans retake seats they lose in the recalls.
But State Sen. Glenn Grothman, R-West Bend, said the maps seem fair, adding that new maps are often tough on certain incumbents.
"I don't know if it's good or bad," he said. "It's just the way it is."
Grothman said his district has changed to include New Holstein, "so I am going to march in the parade there on Sunday. I want to introduce myself to new voters."
Joe Heim, UW-La Crosse political science professor, said redistricting is always a contentious process, especially since it allows legislators in power to essentially pick their own voters.
"In this particular case, it's pretty clear the Republicans can do whatever they want," he said.
The federal Voting Rights Act requires districts be drawn to ensure minorities have an opportunity to elect candidates of their choice.
Rep. Fred Kessler, D-Milwaukee, said he is concerned the GOP maps could fracture Hispanic and black communities and will make it so municipalities have to incorporate state maps into theirs rather than letting local units draw their maps first.
Kessler said he is among the legislators drawn out of his district.
Some have suggested it's time for Wisconsin to adopt a nonpartisan way of redistricting, similar to the method used in Iowa. State Rep. Brett Hulsey, D-Madison, introduced a bill to do just that last week.
Gov. Scott Walker, a Republican, has expressed support for such a proposal, calling it "an idea worth looking into." But when asked about the new maps, Walker said he would evaluate the final version when it reaches his desk.
An Assembly committee meeting is planned for Monday to set the timeline for passage in the Legislature. It is expected to pass the Assembly on July 19. Redistricting maps in eight states have been signed into law already. Nine other states are further along in the process than Wisconsin.
Legal challenge inevitable
Many assume lawsuits will be part of the process, too, as they have been in the past. Courts have been the ruling authority on the last three redistricting maps.
"I'm sure (Democrats will) sue on this," Jeff Fitzgerald told the State Journal last month.
State Rep. Kelda Helen Roys, D-Madison, agreed, saying the Republican maps will lead to chaos and cost the state a lot of money in lawsuits.
"I never expected the Republicans would act fairly, but I am appalled," she said.
In a statement Friday, Democratic U.S. Rep. Ron Kind called the proposal an "incumbent protection map" that will only further polarize politics in the region.
"While I recognize that Democrats are in the minority in our state Legislature and therefore have very little leverage in drawing new federal and state district boundaries, we were merely presented a take-it-or-leave-it map," Kind said. "This process shows the need for our state to adopt a model similar to Iowa that uses a nonpartisan judicial commission to draw the political boundaries."