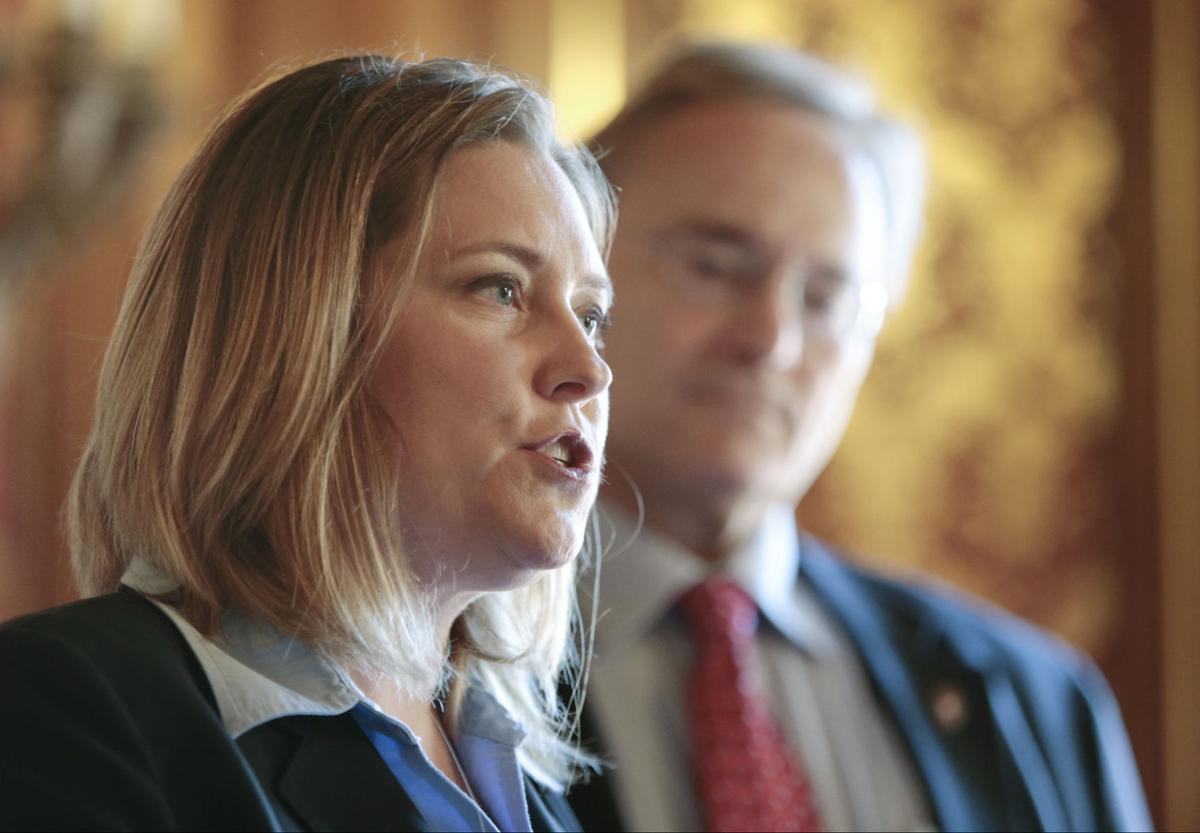 Assembly Minority Leader Peter Barca, D-Kenosha, and Sen. Julie Lassa, D-Stevens Point, are proposing a new hybrid model, including a new cabinet-level state agency — the Wisconsin Department of Economic Opportunity — that would handle all state economic development programs, and a public-private board, the Badger Innovation Corp., that would lead trade missions, recruit businesses, market the state and help develop industry clusters.
"We don't have any illusions that Republicans will pass this as is," Barca said. "But we need to start the conversation."
Senate Majority Leader Scott Fitzgerald, R-Juneau, said through a spokeswoman he would consider the proposal if Lassa and Barca agree not to serve on the proposed board.
Spokeswoman Myranda Tanck said Fitzgerald considers the two Democrats "part of the problem."
On Wednesday Fitzgerald plans to discuss an upcoming Senate state tour focused on economic development.
A spokeswoman for Gov. Scott Walker said in response to the proposal that "WEDC is more nimble and flexible to the needs of job creators across the state than the Department of Commerce and continues to be an important tool to spur economic growth."
Walker and the Republican-controlled Legislature created the public-private agency within weeks of taking office in 2011, and months later WEDC had replaced the Commerce Department. But it has suffered from a series of missteps and staff departures.
Lassa said she has heard from business leaders in her community who are reluctant to seek financial assistance from WEDC because they don't want to be associated with the agency.
WEDC, pressed by a top Walker aide, gave a $500,000 unsecured loan to a company owned by a top Walker donor without conducting a proper background check that should have revealed the company misrepresented itself on its application. Even after the agency learned the company's owner intended to use state funding to repay a luxury car-leasing debt, it continued to help the company in its ultimately unsuccessful attempt to obtain $4.5 million in federal bonds.
"WEDC has a horrible brand problem," Lassa said. "When you have business leaders out there talking about whether they want to be connected with WEDC because their tarnished brand might somehow rub off on the other organizations or their business, I think it speaks for itself."
Republican lobbyist Bill McCoshen, a former Commerce secretary who helped draft the 2010 Be Bold Wisconsin economic strategy that recommended the creation of WEDC, said "there is no question the WEDC brand has been damaged over the past two years" but "a single, nimble agency focused exclusively on economic development is still valid."
"The proposal announced today would be a return to the past when we had a Department of Commerce doing economic development and Forward Wisconsin doing marketing for the state," McCoshen said. "The old model wasn't very effective over time."
Scott Manley, vice president for government relations for Wisconsin Manufacturers and Commerce, the state's largest business lobby, criticized Barca and Lassa, saying they have continually undermined the agency "by creating partisan distractions and diversions."
"The Legislature enacted important reforms to WEDC in the state budget, and those reforms should be given time to work," Manley said. "Our state's job creation and economic development efforts are too important to get bogged down in political gamesmanship."
Since May, Republicans removed Walker as WEDC board chairman at his request, cut $32 million from the agency's budget and began to phase out the agency's loan program.
In response to the Democratic proposal, WEDC spokesman Steven Michels noted the board has retained the Center for Regional Economic Competitiveness to advise the agency on best practices. He also highlighted news last week that Dollar General and Quad/Graphics would be expanding in the state.
"WEDC's structure and responsiveness was integral to those projects coming to Wisconsin and they will create over 1,000 jobs and $150 million in capital investment," Michels said.
Lassa said creating a new agency builds on Walker's budget proposal to merge WEDC with the Wisconsin Housing and Economic Development Authority. That proposal was scrapped after an audit of WEDC found the agency wasn't following state law or its own policies in awarding taxpayer incentives to companies. It also wasn't verifying that companies were creating promised jobs.
The proposal would once again house oversight of the state's Community Development Block Grant program, which administers federal funds, and a state venture capital fund within the same agency that provides grants, loans and tax credits to businesses.
The CDBG housing program was moved from Commerce to the Department of Administration in 2011, and the CDBG economic development program was moved from WEDC to DOA in 2013 after the U.S. Department of Housing and Urban Development raised concerns about the program being administered by a non-state agency.
Barca said the CDBG program being moved to DOA was an example of one of the unintended consequences of WEDC being created so hastily. Another example, he said, has been the need for the agency to hire private attorneys to recover bad loans in court, rather than using the Department of Justice.
Lassa said the new department would be different from the Commerce Department, which WEDC replaced, because it wouldn't take on any regulatory responsibilities, such as inspecting carnival rides.
The new model would also differ from WEDC because there would be a longer transition period and input from a committee made up of private-sector and economic development officials.
Get Government & Politics updates in your inbox!
Stay up-to-date on the latest in local and national government and political topics with our newsletter.