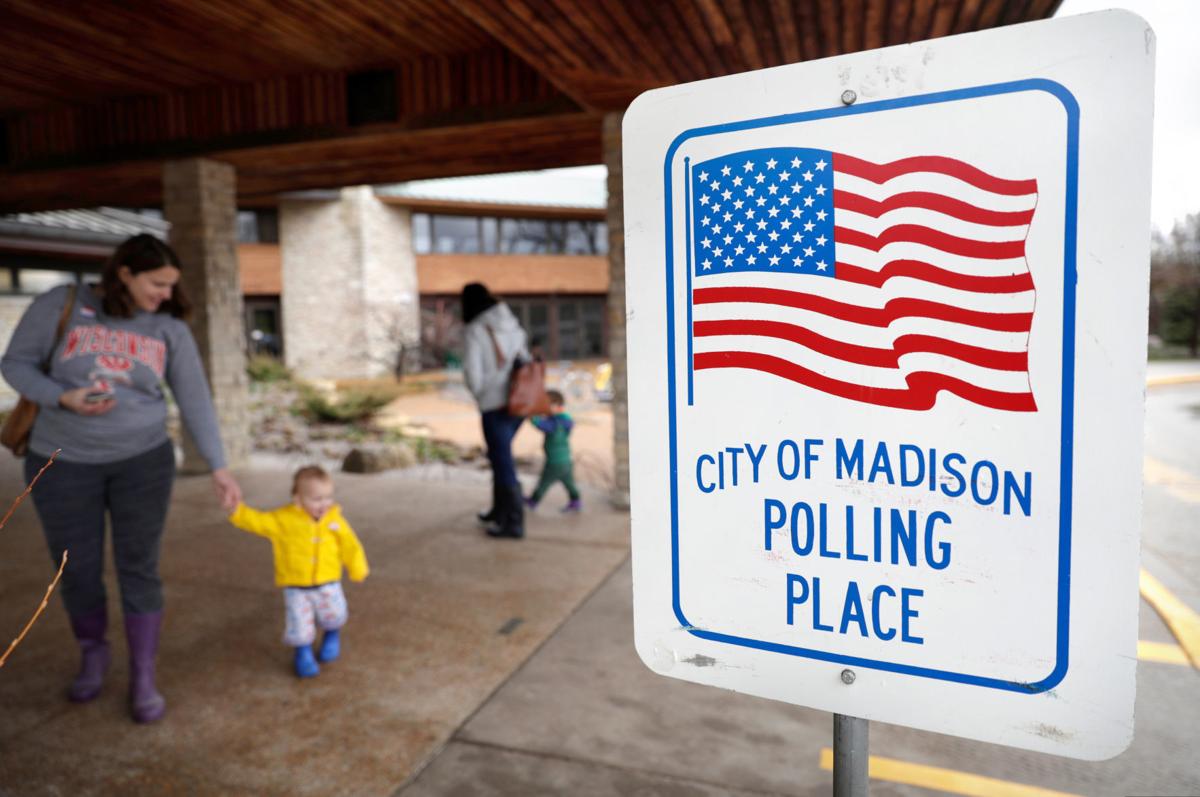 Democrats are asking a federal judge to extend deadlines for absentee voting in a new lawsuit against the Wisconsin Elections Commission ahead of the April 7 spring election and presidential primary.
The lawsuit, brought by the Democratic National Committee and Wisconsin Democratic Party in response to the COVID-19 coronavirus pandemic, also seeks to waive the voter ID requirement for absentee voting and proof-of-residence requirement for voter registration. The suit was filed Wednesday in the U.S. District Court for the Western District of Wisconsin.
Democrats are seeking to roll back the requirements to make voting absentee easier for an April election that risks being upended by the global pandemic.
The lawsuit came as the six members of the Wisconsin Elections Commission met Wednesday and openly debated whether the April 7 election is safe to hold in person at all, or whether the governor or Republican-controlled Legislature should consider changing the law to conduct an all mail-in election.
"I no longer believe that we are able to fairly and properly administer this election," said commissioner Ann Jacobs, a Democrat.
It would be up to the governor, Legislature or courts to change the date of the election, or how it is conducted.
In addition to seeking that photo ID and proof-of-residency requirements be lifted for the absentee voting process, the DNC wants the state to extend Wisconsin's electronic and by-mail deadlines for voter registration until April 3 and require local elections officials to accept ballots postmarked on or before Election Day if they arrive within 10 days after the election.
Under current law, the deadline to register online or by mail was Wednesday. After that, voters must register to vote in person. Current law requires absentee ballots be requested by April 2 and delivered no later than 8 p.m. on Election Day.
"In this unprecedented situation, the regulatory scheme (of the election) has become hostile to voting rights and, as a direct result, thousands of Wisconsin voters are likely to be disenfranchised," attorney Marc Elias wrote in his filing.
Elias continued in his filing that thousands of voters who may want to vote may no longer be able to do so safety. Because Wednesday's deadline to register online or by mail has passed, voters will now have to venture out in public to register or fulfill voter ID or proof-of-residency requirements, a risk some may not be willing or able to take.
The Wisconsin Republican Party came out strongly against the lawsuit, arguing Democrats are taking advantage of the pandemic.
"Democrats are trying to hijack a national health crisis to rig an election in their favor," said Wisconsin GOP executive director Mark Jefferson. "If they cared about accessibility at the polls, they'd join us in urging clerks across Wisconsin to allow early voting immediately, not just those in their communities of support. Instead, they insist on suspending common-sense rules in an effort to further rig the election."
Gov. Tony Evers has so far decided to move forward with the state's April 7 election as a number of other states have opted to postpone their spring contests over public health concerns. He and elections officials are encouraging absentee voting.
So far, local election officials have issued at least 198,240 absentee ballots statewide, which is higher than all recent spring elections except for 2016, when 249,503 were issued, although this year's number could still surpass that figure.
Weighing legitimate health concerns and the necessity to keep elections and government functioning has state officials in a nearly impossible position. Wisconsin differs from many of the states that have postponed their elections because Wisconsin also has a Supreme Court election and a number of local races, such as for mayor or city council — seats with quick turnover that would likely become vacant if the election were delayed. Some city councils could have trouble reaching a quorum to govern if too many seats are vacant.
Some elections commission members said the consequences of not holding the election far outweigh the risks of conducting it April 7.
"It is vital that this election happen on April 7 because it is vitally important to our state that we have continuity of government during a crisis," said the chairman, Dean Knudson, a Republican.
Elections commissioners met on Wednesday to sort through a myriad of election-related complications the pandemic has introduced, such as low turnout, possible delays in absentee voting due to mailing, shortages of absentee ballot envelopes, reducing the health risk for older poll workers and dealing with shortages of poll workers and polling sites.
On Wednesday, the commission ended its meeting with more questions than answers, although it eventually unanimously approved giving the commission administrator, Meagan Wolfe, the authorization to spend up to $200,000 on supplies needed for absentee envelopes, labels and sanitation.
The commission asked the governor and Department of Health Services to help secure a supply of hand sanitizer for clerks to use in polling places. It also directed local clerks to accommodate all requests to conduct in-person absentee voting and registration, and for the commission to develop best practices for local clerks to minimize the spread of COVID-19 at the polls.
If the April 7 election continues as scheduled, it faces numerous potential issues:
Clerks have expressed concerns about running out of absentee ballot envelopes.
Some clerks may not want to conduct in-person registration or absentee voting due to fears over contracting the virus.
Some jurisdictions may already be exhausting lists of back-up poll workers due to regular ones backing out over fears of the virus.
Poll workers may have to do their jobs without any available hand sanitizer.
And questions remain over how, if at all, people in isolation due to contracting the virus can vote.
Officials discussed the possibility of recruiting teachers, college students and others to be poll workers, half of whom are over 60, posing a potential health risk for a different population.
Elections officials are expected to meet again to further discuss a plan .