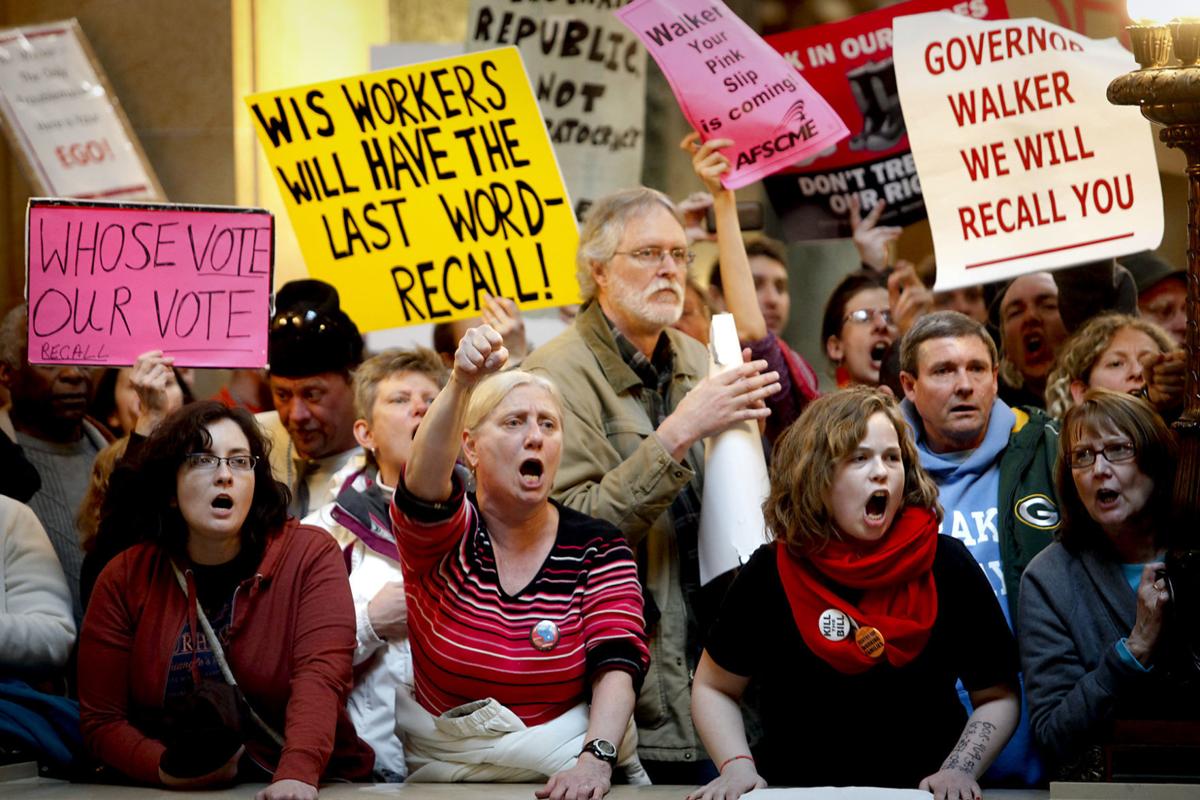 The nine leading Democratic candidates seeking to unseat Gov. Scott Walker say public workers should regain their voice in the workplace after Walker throttled it six years ago — but they disagree on how to make it happen.
Some candidates promise to repeal the controversial collective bargaining law known as Act 10 as soon as possible.
Others argue that an attempted rollback would be difficult with a Republican-controlled Legislature. They say the state should instead look at other ways to improve workers' rights.
However, it's unclear what kind of role Act 10 will play in the 2018 gubernatorial election.
"Act 10 is clearly still a very important issue for the Democratic base, so it makes sense for the challengers to Gov. Walker to bring it up," said David Canon, a political science professor at UW-Madison. "However, I would imagine that many independent voters and some Democrats have moved past the issue now and are more interested in other issues."
Act 10 all but eliminated most public employees' abilities to collectively bargain over their wages, benefits and work environment. It prompted massive membership losses for labor unions, striking a colossal blow to Democrats' campaign coffers and volunteer base.
If anything, Canon and other experts say, the top Democrats could use Act 10 as a way to rally voters in the crowded Democratic primary. If all candidates remain on the Aug. 14 ballot, only a small percentage of votes is needed to win the right to challenge Walker in November.
Less likely is that the Democratic nominee will campaign on Act 10 in the general election, they say.
Walker survives
Walker successfully survived a recall election in 2012 — a year after Walker signed Act 10 into law — and won a second term in 2014 with public sector workers still feeling the financial and emotional sting of the law. But polling has shown the majority of the state doesn't want lawmakers to lift the restrictions on collective bargaining.
"I doubt that Act 10, which is a major issue and has clearly affected schools, will be a prominent issue in the campaign," said Ed Miller, a political science professor at UW-Stevens Point. "For one, there have been elections since and Walker was re-elected."
Miller said candidates are likely to focus on issues that are simply more appealing to voters, such as improving roads or the multibillion-dollar taxpayer incentive package Walker helped design for Taiwanese electronics giant Foxconn to build a $10 billion LCD panel factory in Racine County.
Some candidates who say they would repeal the law say they would pay for it, in part, by stopping the Foxconn deal, which would provide more than $3 billion in state taxpayer-funded incentives to the company.
Approaches vary
Former state Rep. Kelda Roys of Madison, former Democratic Party of Wisconsin chairman Matt Flynn, Rep. Dana Wachs of Eau Claire, Sen. Kathleen Vinehout of Alma and former Wisconsin Democracy Campaign executive director Mike McCabe said they would actively seek to repeal the collective-bargaining-related provisions of the law.
State schools Superintendent Tony Evers and Professional Firefighters of Wisconsin president Mahlon Mitchell, who earned statewide recognition after leading protests against the law, said they would sign legislation repealing the law, but acknowledged the task would be impossible with a Republican-controlled Legislature and would instead find ways to enhance employees' say in their workplace.
A spokeswoman for Paul Soglin said Soglin supports restoration of collective bargaining but Soglin said previously he would not base his campaign around the law's repeal. And Milwaukee businessman Andy Gronik emphasized he wanted to look forward and find the best way to put workers' voices back in the workplace but did not take a firm stance on whether he would seek to repeal the law.
As of late January, just three candidates made any mention of Act 10 on their websites and only one did it directly (though some websites have no information about candidates' stances on issues whatsoever).
Evers said he would use his skills to "end the divisiveness that has consumed our state since Scott Walker became governor." Vinehout posted a column she wrote in 2011 that explains why Senate Democrats left the state during the Act 10 debate and Roys said she "helped lead the opposition during the historic protests of Gov. Scott Walker's destruction of Wisconsin's long-standing worker protections."
What polling shows
Polling provided by the Marquette Law School Poll director Charles Franklin, conducted in 2012 and 2014, showed voters split but leaning toward not wanting to see the Act 10 restrictions on collective bargaining lifted.
Forty-nine percent of those polled favored the limits while 44 percent wanted the restrictions lifted, according to an average of four polls conducted in both years. Franklin said he conducted four polls asking the question and the results changed very little each time.
"There may be some sense that Act 10 was litigated in the recall election and by a modest margin Walker prevailed there. And I at least don't recall it being much of an issue in 2014, which suggested to me at least the (Mary) Burke camp had decided to move on," Franklin said. "I'm more struck now it's being talked about as much as it is this time compared to what I remember in 2014."
Franklin said it was "striking" how stable opinions on the law were between his 2012 and 2014 polls. Though he hasn't asked about the law since, Franklin said he hasn't seen a massive objective change since the law was passed that would change public opinion.
"As far as I can see, the evidence shows people's opinions of it are really locked in," he said.
Franklin said there are large partisan splits on the issue: Republicans strongly support the restrictions while Democrats oppose them. He said independents favor the restrictions by a margin of 52 to 39 percent.
The polling also showed 60 percent of public sector employees favor returning to collective bargaining, compared with only 39 percent in the private sector. Nearly 70 percent of union members favor bargaining, while only 38 percent of non-union members support it. Those polled in the city of Milwaukee and Madison media markets favor collective bargaining while the rest of the state, to different degrees, do not, Franklin said.
Timing the message
"(Focusing on Act 10) would be a good primary tactic but for the general election, I don't think so," said Joe Heim, a longtime political science professor at UW-La Crosse. "By the general election, the union people and anybody who opposes Act 10 would know exactly where they are going. If you are trying to get some crossover supporters who generally think Act 10 was not a bad idea, but don't necessarily like Walker, reminding them of that time is not a good idea."
Republicans have touted how the law saved state and local governments billions of dollars, though that's based mostly on provisions of the law separate from bargaining that required public employees to contribute to pension and health insurance premiums. Democrats say it has contributed to a statewide teacher shortage, though school districts are facing shortages across the country.
"You don't need to remind anyone of it," Heim said. "Time to move on and I would hope the Democrats are smart enough to look forward."
A spokeswoman for the Democratic Party of Wisconsin did not respond to a request for comment on whether the issue will be prominent in the 2018 campaign.
Meanwhile, a spokesman for Walker's campaign cited Act 10 as the catalyst for a "Wisconsin comeback" that resulted in $5 billion in savings to local governments.
"The extreme Democrat candidates running in the wide-open field for governor have a choice: raise taxes to pay for undoing the governor's reforms, or accept that he fixed the financial crisis their party created," spokesman Brian Reisinger said.
State Journal reporter Matthew DeFour contributed to this report.