Republican Lt. Gov. Rebecca Kleefisch on Monday accused her Democratic opponent, Mandela Barnes, of kneeling for the national anthem during the opening of this year's Wisconsin State Fair, citing no evidence and producing no witnesses to support a claim that Barnes said was "a lie."
"It's too stupid to respond to," Barnes said of Kleefisch's description of the public event, which was witnessed by reporters, veterans and others.
Barnes, a former state lawmaker and now the running mate of Democratic governor candidate Tony Evers, said he attended the state fair opening ceremonies and stood for the anthem.
Kleefisch, Gov. Scott Walker's running mate, made the comments at a Monday press conference in Milwaukee, the Associated Press reported. She and the Walker campaign did not respond to State Journal inquiries about them.
In a subsequent tweet, Kleefisch said she was "simply repeating what an audience member told me."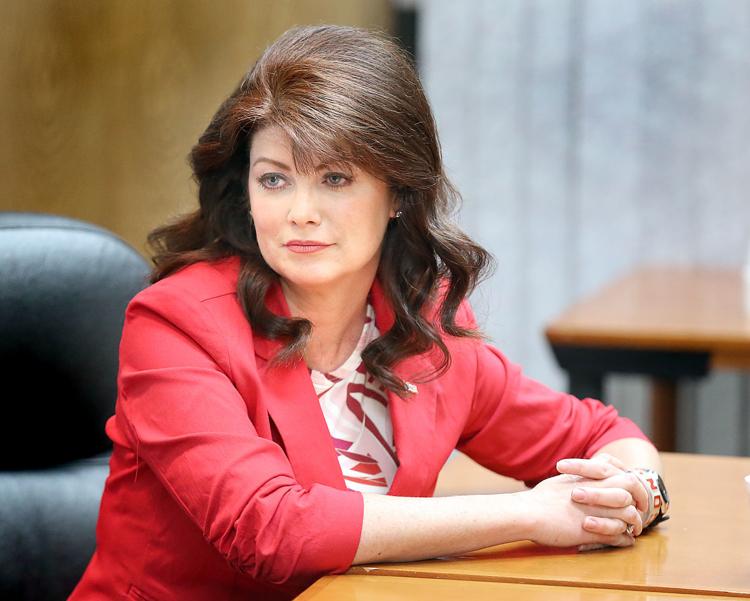 Democrats roundly condemned what some viewed as a racist attack directed at Barnes, who is African-American.
Milwaukee Mayor Tom Barrett was at the state fair opener with Barnes and said, "I saw absolutely nothing like what (Kleefisch) describes." Barrett added "it would have created a scene" had Barnes knelt during the anthem.
"This is beneath Rebecca Kleefisch. This is desperation, racially tinged politics," Barrett said.
Barnes accused Kleefisch and Walker of taking a page from President Donald Trump's playbook by playing on racial divisions and lying to create diversions from damaging news.
"She definitely wouldn't make that claim about Tony (Evers)," who is white, Barnes said. "The only thing they can do is distract right now."
In recent years some NFL players have knelt, rather than stand, during the pre-game playing of the national anthem to protest racial discrimination and social injustice. The practice has been controversial, drawing attacks from Trump and other conservatives.
This isn't the first time the governor campaigns have tussled about the issue. Walker earlier this month criticized a tweet by Barnes saying Trump should "take a knee." Barnes was responding to another tweet about Trump and the national anthem.
Barnes responded to Walker in part by tweeting a picture of himself wearing the jersey of Colin Kaepernick, the former San Francisco 49ers quarterback whose activism helped launch the NFL anthem protests.
Walker has joined Trump in saying players should stand for the anthem, while emphasizing he always does so.
And none of this staying in the locker room either. STAND UP. Be honorable. Show respect. It's a simple ask compared to what our service members sacrifice EVERY SINGLE DAY for us. 🇺🇸 pic.twitter.com/vJG91BnLRb

— Scott Walker (@ScottWalker) September 6, 2018
My opponent has made clear that he believes in kneeling for the National Anthem. In fact, WI neighbors have told me that they have seen him do exactly that. https://t.co/knyWcObyz3

— Rebecca Kleefisch (@RebeccaforReal) September 6, 2018
Kleefisch previously suggested Barnes supports kneeling for the anthem, without making the specific claim she offered Monday.
Republican Party of Wisconsin spokesman Alec Zimmerman said in a statement that "Barnes has shown time and again that he supports these disgraceful protests of our flag. He owes families everywhere an explanation."