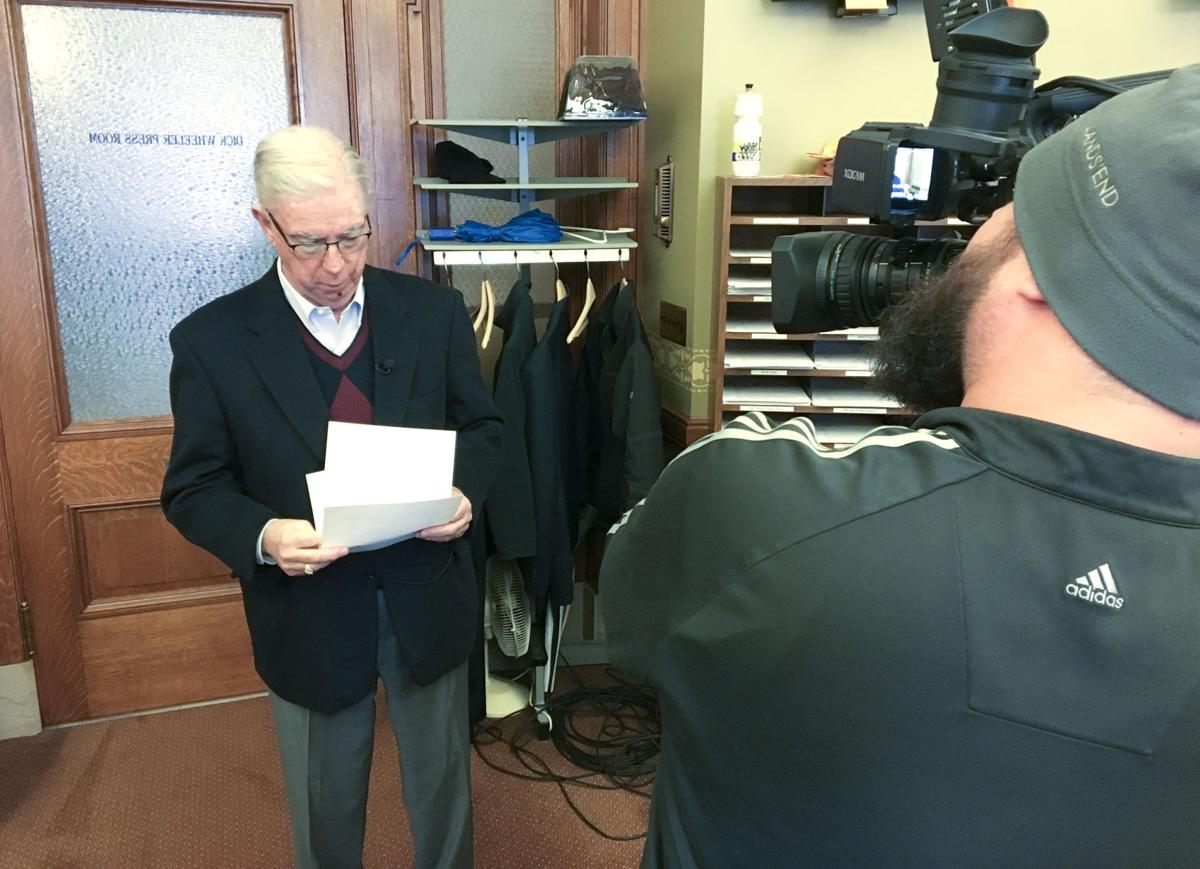 Former state Sen. Tim Cullen announced Wednesday he won't seek the Democratic nomination for governor in 2018, citing the hefty amount of necessary fundraising as a deterrent.
Cullen, 73, announced his decision in the Capitol Press Room alongside his daughter and a handful of supporters. He said the decision came in response to being told by others who have run for statewide office that he would need to spend three to four hours a day calling potential donors.
"This is a very sad commentary on the state of democracy and elections in Wisconsin," Cullen said.
Cullen said he expected Gov. Scott Walker would be able to raise $45 million for the campaign after raising $35 million in his 2014 re-election and building up a larger donor base during his unsuccessful presidential campaign. Walker's 2014 opponent Mary Burke raised $12 million and contributed $5 million of her own wealth.
Cullen said the primary reason he considered a run was because "Governor Walker needs to be replaced. His divide-and-conquer approach is unlike any Wisconsin governor in at least the last 65 years."
You have free articles remaining.
Walker spokesman Joe Fadness replied: "With the lowest unemployment rate since 2000, more people working than ever before, and a bright economic outlook for Wisconsin families, it's not surprising that serious Democrats continue to think twice and not run against Governor Walker's strong record of results and reform."
Cullen, a Senate majority leader in the 1980s who returned for a single term in 2010, was known as a centrist Democrat willing to make deals with Republicans. He has toured the state recently with retired Republican Sen. Dale Schultz to promote nonpartisan redistricting.
Cullen also wrote a book about his experience during the 2011 Act 10 protests, during which he was one of 14 Democratic senators who fled to Illinois, temporarily blocking passage of the law that curtailed public-sector union influence in the state. Cullen considered running for the Democratic nomination during the 2012 recall.
Cullen said he has been in contact with a number of other Democrats considering a run, but hasn't endorsed any of them yet. Possible candidates he noted include Dane County Executive Joe Parisi, Jefferson County District Attorney Susan Happ, Rep. Dana Wachs, Sen. Kathleen Vinehout, former Democratic Party chairman Matt Flynn, and businessmen Andy Gronik and Mark Bakken.
Senate Minority Leader Jennifer Shilling, D-La Crosse, who previously announced she won't run, said she's still confident the Democrats will field a candidate.
"There are still people behind the scenes having conversations," Shilling said. "I'm not hitting the red alarm button yet."
U.S. Rep. Ron Kind, D-La Crosse, has also said he will not run.