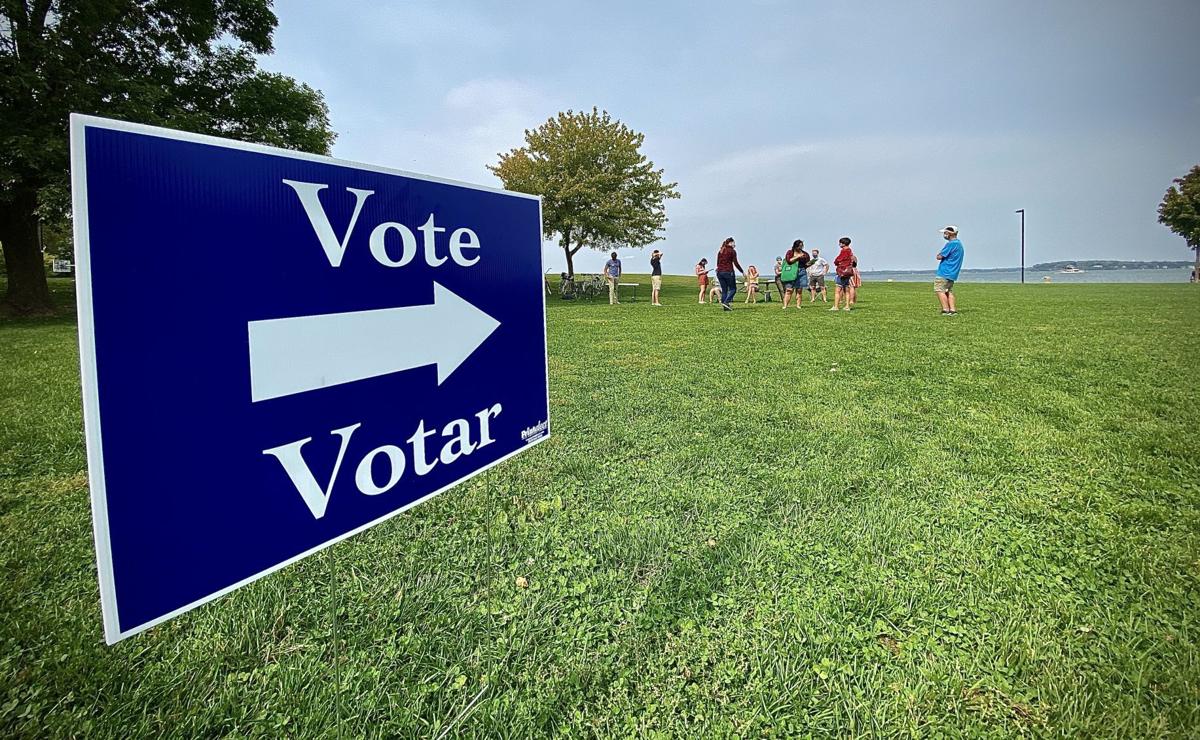 Madison poll workers were dispatched to more than 200 parks across the city Saturday in a non-partisan ballot collection effort launched by the City Clerk's Office, despite an attempt to halt the event by Wisconsin Republicans.
A cease-and-desist letter, issued Friday on behalf of two of Wisconsin's most powerful Republicans — Senate Majority Leader Scott Fitzgerald, R-Juneau, and Assembly Speaker Robin Vos, R-Rochester — to Madison City Clerk Maribeth Witzel-Behl called the Democracy in the Park effort "illegal" and warned the ballots collected Saturday would be challenged in court and potentially invalidated.
City of Madison Attorney Michael Haas issued a response Saturday to Misha Tseytlin, an attorney with the law firm Troutman Pepper Hamilton Sanders, who wrote the letter on behalf of Vos and Fitzgerald. In his response, Haas noted a lack of legal support for Tseytlin's allegations that the event constitutes an "illegal collection of ballots" that "falls outside lawful categories."
"Absent any directive from the Wisconsin Elections Commission or a court, the City will proceed with Democracy in the Park, and it will process the ballots collected with other absentee ballots pursuant to Wisconsin Statutes," Haas wrote to Tseytlin. "All voters are welcome to participate and observe the process which is designed to bring the entire community together to participate in democracy. I trust that is a goal you and your clients can support."
The Wisconsin Elections Commission received a number of calls and emails of concern about the event and one formal complaint Friday, spokesman Reid Magney said. "We're analyzing it and will respond next week," he said.
The Democracy in the Park event — scheduled to take place again from 9 a.m. to 3 p.m. this coming Saturday in every community park, neighborhood park and mini park across Madison — was designed to provide voters with access to registration, answers to questions about the voting process and offer a secure method for voters to deliver their completed absentee ballot. Poll workers can also act as a witness for absentee voters if needed.
Envelopes containing completed absentee ballots will be secured with tamper-evident seals. Poll workers will document both the number of seals and the number of ballots, and take them to the City Clerk's Office. There, both the seal number and the ballot number will be verified by officials. The clerk's office will scan the barcode of each envelope by the next day so that voters will be able to check the status of their ballot by the following Monday on MyVote.wi.gov.
Sara Daum and David Fowle dropped their ballots off to poll workers at James Madison Park. They said the event felt secure because of the number of staff present at the park and lauded the convenience of Democracy in the Park.
"We just live two blocks away so this is great to be able to come two blocks to vote. I don't know how much easier it could be," Daum said.
Fowle noted the event seemed more secure than sending a ballot through the mail.
"I don't know that a lot of people have faith in the post office right now, given some of the shenanigans that have gone on," Fowle said.
City of Madison poll workers received an email from the clerk's office late Friday ensuring them of the legality of the event and providing updated safety procedures for them to follow should people attempt to interfere. The email noted the possibility of election observers from either political party at any of the locations throughout the city, and said they are welcome as long as they maintain at least 6 feet of distance, avoid campaign activities and do not interfere with voter registration or the witnessing of absentee ballots.
Lauren Surovi and Pia Kinney James, both city of Madison poll workers, began their shift in Quann Park at 9 a.m. and had already received a handful of ballots from voters by 11 a.m. They said a few people approached them with questions about voting or registering and overall they felt safe and supported by the community, despite pushback and concern about the event.
"We've had people drive by and wave and honk and say 'thank you for your service,'" Surovi said.
Kinney James said the event was a great way to promote voter accessibility and hopes the City Clerk's Office will continue the initiative in future elections.
"Voting is for everybody no matter what area you're going to vote and this is for everybody. This is nonpartisan," she said of the event.
Ashley Kerst, a volunteer poll worker with the City Clerk's Office, began her shift at 9 a.m. in Proudfit Park, along with Janelle Foote and her husband, Bob Foote. By noon, they had received more than two dozen ballots from voters as well as positive feedback from the community.
"We've had some people honk as they went by, which was cool," Kerst said. "Everybody's just been very happy that we're here."
The Footes, both in their 70s, moved from the West Coast a little over a year ago and volunteered to be poll workers with the City Clerk's Office this year despite the COVID-19 pandemic.
"I'm old and I wasn't really going to do anything, but I can't stay out of it, I have to help," Janelle Foote said.
Witzel-Behl said she visited 14 parks Saturday and noted a few election observers present at a couple locations. Overall, voters and poll workers appeared happy and confident in the legality and security of the event.