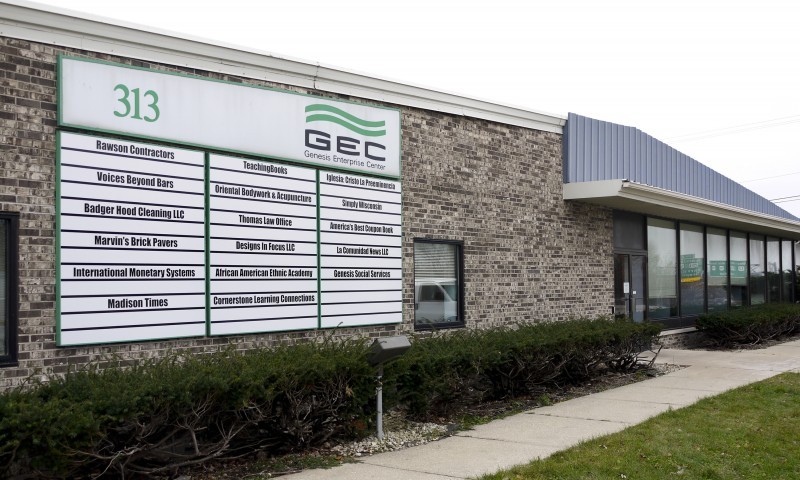 The Madison City Council is scheduled to decide Tuesday whether to forgive $1.1 million in loans to the Genesis Enterprise Center amid questions about where money loaned to the financially troubled business incubator has gone.
The nonprofit entity associated with the enterprise center, Genesis Development Corp., hasn't filed required tax forms with the IRS since the 2007 tax year, according to GuideStar, which tracks U.S. nonprofits. The forms are designed to disclose payments to top officials, income and other financial information.
The IRS automatically revokes an organization's tax-exempt status if it fails to file the required disclosures three years in a row. That's what happened to another Genesis entity — the Genesis Community Development Corp. — which lost its standing as a nonprofit in 2010.
And Genesis Development Corp. was administratively dissolved by the state Department of Financial Institutions last month, raising further questions about its status.
The brainchild of Madison's Mt. Zion Baptist Church, the Genesis Enterprise Center opened in 2002. The incubator has helped more than 100 minority and disadvantaged business startups, Mt. Zion pastor Richard Jones said in a letter to Mayor Paul Soglin.
But the 70,000-square-foot building at 313 W. Beltline Highway now is being managed by receiver Mary Feldt after its creditors filed for foreclosure. She said the incubator's future is far from secure.
And the question remains: Where did all the money go?
Efforts to reach Jones, who also serves as Genesis' attorney, and executive director Richard Harris were unsuccessful Monday. Harris did not return an email and phone call. Jones didn't respond to two voice messages. In his letter to the mayor, Jones said forgiving the loan would help ensure the center's fiscal viability.
In March 2008, Harris told the State Journal he earned $2,000 a month from the enterprise center but planned to eliminate his salary on Dec. 1, 2008 in a cost-cutting measure.
At the time, Harris also earned $2,000 a month from the Genesis Social Services Corp., another related entity with city and county contracts to provide a variety of services to poor clients and ex-offenders.
Soglin: Loans uncollectible
Soglin is supporting forgiving the loans because they likely are uncollectible. The money was loaned in 2005 with federal Community Development Block Grant money received by city, which is under no obligation to repay it.
The enterprise center has been run by Feldt, CEO of Park Towne Management, since early 2010 after Dane County Circuit Judge Shelley Gaylord ordered the appointment of a receiver, citing "longstanding problems with appropriate leasing, management of the property and unpaid obligations" at the center.
Feldt said thanks to a one-time payment from the state Department of Transportation for land it needed for a pedestrian bridge, Genesis now is caught up on delinquent taxes from 2007 through 2009. She said she's made good on other past-due bills and is paying the principal on the center's debts but not the interest.
The incubator currently houses 34 businesses, of which 19 are new tenants, Feldt said, but the poor economy is making it hard for the center to rebuild.
"We're still struggling," she acknowledged.
Salli Martyniak, president of Forward Community Investments, said her nonprofit is out more than $200,000 it lent to the enterprise center. Martyniak was on Genesis' board but she, along with Feldt and a few others, quit a few years back. She cited poor management as the reason she left.
Martyniak said her organization offered to help Genesis, "but they were not interested in getting help." She said Genesis' failure to file tax forms or audited financial statements makes it difficult to ascertain where Forward Community Investments' money has gone.
"I think it's a very sad story," Martyniak said. "Not only is there money lost, but the opportunity is lost to do something at that site. That's the last thing this area needs, is a vacant building."