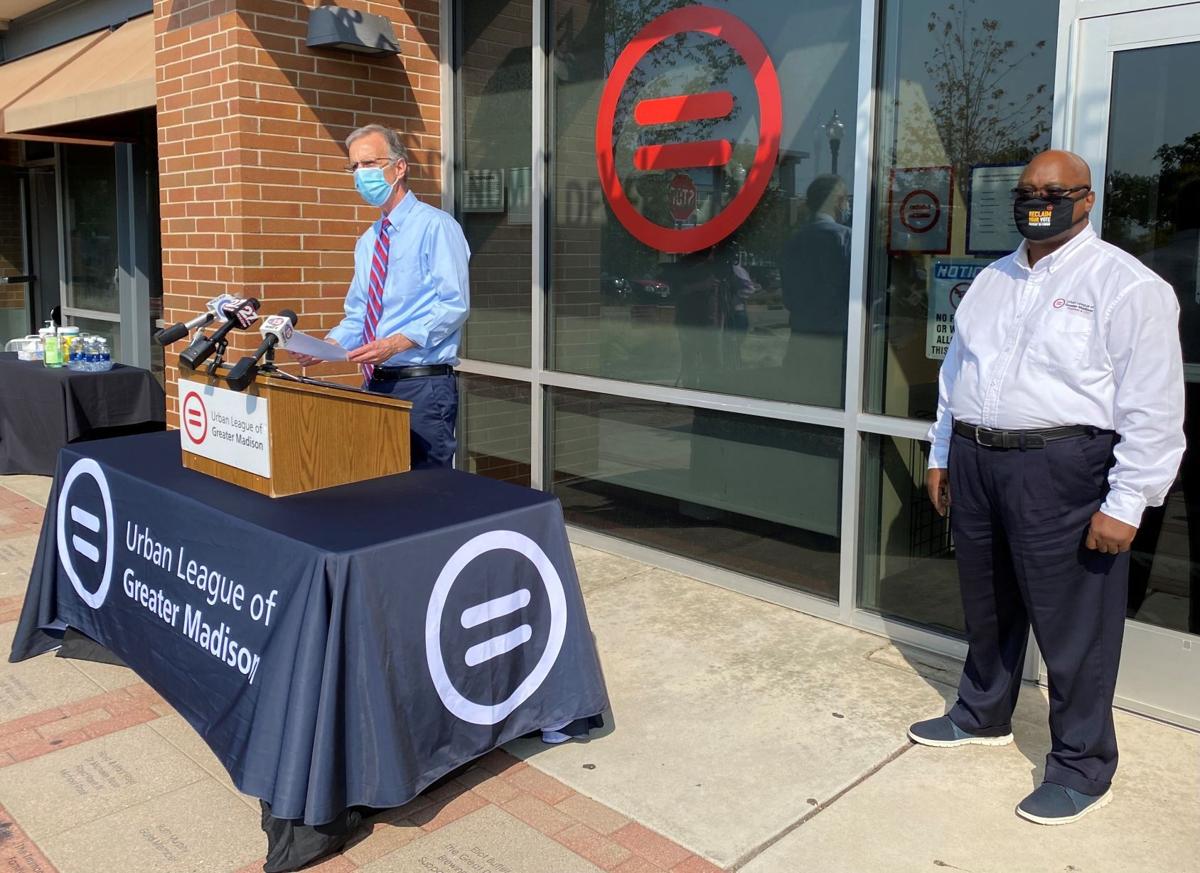 Dane County Executive Joe Parisi's first 2021 budget initiative is putting $2 million toward an economic development hub on Madison's South Side dedicated to supporting minority-owned businesses.
Parisi announced the move Tuesday along with Dane County Board Chairwoman Analiese Eicher and Ruben Anthony, president and CEO of the Urban League of Greater Madison, which has partnered with the county to create the hub.
"It sends a strong signal to investors that government leadership in this community, they get it and they support this project," Parisi said. "It's not just one thing to say that you're going to do something and talk a good game, but to follow through with the funds to make things happen is what we need to happen in this community more often."
The $2 million will go toward purchasing a site for the hub along the South Park Street corridor. In July, the county announced a $100,000 contract with the Urban League creating a one-year position for an individual to begin planning and coordinate the site search. The Urban League has hired for that position, and it hopes to finalize a location by the end of the year.
The space is aimed at supporting business owners and entrepreneurs that can reflect the diversity of the South Side.
Parisi, whose 2021 budget will be released Oct. 1, said the county is committed to helping communities of color recover from the COVID-19 pandemic, noting they have been among the hardest hit.
"We believe that any discussion of racial equity in our community must include economic ability, and building wealth is key," he said. "This project is a concrete step toward the creation of a community in which everyone has access to the opportunity to succeed."
The project, which has yet to be officially named, will be modeled after Sherman Phoenix in Milwaukee, an entrepreneurial hub in the Sherman Park neighborhood providing space and support for small businesses.
Anthony said more than a dozen small businesses have already reached out to the Urban League and expressed interest in the space. The Urban League has also been in talks with potential partners who have shown interest in providing financial help as well as technical support.
"It's exciting to know that they believe in us and that they believe in the small and minority businesses here and that they believe in the South Side of Madison," Anthony said.
<&rdpStrong>The Urban League of Greater Madison through the years</&rdpStrong>
Concerned about COVID-19?
Sign up now to get the most recent coronavirus headlines and other important local and national news sent to your email inbox daily.