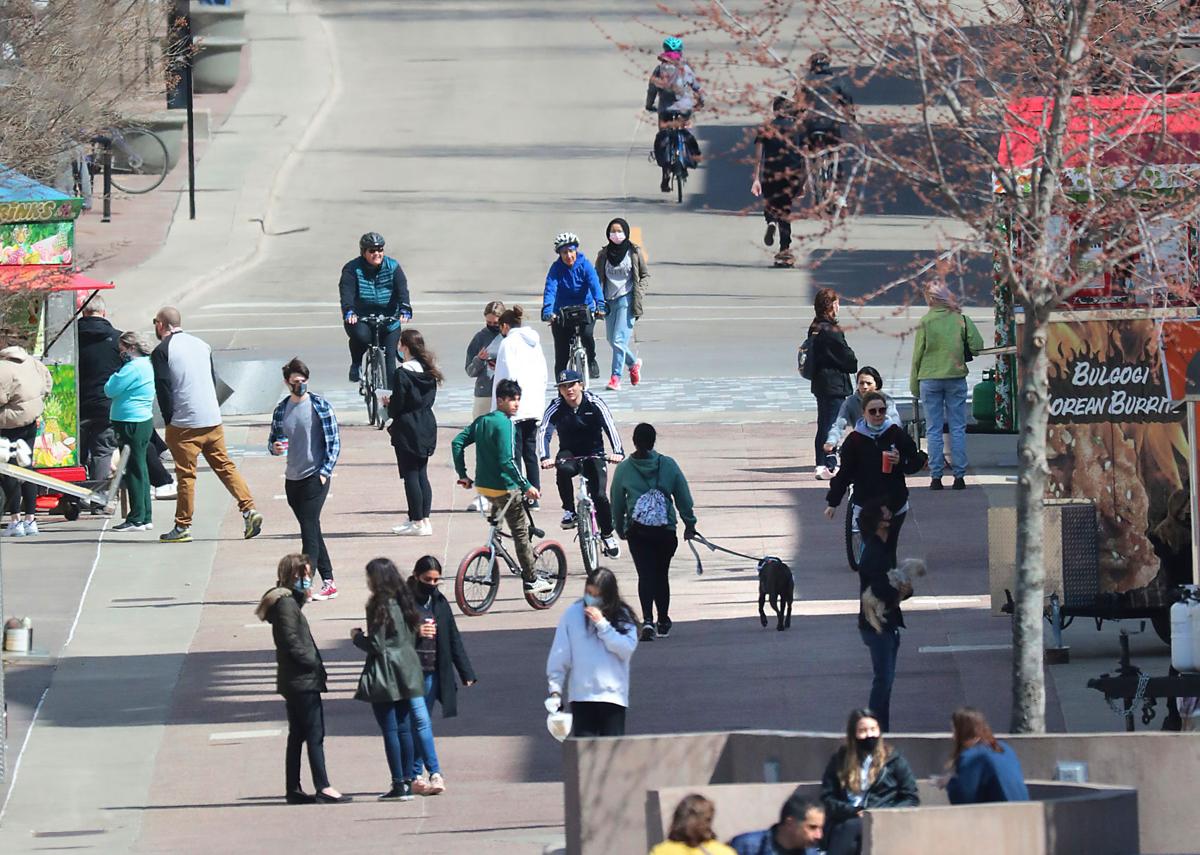 Starting next week, Dane County residents can get together outside in groups as large as they want — as long as people keep 6 feet apart — and face masks are no longer required in those situations, the joint city-county health department announced Friday.
In its latest order in response to the COVID-19 pandemic, Public Health Madison and Dane County has lifted all capacity limits for outdoor events, dropped a mask mandate for outside gatherings and allowed self-service food stations to resume, such as salad bars, buffets and build-your-own Bloody Mary bars.
The order, which takes effect Wednesday and runs through May 5, also lets public saunas and steam rooms reopen, with certain provisions, and makes industry-specific changes for distancing and cleaning requirements at child care providers and schools.
"We're happy to take a step forward today, but we cannot let our guard down yet," Public Health director Janel Heinrich said in a statement. "Please continue to follow the precautions that have gotten us to this moment so we don't have to go backwards."
"With lifting the restrictions on the number of people, I think we're hopeful that we'll have a lot more events this summer," Madison Mayor Satya Rhodes-Conway said at a news conference Friday. "We just need to make sure we continue to do that in a way that's safe, and that we continue to advocate for people to get vaccinated."
She added organizers of outdoor events will need to determine themselves whether there's enough space for people to socially distance or if masks will be required.
With the capacity restriction being lifted on gatherings outdoor — where the risk of infection is lower — Heinrich said Public Health will continue to enforce the requirement to socially distance largely through a complaint-based system.
Traveling out of state for spring break "absolutely" remains a concern, however, particularly if the travel is to states where there's higher circulation of more contagious variants of the coronavirus, Heinrich said. The health department will continue to monitor whether such travel raises infection rates in the county, she said.
Public Health cited a month of "stable and improving COVID-19 data, specifically a dramatic increase in vaccination numbers," as reasons for the new order.
As of Thursday, Public Health said 39.2% of Dane County's population had received at least one dose of the COVID-19 vaccine, compared with 23.1% when the existing health order took effect March 10.
"While we are not yet at the place of herd immunity, this is significant protection for our community," Heinrich said.
The seven-day case average and hospitalization rate also remained steady over the period. On March 10, the county had an average of 55 cases per day and 15 people were hospitalized, compared with an average of 51 cases per day and 20 hospitalizations on Thursday, according to Public Health.
The new emergency order — the 15th iteration since the start of the pandemic last year — does not change indoor gathering or capacity limits and still requires masks to be worn indoors for everyone age 5 and older, with limited exceptions for fully vaccinated people.
Those rules limit restaurants to 50% of their capacity, while taverns are allowed to seat up to 25% of their capacity. Indoor gatherings are still limited to 350 people, and cloth face coverings are still required, and businesses are limited to 50% of capacity.
The loosening of restrictions come days after the Wisconsin Supreme Court struck down Gov. Tony Evers' latest COVID-19 emergency order and accompanying statewide mask mandate. Local governments are still free to issue their own virus restrictions, including mask mandates.
Under the current Dane County order, outdoor gatherings are limited to 500 people or fewer, not including employees, and face masks are required at an outdoor gathering of more than 50 people.
When the new order takes effect, Public Health strongly recommends mask use at outdoor events if it's not possible to socially distance.
"We're closely watching what's happening in other states with case counts and hospitalizations ticking up and more infectious variants spreading more broadly," Heinrich said. "COVID-19 is still circulating, and we are seeing cases and hospitalizations stall instead of decrease here in Dane County, so we are proceeding with caution."
---
PICTURING A PANDEMIC: SEE THE LAST YEAR THROUGH THE EYES OF THE STATE JOURNAL'S PHOTOGRAPHERS