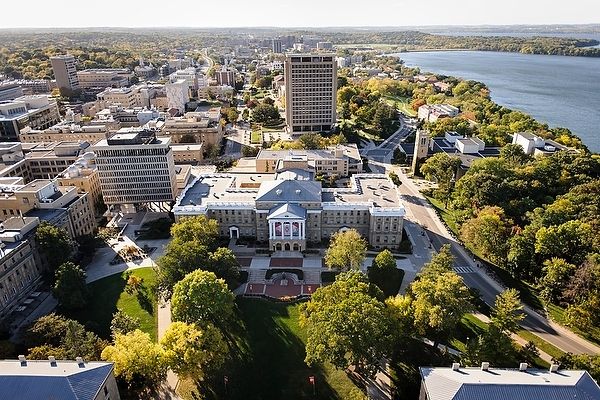 Three Democratic lawmakers from Dane County on Monday said Gov. Scott Walker's proposed $300 million cut to the University of Wisconsin System would damage the local and state economy and the quality of a UW education.
UW-Madison is the System's largest campus. It employs 21,727 people and brings in more than half a billion in federal research money per year, third highest in the country.
"We should be striving as a state to be great, not mediocre," said Rep. Chris Taylor, D-Madison, who sits on the Legislature's powerful budget committee. 
The three legislators were reacting Walker's budget plan, to be formally announced Tuesday, that would give the UW System more autonomy from the state while cutting state funding to the System by 13 percent.
Democrats are a minority in both houses of the Legislature, and their ability to shape the 2015-17 budget is limited.
Taylor and the others accused the Republican governor of letting his political ambitions get in the way of doing what's best for Wisconsin. Walker is mulling a run for president in 2016 and has visited the early primary state of Iowa, met with major GOP donors and consulted with former secretaries of state on foreign policy.
"He seems more concerned about Iowa primary voters than the citizens of Wisconsin," Taylor said.
Sen. Fred Risser, D-Madison, called Walker's budget "extremely short-sighted" and aimed "for a national rather than a state audience." Risser noted that Republican governors in other Midwestern states, including Indiana and Ohio, are spending more, rather than less, on higher education.
Walker spokeswoman Laurel Patrick said the governor's budget will "empower UW System leadership, giving them the full flexibility they have been seeking for years over the use of state resources to develop a sound strategic plan for the long run."
She added that the plan "will ensure fiscal certainty in the years ahead to encourage appropriate management and stewardship of taxpayer dollars."
Risser also criticized Walker's plan to pay for transportation projects with borrowed money. But Patrick said the overall amount of new bonding in the budget is "the lowest level of any of his prior budgets."
Walker must close a projected $2 billion budget gap caused by lower than expected revenues and tax cuts enacted during his first term -- a situation that has been described as a "self-inflicted wound." 
Sen. Mark Miller, D-Monona, said Wisconsin pioneered many programs that spread nationwide, including Social Security, unemployment insurance, worker's compensation, public kindergarten and public employee unions.
Now, Miller said, "Wisconsin is a demonstration state of what not to do."