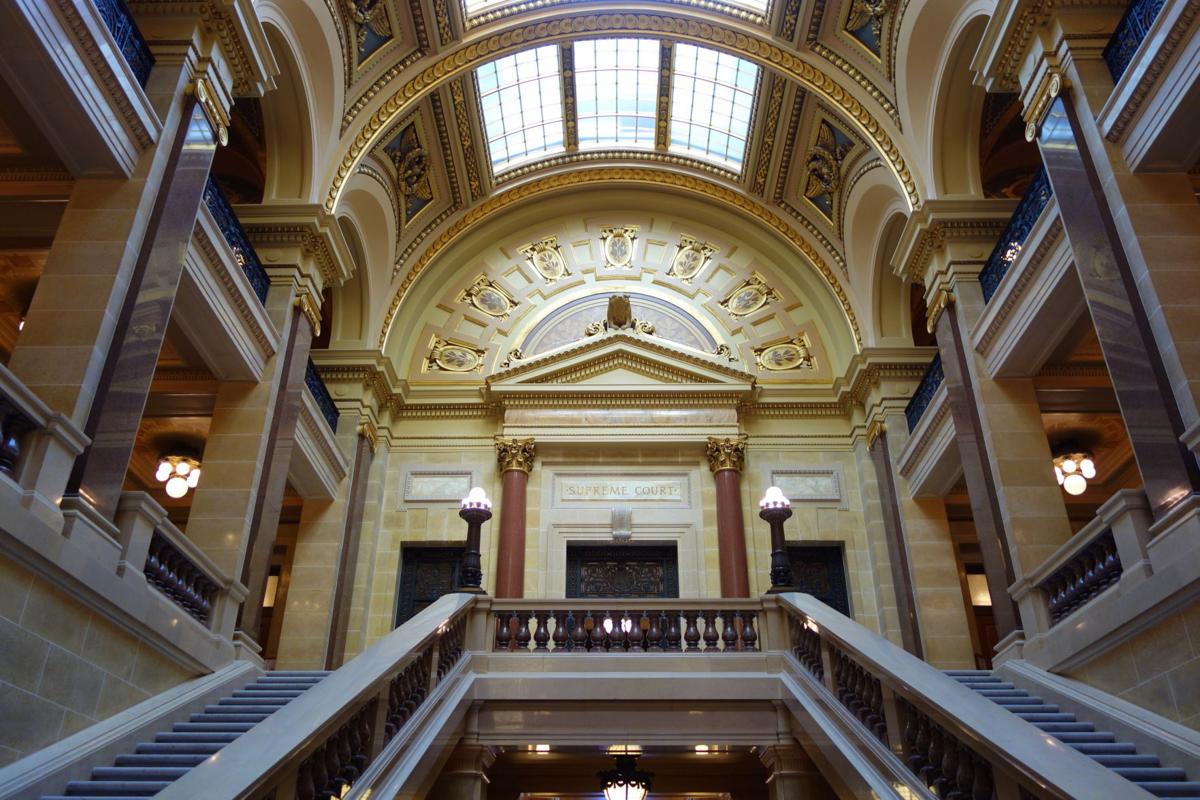 A Dane County judge on Thursday voided contracts that Wisconsin's Republican legislative leaders entered into with private taxpayer-funded attorneys to represent them in the anticipation of litigation over the state's redistricting process.
The decision from Dane County Circuit Court Judge Stephen Ehlke grants a request filed by a taxpayer group in March that includes the head of the Madison teachers union, Andrew Waity.
The lawsuit alleged Assembly Speaker Robin Vos, R-Rochester, and Senate Majority Leader Devin LeMahieu, R-Oostburg, illegally signed contracts with two law firms. The lawsuit charged that because no redistricting litigation exists yet in the state, state law doesn't allow for the Legislature to hire outside counsel at taxpayer expense.
Vos and LeMahieu entered into a contract in December with the law firm Consovoy McCarthy for possible redistricting litigation and in January with Bell Giftos St. John for advice on legal requirements for redistricting as well as potential litigation. The Republican leaders argued they were justified in hiring the law firms, despite there being no current redistricting litigation, based on the Legislature's core power under the Wisconsin Constitution.
In his decision, Ehlke reasoned that hiring private attorneys for anticipated litigation is not within the core power of the Legislature, and that only in rare circumstances when the Legislature's institutional interests are involved may it properly engage in litigation without interfering with the powers of the executive branch.
"If 'anticipated, likely, or impending' litigation were read into the statute, as defendants suggest, it would mean the Speaker and Majority Leader could hire outside counsel whenever they subjectively believe litigation might occur," Ehlke wrote. "How would courts ever review such decisions? Is a 5% probability of litigation sufficient? What about 15%?"
Ehlke did, however, add that if the Legislature's contract with Bell Giftos St. John had only related to advice regarding the constitutional and statutory requirements and principles related to redistricting, it would "arguably fall within the core powers of the legislature to enact redistricting legislation."
It's possible the Legislature could attempt to use such reasoning to hire outside counsel for advice on redistricting.
In a statement, Vos said Republicans would appeal the decision.
"It's certainly no surprise that a Dane County judge gave liberal activists a favorable ruling in this case," Vos said. "We will appeal the decision and move forward."
Unless the decision is reversed on appeal, Ehlke's decision means the Legislature will likely have to wait until a lawsuit is filed after the Legislature completes the decennial process of passing new political maps, which is expected to commence later this year.
Advocates for nonpartisan redistricting applauded the decision.
"We all know that Robin Vos and his allies will literally stop at nothing to try to rig the maps for another decade, but it's good that in this case at least, they are being forced to adhere to the law," said Fair Elections Project director Sachin Chheda. "All of this could be avoided if the Legislature would simply commit to an open, honest, transparent process to draw the next decade's maps, as envisioned through the People's Maps Commission process."
Chheda was referring to a redistricting commission Democratic Gov. Tony Evers has characterized as nonpartisan that he implemented through executive order.
The commission — composed of nine members selected by three retired judges — hosted public meetings to hear testimony from experts and members of the public. After further U.S. Census data is released later this summer, the maps commission will help guide the drawing of maps to present to the Legislature.
Evers' maps commission doesn't change the fact that the Legislature and governor are ultimately responsible for approving an initial set of maps. Rather, the commission is meant to provide transparency to the mapmaking process and an alternative set of maps for lawmakers and courts to consider. The governor's commission won't involve lobbyists or secrecy agreements.
Pines said Ehlke's decision, if upheld, will allow the redistricting process to be more open and transparent, unlike in 2011, when Republicans controlled the Legislature and governor's office.
At that time, the maps were created in a tightly controlled room at the Madison law office of Michael Best & Friedrich, and Democrats were not allowed to take part in the process. Republican lawmakers were required to sign secrecy oaths to view drafts.
Under those maps, Republicans in the Senate and Assembly have for the most part enjoyed healthy majorities, even when receiving fewer votes statewide.
Democratic Attorney Lester Pines said he believes Vos and LeMahieu intended to use the attorney-client privilege afforded by hiring outside private counsel to draw the maps in secret, like in 2011.
"It's our hope that by having these contracts voided and having the Legislature enjoined from paying any more money on these contracts, that that will force, especially Speaker Vos, out of his authoritarian stance," Pines said.
Editor's note: This story corrects a first reference to attorney Lester Pines.
Madison Forward, Part 1: Region's business community pushes ahead
The pandemic had devastating consequences for many Madison-area businesses. Some didn't make it. Others found a way to limp through. The common thread in all these success stories is resilience. Here are some of their stories.