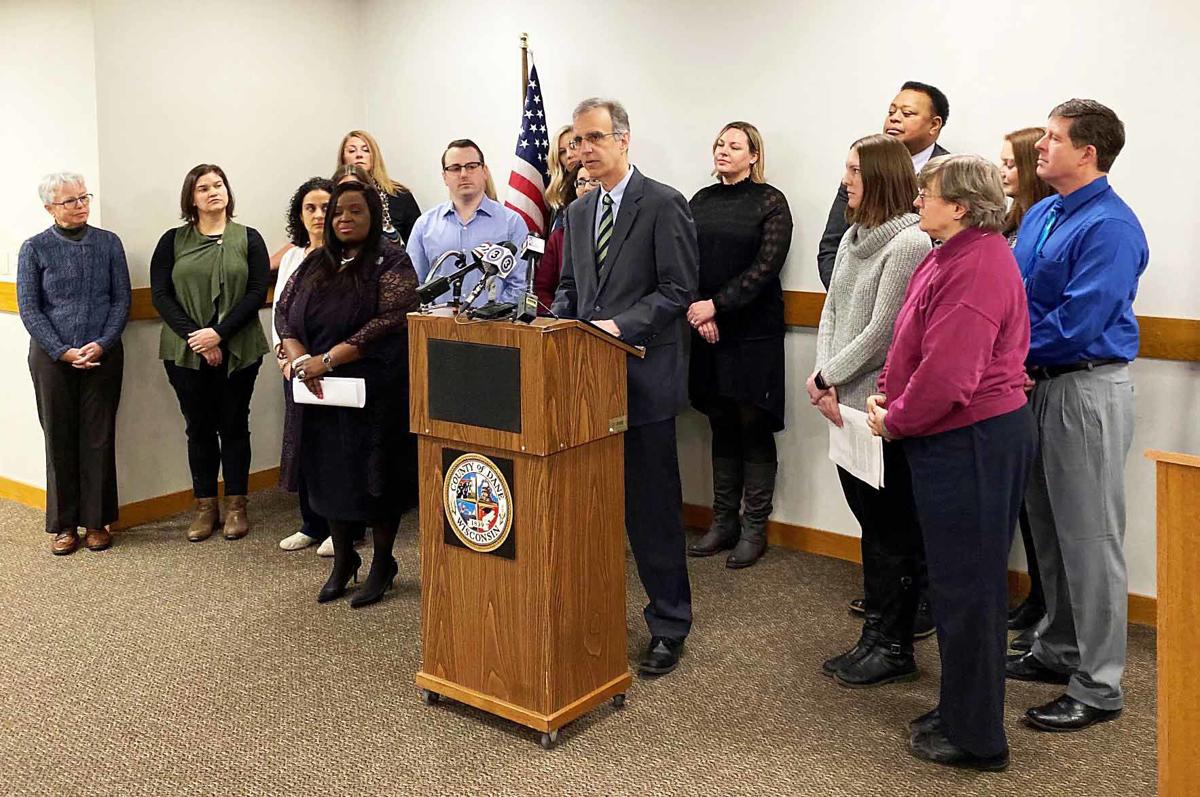 A proposed call center that would open next year would be a one-stop resource for people in need of mental and behavioral health care, Dane County officials said Monday.
The Dane County Universal Access Resource Center would be an important resource for those in need of mental and behavioral health care, their family members and health care providers by making those services more accessible, Dane County Executive Joe Parisi said. It would be funded and operated by the county, with the help of local health care providers.
"Each individual provider system can be challenging to navigate, and attempting to navigate between multiple systems, like public, private and nonprofit, can be overwhelming," Parisi said. "We must all work together to create universal access that is as seamless as possible across all systems."
Parisi announced plans for the center along with state Rep. Shelia Stubbs, D-Madison, who also represents District 23 on the Dane County Board; the National Alliance on Mental Illness Dane County; local health care providers and mental health advocates.
The proposal is slated to be reviewed for approval by the County Board in the next few weeks, Parisi said. The goal is to have staff for the center hired by spring 2020. It would have a grand opening in early summer 2020.
Parisi said this initiative is a key component of the CJ Tubbs Fund for Hope, Healing and Recovery, an effort under the county's 2020 budget to better serve people recovering from mental illness and addiction.
One of the top needs identified in the county's Behavioral Health Needs Assessment, released in October, along with research by NAMI Dane County and other community groups is a "universal access point, a system in which any door one enters is the right door," Parisi said.
The county's assessment looked for gaps in existing mental health care and ways to address them. The study found several needs including formal partnerships between providers and facilities, additional services for crisis care and better access to care for under-served populations.
"Breaking down barriers and improving access to mental health care is fundamental to our community goals of equity, fairness and looking out for one another," Stubbs said.
The center is meant to serve anyone in need, Parisi said, whether they have private insurance, Medicare or no insurance at all. It will be modeled after the Aging and Disability Resource Center of Dane County, which helps seniors and people with disabilities get the help they need.
The county Department of Human Services, tasked with creating the plan for the new call center, will also convene a Universal Access Work Group made up of public and private health care providers. Parisi is asking the group to meet monthly over the next year to develop data-sharing and other processes necessary for better access and care across provider systems.
More announcements
Parisi also announced Monday the county and NAMI Dane County will be extending their current contract with an additional $60,000 to train all police, fire and emergency medical personnel to be able to handle emergencies in which mental or behavioral health is involved.
"Our first responders are often the initial contact for people experiencing addiction or a mental health crisis," Parisi said. "It is crucial they have the training and access to information they need to help those they come in contact with."
The county has partnered with NAMI Dane County for the past few years to provide crisis intervention training to some local law enforcement and first responders, Parisi said. The ongoing partnership will allow the county and NAMI Dane County to provide this training more widely.
"We know these trainings are a critical piece within a broader system of mental health care," said Anna Moffit, executive director of NAMI Dane County. "This collaboration has the potential to not only change lives but also save lives."