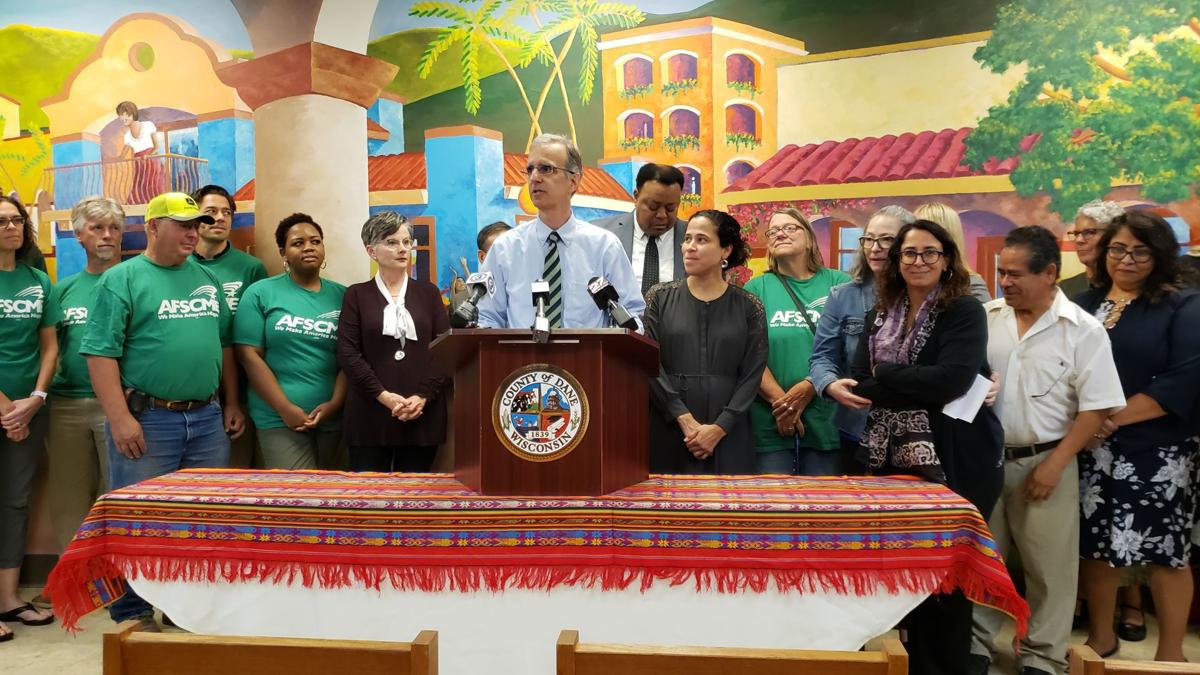 Framing it as a spending plan for the start of a new decade, Dane County Executive Joe Parisi proposed Tuesday $653.7 million for the 2020 operating and capital budgets, with a focus on human services and flood mitigation.
The budget largely builds on ongoing county initiatives, such as efforts to increase water flow through the Yahara lakes, providing a fourth consecutive year of raises for county employees and proposing the creation of two new county offices — one focused on housing and the other on immigration.
"Our Human Services budget is the vehicle through which we invest in our community's most important asset, our people," Parisi said in announcing the plan. "It's the vehicle through which we tackle some of our most difficult challenges and do some of our most important work."
The operating side of the budget would be $591.9 million, which is a $33.4 million boost in spending from the 2019 operating budget, or an approximately 6.0% increase.
For infrastructure projects, Parisi is proposing a $61.8 million capital budget — down about $10 million, or 13.5%, from the 2019 adopted capital budget.
The net effect when the two budgets are combined is an increase in spending of 3.8%. The property tax levy would increase by 3.9% to $191.8 million.
For the owner of an average Madison home, now valued at $300,967, the budget increases the county's portion of the property tax by $21.85, for a total bill of $868.30.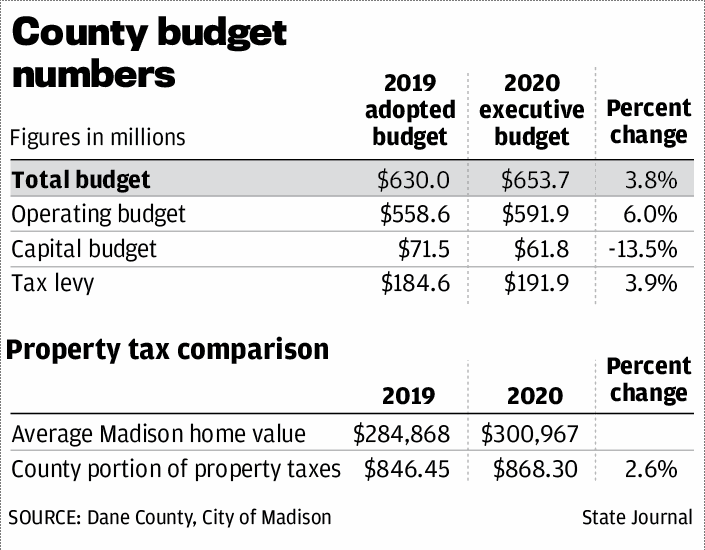 Parisi is proposing $3 million for the county's Affordable Housing Fund, which subsidizes housing projects that include low-cost units and can help developers secure crucial federal tax credits for the projects.
While the $3 million is in line with what Parisi initially proposed to spend on low-cost housing in the 2019 budget, it is down from the $6 million that was ultimately included this year after the Dane County Board doubled the amount during last fall's budgetary process.
Asked why he is proposing less than the board funded this year, Parisi said "this is my best shot at the budget based on what I know," adding that the 37-member County Board can make adjustments to the budget.
As part of the county's push for more low-cost housing, Parisi is also calling for the creation of a new Division of Housing Access and Affordability, along with two new staff positions to monitor and collect data on projects partially funded by the county's Affordable Housing Fund.
You have free articles remaining.
The division would be located within Dane County Human Services. It would be run by a new housing coordinator position and supported by a new program specialist and existing county staff.
A personal note
In introducing the budget at Centro Hispano on Madison's South Side, Parisi spoke of his grandparents' experience as Sicilian immigrants living in the Greenbush neighborhood, adding that "we must not and will not turn our backs on today's immigrants."
In his budget, Parisi is looking to create an Office of Immigration Assistance, which would also be within Human Services, along with a new bilingual social worker position for a $180,000 increase to support immigrants.
The executive budget also includes a $500,000 grant program for community centers to provide mental and behavioral health services for children and families.
Leading up to the budget release Tuesday, Parisi had already released portions of its new initiatives and spending, including an announcement last week to boost mental health and addiction treatment programs by $865,000.
Focus on flooding
On efforts to prevent future flooding and respond to a changing climate, Parisi is proposing new or increased spending of:
$5 million to purchase hydraulic dr
edging equipment and hire four employees to remove sediment from the bottom of the Yahara River.
$3 million to establish a "Flood Risk Reduction Fund" for purchasing land and preserving or restoring it to wetlands and prairies in an effort to reduce water runoff.
$400,000 for continued repair work at Pheasant Branch Conservancy after flooding in 2018 caused major damage.
$750,00
0 more for a program to convert row crops into perennial vegetation, doubling the funding to $1.5 million in 2020.
In this year's budget, county officials included $23.8 million for flood response and mitigation after a deluge in August 2018 swamped parts of the county and led to weeks of sustained flooding for areas along the Yahara chain of lakes.
Under the executive budget, county employees would receive a 3% raise. The $5.2 million cost to cover the raises would be the single biggest increase in the 2020 operating budget.
In all, Parisi is proposing $11.5 million in new spending on employee wages, keeping health care costs consistent and increased contributions to the Wisconsin Retirement System.