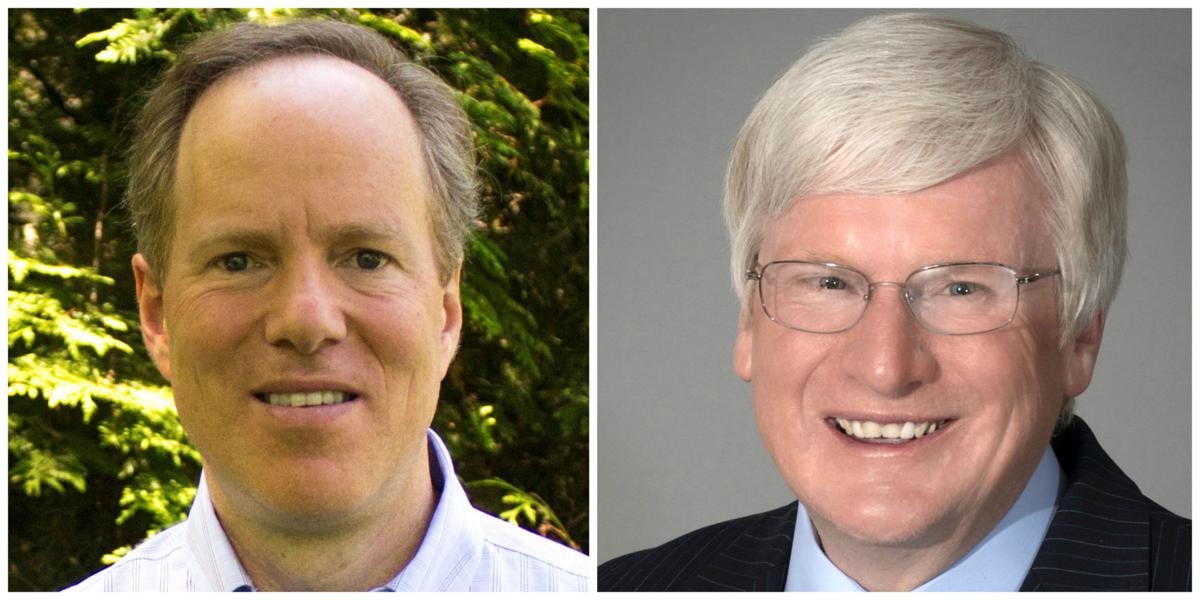 Congressman Glenn Grothman represents a long-held Republican district in east-central Wisconsin and, including his time in the state Legislature, has a spotless 23-0 track record in elections.
Those factors create long odds for his Democratic challenger, Dan Kohl, in the Nov. 6 general election.
Yet Democrats, undaunted by history, have put Wisconsin's 6th Congressional District in their sights in 2018.
Grothman also isn't counting Kohl out. Kohl's personal wealth and robust campaign fundraising, plus a 2018 electoral climate likely to favor Democrats, prompted Grothman to tell the Milwaukee Journal Sentinel this will be "the toughest race of my political career."
Dan Kohl, of Mequon, also has a link to one of Wisconsin's foremost political families — he's the nephew of former Kohl's president and former Democratic U.S. Sen. Herb Kohl.
"I am always very concerned when running against somebody with access to so much money," Grothman said in a recent State Journal interview.
To pull off the upset, Dan Kohl — a self-described moderate Democrat — must convince most of the district's independent voters, and likely some Republicans, that it's time for a change.
"People are sick and tired of politics as usual. I think it explains why Donald Trump is president right now," Kohl said. "And so people are looking for a new generation of leaders who will play by a different rule book, and that's what I'm offering."
Seeking a third term in Wisconsin's 6th District, Grothman, R-Glenbeulah, has emphasized his conservatism as well as what he calls his "independent streak." He has been a mostly reliable vote for President Donald Trump and House GOP leadership, though he has opposed some GOP spending bills he said were too costly.
Grothman has been a staunch opponent of illegal immigration — sometimes more so than Trump — and an advocate for cutting welfare programs and expanding workforce training for his district's many manufacturers.
The 6th District has been in GOP hands for decades, having previously been held by former Rep. Tom Petri, R-Fond du Lac, from 1979 until 2015 and before that for 12 years by Republican Bill Steiger. It also handed Donald Trump a 17-point victory margin in the 2016 presidential election.
Going from the northern Milwaukee suburbs in Ozaukee County to Sheboygan and Manitowoc, the district takes in Oshkosh, Fond du Lac and part of the Fox Cities. Columbia, Marquette and Waushara counties also are in the district, forming its western edge.
Kohl previously worked as an executive with the Milwaukee Bucks, which his uncle previously owned, and for the nonprofit group J Street, which advocates peaceful resolution to the Israeli-Palestinian conflict through a two-state solution.
Kohl also ran unsuccessfully for the state Legislature in 2008. More recently he worked as a federal lobbyist, including for the Major League Baseball commissioner's office.
Kohl told the State Journal he considers himself "a moderate, somebody who is practical, pragmatic." He said federal infrastructure upgrades, workforce training, combating the opioid crisis and veterans' health care are issues on which he could work with Republicans in Congress.
So far, Kohl has outpaced Grothman in fundraising. That helped prompt the Democratic Congressional Campaign Committee to put the race on its "Red to Blue" list, inclusion on which gives the candidate "organizational and fundraising support and guidance."
Republicans have taken notice. The state GOP last week attacked Kohl by playing up his lobbying background, saying "D.C. Dan left our state behind to go lobby the swamp."
Grothman disputed the "moderate" label for Kohl, saying he is linked to Democratic mega-donor George Soros because of their mutual ties to J Street, to which Soros has been a donor.
Kohl said Soros "has no association with my campaign whatsoever."
But Dan Kohl acknowledged Herb Kohl will be closely involved, saying he "gives me a lot of really, really smart counsel. He is strongly behind what I'm doing."
Trade and tariffs
Kohl said President Donald Trump's tariffs on steel and aluminum are creating "a self-inflicted trade war where farmers, manufacturers in Wisconsin are on the front lines."
"We need members of Congress who won't be anyone's rubber stamp; who'll do what's necessary to fight for hard-working people in Wisconsin who are feeling a world of hurt right now," Kohl said.
The economy of the 6th District relies heavily on manufacturing and agriculture, two sectors affected disproportionately by global trade. Nearly one-fourth of the district's employment is in manufacturing, among the most of any congressional district.
Grothman contends he has been willing to "buck" Trump, primarily on tariffs, by relaying his concerns to the president's advisers.
Congress can do much more to oppose the tariffs, including halting them by voting to end Trump's authority to levy them. Asked why he won't do more to protest, Grothman pointed to encouraging signs from Mexico, with which Trump recently announced a deal to revise trade terms. Grothman also cited private assurances that progress is being made toward a deal with the European Union.
"For the good of negotiations, you don't want to undermine the president's position," Grothman said.
So where else has Grothman bucked Trump?
"To be effective, I think he should tweet a little bit less, and I've told that to him personally," Grothman said.
Health care
Kohl said he would defend the federal law known as Obamacare from GOP attempts to repeal it. He also advocates allowing Medicare to negotiate for lower prescription drug prices and U.S. pharmacies to import cheaper drugs from Canada.
Unlike some Democrats, Kohl said he does not favor a single-payer health care system such as Sen. Bernie Sanders' "Medicare for All" plan.
"We should be working to broaden coverage and reduce costs, but I do not support single-payer," Kohl said.
Grothman voted for the American Health Care Act, a plan to repeal Obamacare that did not become law. If it had, the measure would have rolled back Obamacare taxes on the wealthy and the health care industry that helped finance expanded coverage for millions; permitted states to opt out of current requirements that insurers cover basic health benefits, and allowed insurers to charge more to cover people with pre-existing health conditions if that person had a break in coverage.
It also would have slashed funding for Medicaid, the health-coverage program for the poor, elderly or disabled, by more than $880 billion in the next decade.
Looking ahead, Grothman said "market-based reforms" are needed, including to help individuals and small businesses better control costs as he said large companies have done.
Immigration
Kohl said he supports creating a comprehensive immigration overhaul that includes a pathway to citizenship for people living in the U.S. who arrived here illegally. He said he's open to building a wall on some stretches of the Mexico border but not all of it.
At least a few congressional Democrats, including Rep. Mark Pocan, D-Black Earth, want to abolish Immigration and Customs Enforcement, or ICE. Kohl said he isn't among them.
"I don't think that in our country, young children should be ripped from their parents' arms. But the policy — it comes from the top, and they're carrying out a policy," Kohl said.
Grothman has emerged as a conservative hardliner on immigration. He defied Trump by voting earlier this year against an immigration compromise that would have given so-called Dreamers, or people brought to the U.S. illegally as children, a renewable form of legal status in the country.
Taxes
Grothman said he and other Republicans deserve some credit for the strong economy after they passed a tax overhaul measure at the end of 2017.
"I think our economy is booming, and there's no question one of the reasons our economy is booming is the tax bill," Grothman said.
Kohl opposes the tax law, noting studies that show the large majority of the cuts benefit the wealthy and large corporations. He said Grothman's support for the measure was "payback to a lot of big-money donors."
The bill also cut middle-class income taxes. But Kohl said tax cuts for large corporations aren't helping average people.
"These huge corporate tax cuts, they're not resulting in higher wages. What they're resulting in, principally, are stock buybacks and CEO pay going higher and higher," Kohl said.