With no steering wheel, no pedals, one double-door entrance and little to distinguish its front end from its rear, the driverless vehicle tooling around UW-Madison on Tuesday morning was less a traditional car or truck than a computer-controlled pod on wheels.
People lined up 10 and 12 deep to get a ride in the French-made Navya shuttle, which arrived on campus Thursday for testing at the university's Automated Vehicle Proving Grounds, one of 10 federally designated labs charged with testing autonomous vehicle technology.
The university was planning to again offer free rides to the public from 9 a.m. to 3 p.m. Wednesday. They leave from the north side of Linden Drive, west of Babcock Drive. The shuttle can hold about a dozen people comfortably.
"I just love autonomous vehicles because I think they're kind of the future," said 18-year-old UW-Madison computer science major Daniel Miller before taking his around-the-block trip.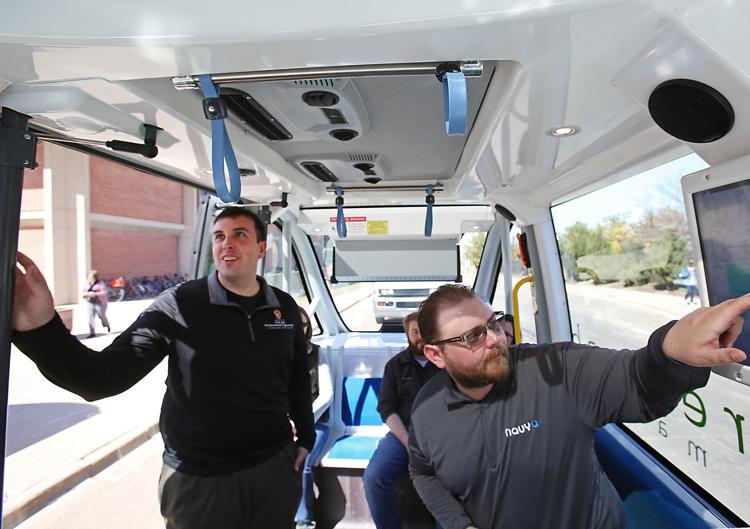 UW-Madison engineering researcher Peter Rafferty, who is heading up the Proving Grounds initiative, said two systems were largely responsible for keeping the vehicle from running over bicyclists or pedestrians.
One is a high-definition base map of the area where it's in use that can either be uploaded to the vehicle's computer or created by that computer from data collected by the vehicle's LIDAR sensors.
Rafferty described LIDAR — for light detection and ranging — as a kind of close-up radar. While both LIDAR and radar can detect, say, a large truck down the street, he said, LIDAR is good at finding, say, a small seam in a sidewalk.
LIDAR is what "makes driverless vehicles possible," he said, and there are eight of the sensors on the Navya vehicle — two on the top, two each on the front and back, and one on each side. There are also four cameras, two each in the front and back.
Jumal Hopson's ride in the Navya shuttle was his first in a driverless vehicle. The UW-Madison custodian called it an "interesting ride."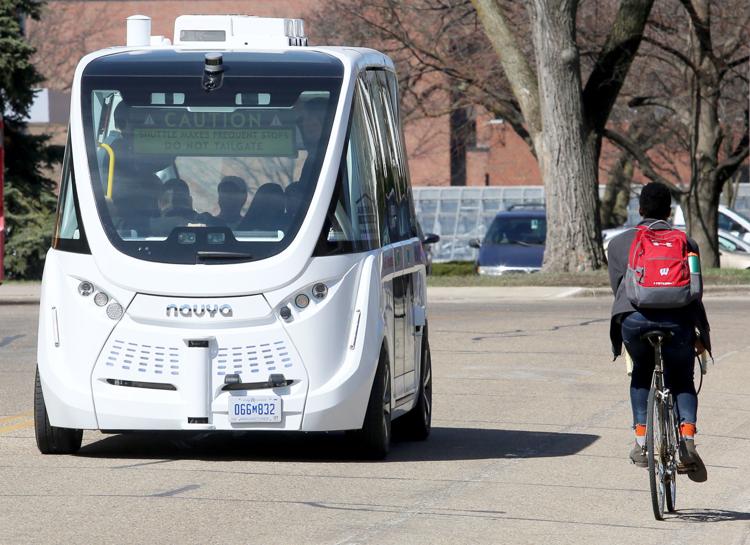 You have free articles remaining.
Register for more free articles
Stay logged in to skip the surveys
"When we came around the corner here, there was a bicycle guy ... and he stopped his bike so he could see the bus go by, and as he was doing that, (the shuttle) stopped," he said. "The bus wouldn't move until he moved out of the way."
Miller called his ride a "great experience" and said, "I felt completely safe."
If anything, he said, he would have liked to go faster. While the Navya shuttle has a top speed of about 28 mph, it was topping out at around 10 or 11 mph on a route that took it clockwise on Linden Drive, to Elm Drive, to Observatory Drive, to Babcock.
"Some people were looking at it like 'it's my commute. I want to go a little faster,'" he said.
Navya represenative Aaron Foster said the vehicle will begin slowing down when it gets within about 12 yards of an obstruction, and stop at about 3 yards.
And "if you stand in front of the shuttle long enough, it will honk at you," he said.
Rafferty said Navya had 70 of the company's shuttles in operation around the world, including six in the United States. He said it could be a year or two before such vehicles are in wider use.
"Part of our work is very technical and engineering, but also a big part is getting folks to experience this and to ask us questions and to get them more comfortable with where we're at with the technology," Rafferty said.
The shuttle on campus Tuesday and Wednesday was headed next to American Family Insurance — which helped sponsor the UW visit — for a stationary demo, Foster said, and was later making trips to Nashville and Michigan, among other places.