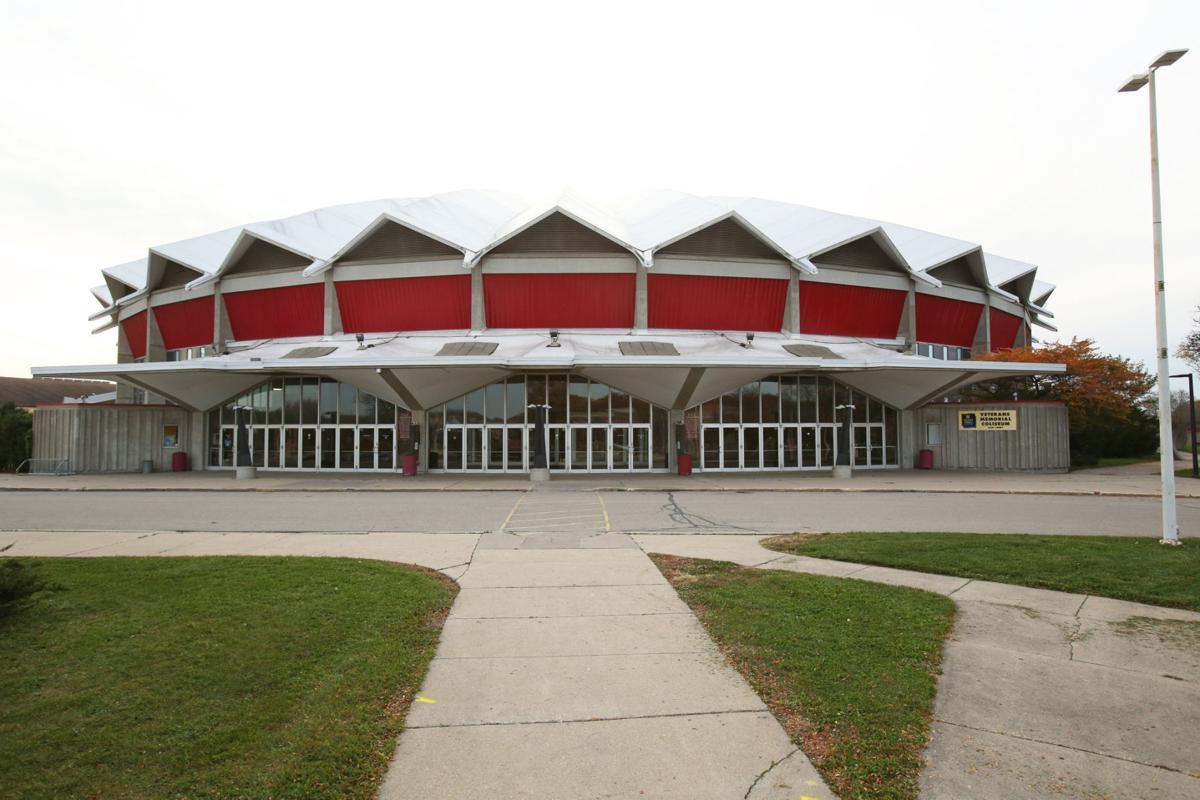 A Dane County committee has recommended the County Board pursue a new multipurpose arena accompanied by a retail, entertainment, dining and hotel district at the Alliant Energy Center site.
The county's ad-hoc Alliant Energy Center Strategic Design Study Committee unanimously chose the third of three options from a Hammes Co. report that calls for razing the aging Dane County Coliseum and redeveloping the grounds around it into a $500 million destination for expos and other large events.
The recommendation comes as county officials are examining ways to keep the complex self-sustaining without support from taxes to cover operating expenses.
The other two options outlined in the Hammes study were significantly cheaper, focusing primarily on improvements to existing buildings.
Neither of those concepts were expected to address the Alliant Energy Center's long-term operating deficits, though.
"Just fixing up the Coliseum is not acceptable. It's not competitive," said Dane County Clerk Scott McDonell, who chaired the committee.
Earlier Wednesday, Parisi's chief of staff, Josh Wescott, said that in discussing the complex's future, officials must keep in mind the needs of the facility's two largest events: the World Dairy Expo and Midwest Horse Fair. Both organizations pitched in money to build the $24 million New Holland Pavilions.
"They made an investment into those grounds and any changes that would hamper their ability to offer those events — we don't want to risk a lot of the reasons why we made the investments out there that we did in the last couple years. We want to keep these premier trade shows in Madison," Wescott said.
McDonell and County Board chairwoman Sharon Corrigan said the officials must find a way to meet the needs of those shows but attract new business to pay for the operating expenses. Adding hotels, retail and dining amenities to the complex could help do that.
"We can't run a facility on five days a year," McDonell said referring to the Dairy Expo. "They're five important days, so we'll do what we need to do to make sure they're happy, but I also know there are customers that are frustrated that they have to drive to get to anything off that campus."
The committee's recommendation is hardly definite.
The recommendation will be introduced to the County Board within the next few days. From there, it must go to the county's Public Works and Transportation and Personnel and Finance committees before going back to the full board for a vote.
If approved without veto, the county would likely hire a project director and commission a market study before issuing a request for proposals, Corrigan said.
That doesn't begin to address funding for the concept, which Hammes estimates at $455 million to $507 million.
The concept projects the public investment to be around $117 million, including about $80 million for a new multipurpose arena with 6,000 to 8,000 seats.
The rest of the public funding would pay for a $25 million, 1,000-stall parking ramp and $10 million in improvements to Exhibition Hall.
The recommendation also included guidelines for the process that direct staff to examine financing mechanisms, to establish a partnership with Madison to finance and manage the project, and to create a backup plan that would allow the county to transfer management of the complex to other private or government entities and exit the expo market completely.
McDonell said he's comfortable that the conceptual plan has enough votes on the County Board to override a Parisi veto.
Parking appears to be the biggest hurdle for the Alliant Energy Center's two largest shows.
The conceptual plan calls for developing portions of the existing surface parking lots into retail space and a parking ramp, but both the Horse Fair and Dairy Expo attract thousands of visitors and exhibitors, many of whom bring large animal trailers that aren't suited for traditional parking ramps.
"Our horse people bring their trailers and trucks. I'm just hoping in all of this that they think through all this," said Horse Fair general manager Rhonda Reese.
McDonell said those are details that can be ironed out when the project is further along.
"It's a trade off," McDonell said. "You have to design it differently and it's more expensive, but it's been done before."