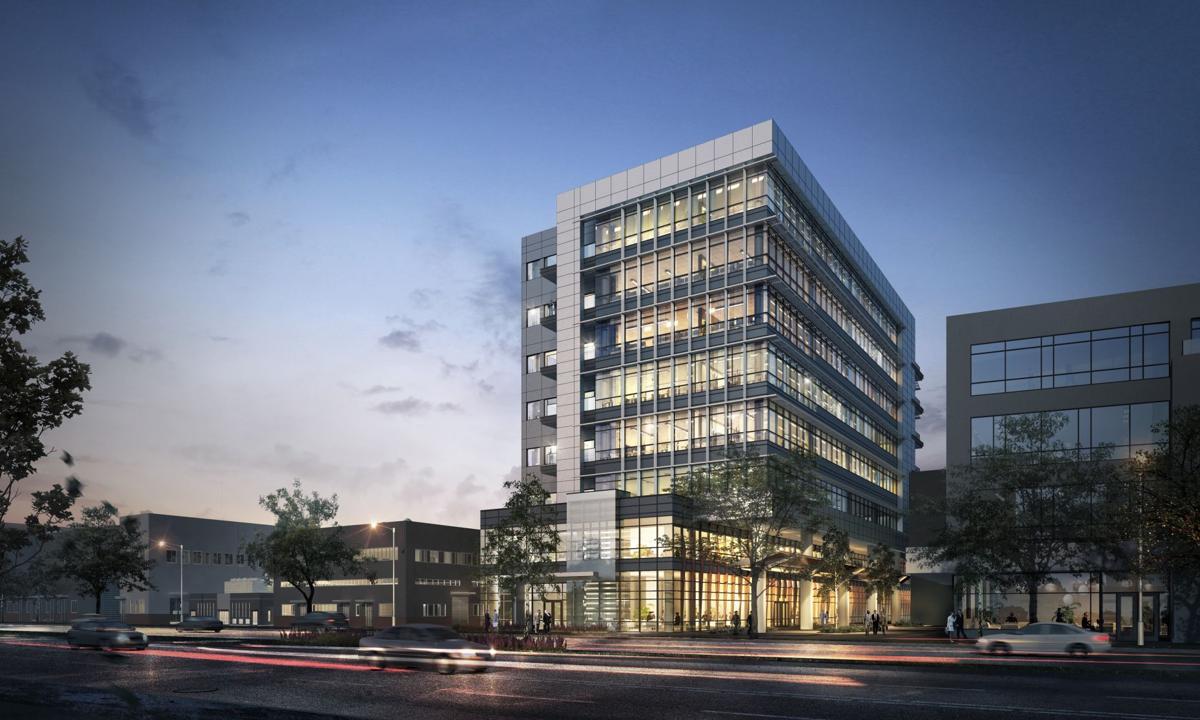 A major redevelopment project on the 800 block of East Washington Avenue received crucial land use approvals from the Madison Plan Commission on Monday, setting up construction to begin as soon as 2017.
Gebhardt Development received conditional use approval for a four-story project known as the Cosmos, with an additional request from the commission to explore sustainable aspects and designs for the building. The structure will bring offices, retail space and a 2,500-seat music venue to the block.
Commission members also voted to allow a conditional permit for the construction of the Spark, an eight-story building developed by American Family Insurance that will house some of its offices and the city-sponsored entrepreneurial collaborative StartingBlock Madison.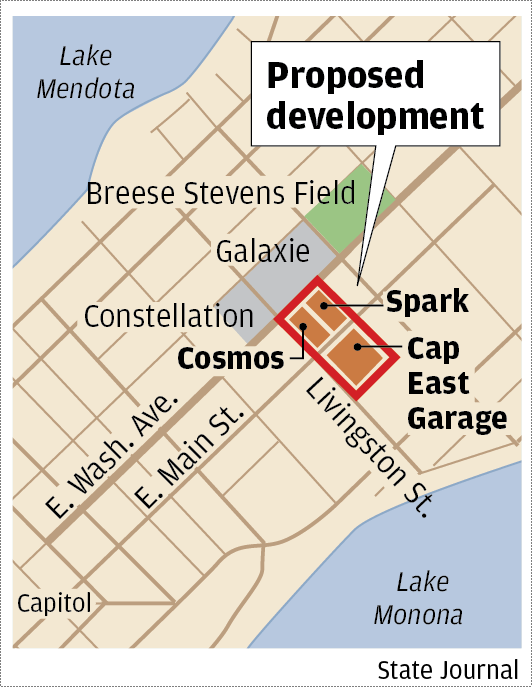 Both structures are collectively known as the 800 Block Project and will occupy a former car dealership at the east corner of East Washington Avenue and South Livingston Street.
In late November, the Urban Design Commission gave initial design approval for a four-story version of the Cosmos. But the design commission asked for changes to be made before Gebhardt could go ahead with an eight-story structure that would create additional office space.
On Monday, some commission members expressed concerns over a requested reduction in the number of bicycle parking stalls and loading zones for the Cosmos.
"Entertainment venues tend to have very large delivery vehicles for their shows," Ald. Ledell Zellers, 2nd District, said. "I'm really concerned you do not have enough space for accommodating deliveries."
Angela Black, an attorney representing the development team, said many of the office users and music venue visitors would be on offset schedules, spreading out the need for bike parking and loading zones throughout the day.
Representatives for the Spark showcased their project with a virtual reality headset that allowed commission members to see a model of the building designed by a local company.
Former Ald. Scott Resnick, executive director of StartingBlock, said it was the first time in the country a virtual reality headset was used in a land use approval process, demonstrating what area businesses and innovators can do.
The conditional use permits represent the last major approvals needed for the development. Gebhardt, however, would need to make changes to get the Cosmos' eight-floor portion approved.