The city of Madison now has three options to consider for renovating an aging city building for a Downtown emergency shelter for homeless men.
At the city's request, Engberg Anderson Architects produced three preliminary options that use part of the city's three-story Fairchild Building, 120 S. Fairchild St., to replace existing facilities now in three church basements.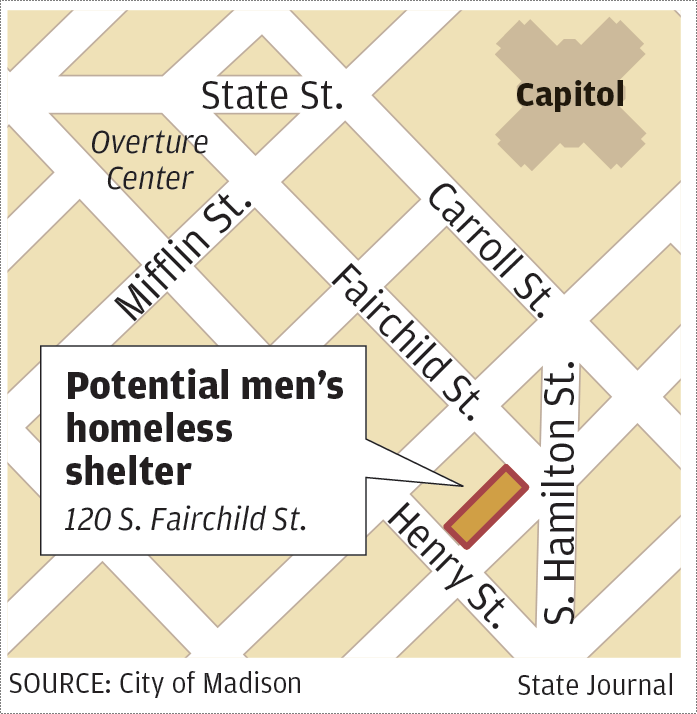 The late 1920s, 43,340-square-foot structure, built into a slope that allows street access on all three floors, is now used for storage and parking by Madison police, parking enforcement and the Parks Division.
The city has made no decisions about the building's reuse but is reviewing the following options:
Leave all existing uses in the building and use part of the top floor for a shelter with roughly the same number of beds and features as the existing men's shelters.
Relocate one existing use and convert the entire top floor to a shelter with 160 beds and flexible overflow sleeping areas, an upgraded "pay to stay" area with computer room and lounge, four rooms for couples and a smoking enclosure. There's also a "safe room," described as a flexible space that could be used to separate guests such as transgender people who may feel uncomfortable in the main area.
Leave all existing uses and add a fourth floor with essentially the same offerings as Option 2, plus an outdoor patio.
All options would provide an intake area, kitchen, dining area, a place to sleep for those who've been drinking, a lounge, offices, space for service providers, more showers and laundry space than available at existing facilities, a heat-treating room to control bedbugs, and storage. Options 1 and 2 could have a public restroom.
"Our goal was to combine the three shelters into one," said Mike Zuehlke, senior associate at Enberg Anderson, which will make a presentation at a neighborhood meeting on Monday night. "I think we are adding a lot more things than we have now."
Zuehlke said preliminary cost estimates were not available but would be shared at the meeting. Social service providers will also attend.
Currently, Porchlight Inc. offers night shelter to single homeless men at Grace Episcopal Church on the Capitol Square with overflow space at St. John's Lutheran Church on East Washington Avenue and First United Methodist Church on Wisconsin Avenue.
During winter months, Porchlight serves an average of 160 to 180 men per night. Guests get two hot meals per day, personal grooming supplies, laundry facilities and counseling. There is a 90-day limit for the drop-in shelter per year, but exceptions are made for extreme weather.
The city sought the study because the Fairchild Building is in disrepair, the existing shelter situation is inadequate, and part of the Grace Episcopal Church block may be redeveloped in a way that requires discontinuing the main men's shelter in coming years.
"(But) we are not on the verge of siting a homeless shelter at the Fairchild Building," said City Council President Mike Verveer, 4th District, who represents the area and set the neighborhood meeting to ensure all study and discussion on the possibility are transparent.
The Fairchild Building is structurally sound but needs improvements to its exterior and roof whether converted to another use or not, Zuehlke said, and it will need insulation added if a shelter is located there. The architects studied existing shelters, traveled to Minneapolis and Rockford, Illinois, to tour others, and conducted phone interviews to determine the best shelter programming, he said.
The long and narrow building gets plenty of light that can be brought inside a shelter, but the configuration presents challenges in ensuring safety, security and proper separation of existing and new uses, Zuehlke said.
Each option has advantages and drawbacks, he said. The first requires no existing uses be moved but offers limited space. The second requires an existing use to relocate. And the third means adding stairs and an elevator and a new floor, which would be the most costly, he said.
Porchlight executives like Option 2, using the entire top floor for a shelter.
"It has everything on a main floor with separate entrances for guests and staff and volunteers," associate executive director Karla Jameson said. "I like the outside smoking enclosure so that is not visible to people driving by. I like the inside intake area so guests can be inside as they are checking in."
The private rooms for outreach and other staff, the bedbug room, and extras such as the safe room, pay-to-stay area and rooms for couples, would be "outstanding," Jameson said, adding, "We would love to run a shelter in this space with this setup."
Residents have questions about potential crime and impact on quality of life in the neighborhood, Verveer said.
The city is unlikely to pay for a renovation, but a developer requiring the existing shelter's relocation and private sources could deliver required funding, community development director Jim O'Keefe said.
"This is only a study," he said. "There are a lot of people who have to have a lot of conversation about whether or not this is a project the city would entertain at this site."