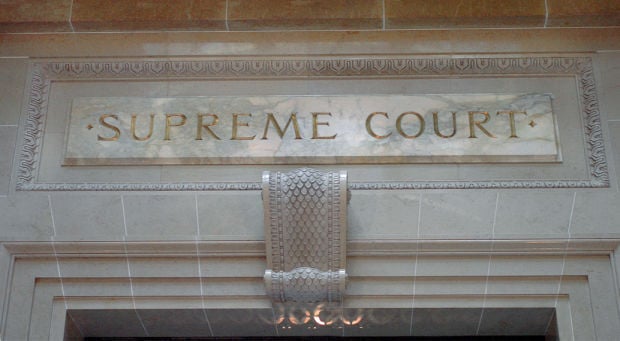 A conservative group asked the Wisconsin Supreme Court on Tuesday to toss out Wisconsin's presidential election results and replace the will of voters with electors appointed by the state's Republican-controlled Legislature.
The lawsuit, brought by the nonprofit Wisconsin Voters Alliance along with a number of individual voters, makes a number of unsubstantiated and far-fetched claims about Wisconsin's elections process, some of which are similar to those made by President Donald Trump's campaign in the ongoing recount in Dane and Milwaukee counties.
Central to the lawsuit is the allegation that several Wisconsin cities — Madison, Kenosha, Racine, Milwaukee and Green Bay — unlawfully accepted $6 million from the Mark Zuckerberg-backed Center for Technology and Civic Life to help conduct the Nov. 3 election.
The group particularly objected to the cities' work to promote absentee voting, which it characterized as an effort to help President-elect Joe Biden's campaign. Biden won the state by more than 20,000 votes, according to county canvasses. The result is scheduled to be certified Dec. 1.
Wisconsin's political parties both chose a slate of electors in October. The political party whose presidential candidate is the certified winner in Wisconsin will get all the state's electoral votes.
The lawsuit was filed by attorney Erick Kaardal, a former Minnesota Republican Party official who also represented Kanye West in his attempt to get on the ballot in the state.
The group earlier this fall filed a separate suit against the elections grants, claiming the money constituted bribery to boost voting in progressive communities, but a federal judge in October rejected its request to block the funding.
Madison officials have said they're confident use of the funds is legal and said it has helped large cities address challenges caused by the COVID-19 pandemic.
The Alliance also took issue with voters who self-certified as "indefinitely confined" following the April 7 election and who subsequently voted absentee in the presidential election. Such voters are exempt from having to provide a photo ID to vote.
Trump wants election officials to reject absentee ballots without an accompanying absentee application, including 69,000 absentee ballots cast in person; absentee ballots in which the witness address on the envelope was filled in by a local election official; and all absentee ballots in which voters self-certified as indefinitely confined.
By discouraging clerks from removing indefinitely confined voters who no longer meet such criteria, without the voter's permission, the Alliance contends the Wisconsin Elections Commission, a defendant in the lawsuit, wasn't following the law.
State statute allows a voter to self-certify as indefinitely confined and, in place of having to provide a photo ID, a witness can sign the ballot envelope to verify the voter's status. The designation is for voters "confined because of age, physical illness or infirmity or are disabled for an indefinite period."
WEC guidance states that the indefinitely confined status is for individual voters to make based on their circumstances.
Democratic Attorney General Josh Kaul, whose state Department of Justice would defend against the lawsuit, said it seeks to disenfranchise voters.
"This litigation seeks to disenfranchise every Wisconsinite who voted in the 2020 presidential election," Kaul said. "(The DOJ) will ensure that Wisconsin's presidential electors are selected based on the will of the more than 3 million Wisconsin voters who cast a ballot."
The lawsuit also claims local elections officials, particularly in Milwaukee, unlawfully made efforts to fill in the witness addresses of absentee voters, even though WEC guidance allows them to do so.
Among the lawsuit's other complaints are that election officials didn't do enough to enforce residency requirements for voters or prevent double voting. The lawsuit cites "government data and other evidence" to suggest there were thousands of illegal votes counted, and legal votes not counted, in the election.
The suit claims there were more than 14,000 ballots requested in the name of a Republican by someone else; more than 12,000 legal Republican ballots that were returned but not counted; more than 26,000 votes by electors who voted where they didn't reside; more than 96,000 electors who avoided voter ID by certifying as "indefinitely confined" but weren't; nearly 7,000 out-of-state residents voting; and more than 200 double votes.
Most of those figures are based on mathematical extrapolations from public and private state voter databases, a U.S. Postal Service change-of-address database, review of social media and interviews with sample voters. They are not based on proven allegations of illegal voting.
---
The Wisconsin Voters Alliance particularly objected to the work to promote absentee voting in Madison, Kenosha, Racine, Milwaukee and Green Bay.
The Wisconsin Voters Alliance particularly objected to the work to promote absentee voting in Madison, Kenosha, Racine, Milwaukee and Green Bay.