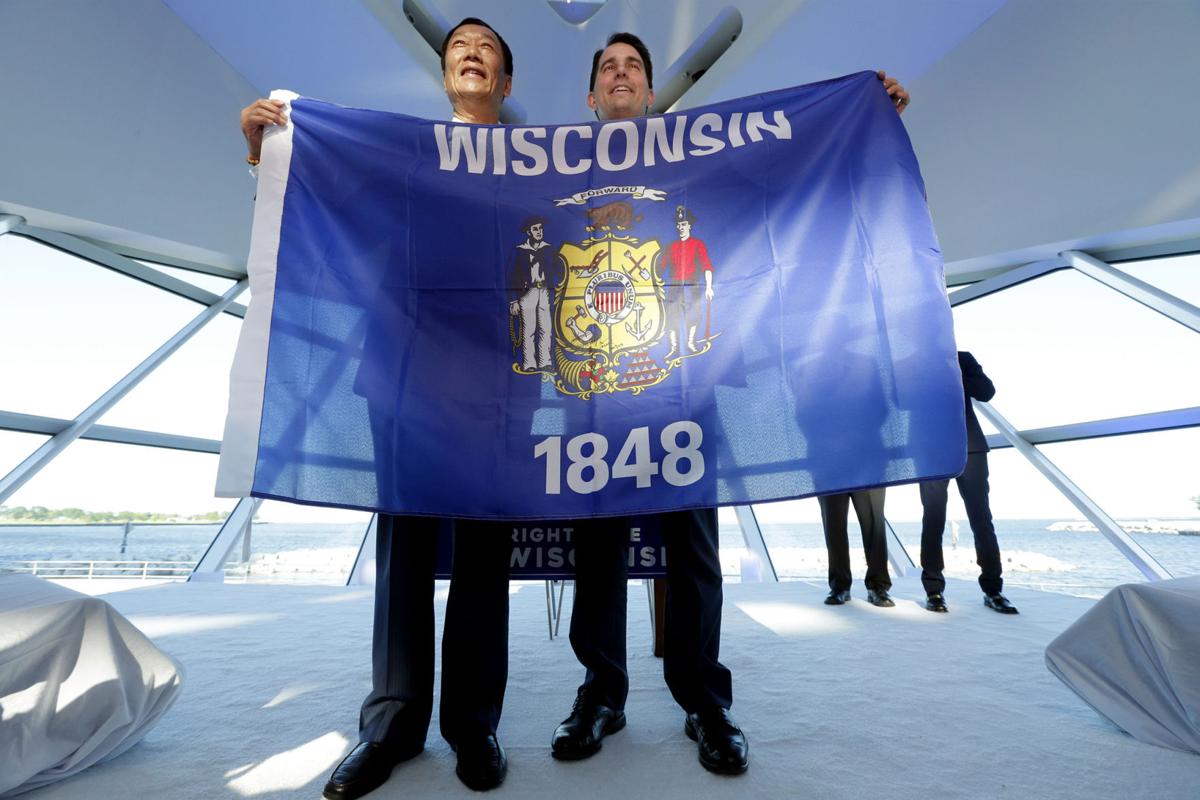 Conservationists are raising alarms about Gov. Scott Walker's fast-moving plan to roll back environmental protections for Foxconn, the Taiwanese manufacturer that says it could bring 13,000 jobs to the state.
A public hearing is expected in about two weeks on draft legislation exempting Foxconn from state laws that are otherwise mandatory for very large projects that could harm air, water or wildlife.
Walker wants to exempt Foxconn from requirements for an environmental impact statement, a plan demonstrating Foxconn's water usage would be sustainable and state permits for filling in wetlands, building on lakebeds and diverting streams.
"We are exempting one company from a whole slate of environmental protections without even knowing where the plant is going to be," Jennifer Giegerich, a Wisconsin League of Conservation Voters lobbyist, said Monday.
"They are just handing autonomy to a Chinese corporation that will then have control over water in this state," said Raj Shukla, executive director of the River Alliance of Wisconsin.
Foxconn wants to build a facility bigger than 11 football stadiums somewhere in southeastern Wisconsin, but details on the location and information about how much water it would use and what pollutants it would emit have not been disclosed.
Walker's administration worked out the deal privately, and on Thursday Walker and Foxconn CEO Terry Gou signed a memorandum of understanding. State officials said Foxconn could start manufacturing liquid-crystal display panels in 2020, although the company has made other big announcements elsewhere only to back out
The governor's spokesman on Monday repeated Walker's mantra that jobs can be had without sacrificing environmental quality.
"This is a once-in-a-generation opportunity that we must manage in a dynamic way in order to provide good-paying jobs for thousands of Wisconsin families," Tom Evenson said in response to criticism about the fast pace of proposed law changes for a largely unknown project.
Evenson said secrecy is required under a temporary nondisclosure agreement with Foxconn. It's common practice to sign such agreements with companies seeking government assistance, such as the large tax breaks Foxconn wants, Evenson said.
Several conservationists contacted by the State Journal said they were just beginning to examine the 34 pages of draft legislation Walker is proposing to the Legislature.
Shukla said the public should be allowed more time to digest and analyze the details.
"They are touting this as a catalytic event for Wisconsin, and yet there isn't a lot of time to talk about this great thing," Shukla said. "It sounds a lot like they are hiding something."
Department of Natural Resources spokesman Jim Dick said an environmental impact statement could take up to a year to prepare, and the DNR will examine potential harm while examining Foxconn permit applications for water and air pollution and while enforcing hazardous waste rules.
"Not requiring an Environmental Impact Statement (EIS) is about streamlining the process, not changing or being lax on environmental requirements," Dick said.
But the EIS would provide an overview of hazards to public health and the environment in a more understandable form than what is found in thick permitting documents that are packed with technical jargon, said Jon Drewsen, communications manager for Clean Wisconsin.
"When we get rid of that process, it really keeps everyone in the dark," Drewsen said.
Fewer changes
in mining law
Walker's proposal would go further than the controversial 2013 iron mining law enacted for the Gogebic Taconite company.
The company conducted exploratory drilling but dropped the project in 2015 amid falling iron prices. Company officials expressed surprise that there were so many federally protected wetlands they would have needed to work around.
The mining law sped up DNR deadlines for issuing permits and it reduced wetland protections, but the company would have been required to complete an environmental impact statement.
Walker's proposal exempts Foxconn from the EIS and from permits that spell out limits on the damage allowed to wetlands, streams and exposed lake beds.
When Gogebic Taconite's project was alive, federal permitting laws would have protected many of the wetlands even if state laws didn't.
But now with President Donald Trump's administration reviewing all environmental rules, the states are potentially the last line of defense, Giegerich said.
Wetlands are crucial in preventing flooding, filtering impurities out of water before it reaches the aquifer and providing wildlife habitat. Walker's proposal would require that Foxconn create or restore twice as much wetland acreage as it will be allowed to destroy under any federal permits it is issued.
Under state law, the usual ratio is 1.2 acres created or restored for each acre filled. Under federal law, the ratio has ranged from one acre to three acres restored for each acre that is lost.
Walker's bill would also exempt construction or relocation of transmission lines for Foxconn from review by the state Public Service Commission and changes rules for local property tax breaks.
The bill would remove a requirement that Foxconn create a state-approved plan demonstrating its usage of water would be sustainable. The River Alliance's Shukla said removing the requirement seemed unwise.
"A facility of this size is similar to a small city drawing water from Lake Michigan," Shukla said.
"This has been touted as a boon to Wisconsin and I hope it is, but it's not worth it if it destroys the things that so many people in the state find so valuable about living here," Shukla said. "I question whether it has really been thought through."