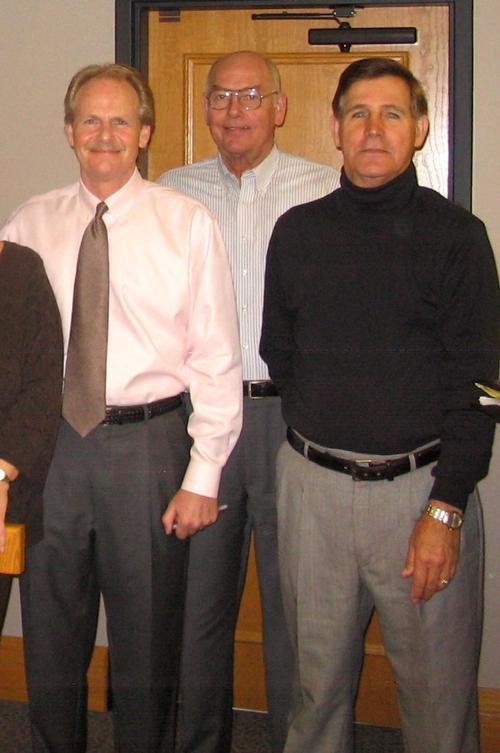 His company reeling from the national recession, Milwaukee construction executive William Minahan launched an aggressive campaign beginning in 2009 to get state and federal funding for his proposed project to retrofit bank and credit union buildings for energy efficiency.
As part of Minahan's quest to secure government funding for Building Committee Inc., he hired two high-powered lobbyists, including Eric Petersen, whose clients donated to Gov. Scott Walker's 2010 campaign. He and other BCI employees also poured tens of thousands of dollars into the campaigns of key Democrats and Republicans on the state and national levels.
The State Journal reported Sunday that Walker's top Cabinet official, then-Department of Administration Secretary Mike Huebsch, a non-voting member of the WEDC board, pressed for funding for the company, whose owner, Minahan, had donated the maximum $10,000 to Walker's 2010 campaign.
Keith Gilkes, Walker's chief of staff and former campaign manager, also met with Minahan, Huebsch and other DOA officials to discuss the project, a memo released by the governor's office shows.
According to online campaign finance databases, Minahan and employees of his Milwaukee-based company gave at least $80,000 in campaign contributions to key state and federal lawmakers since 2009, including several Democrats and Walker.
Minahan's company, founded in 1982, specialized in building bank and credit union buildings.
The company was able to secure taxpayer funding from only one source: a $500,000 loan from Walker's flagship job-creation agency, the Wisconsin Economic Development Corp. The company has not repaid the loan.
Four former employees and two others familiar with the energy retrofit project said another part of Minahan's strategy involved unspecified help from his long-time friend Gary George, a former Democratic state senator from Milwaukee who spent time in federal prison beginning in 2004 for receiving hundreds of thousands of dollars in kickbacks. The sources requested anonymity, saying they feared retribution or damaging relationships.
On Friday, Walker abruptly called for the Legislature to end the WEDC loan program, citing an audit from the Legislative Audit Bureau a week earlier. He did not mention the BCI loan.
Petitioning Congress
The State Journal was unable to find any financial assistance to Minahan or BCI from the federal government or the administration of Gov. Jim Doyle, a Democrat who got $35,000 in contributions from Minahan and top BCI employees on June 11, 2009.
According to OpenSecrets.org, operated by the Center for Responsive Politics, BCI employees, including Minahan, also made at least $32,700 in contributions in 2009 to Democrats who controlled both houses of Congress at the time.
That's when billions of dollars' worth of federal stimulus money was made available for weatherization and other energy projects, including about $200 million that flowed into Wisconsin.
The recipients included then-U.S. Senate Majority Leader Harry Reid, D-Nevada; then-Reps. Tammy Baldwin, D-Madison, and David Obey, D-Wausau; Rep. Ron Kind, D-La Crosse; and Sen. Tom Harkin, D-Iowa.
Staff for Baldwin, who is now a U.S. senator, confirmed that Minahan dropped by her congressional office to ask about funding for an energy project and he was directed to the U.S. Department of Energy.
"We have no record of doing anything in support of his efforts to secure funding, and it doesn't appear he was able secure any federal support for his project," said a statement from Baldwin's office.
Kind's office issued a similar statement.
"We don't have any record of any congressional action taken in support of Mr. Minahan or BCI receiving federal support," according to the statement.
Messages left with Reid's office were not returned.
BCI also in 2009 hired the lobbying firm Broydrick & Associates, with offices in Milwaukee and Washington, D.C., for $60,000 to push for funding for the project.
"This was all an effort … to see if there was a way to take this energy concept and see if it fit in with anything in the (federal) stimulus," lobbyist Bill Broydrick said, describing his lobbying efforts on behalf of BCI. "It was a very specific approach, and it didn't fit with anything that anyone was doing out here."
Like some others who did business with Minahan in recent years, Broydrick said the construction company owner did not pay him the agreed amount.
You have free articles remaining.
"There was a substantial outstanding balance that was not paid," he said, declining to be specific.
Reimbursements offered?
One former employee who asked not to be named for fear of reprisal said Minahan offered to reimburse him for making political contributions. He said he declined.
Another former BCI employee, salesman El Sellers, said he gave either $700 or $800 to a local politician in the southwestern U.S. region that was part of his work territory, a donation for which he was reimbursed on his BCI expense account — an incident that former BCI salesman Bob Dunn also recalled.
Sellers, who covered Arizona, New Mexico, Oklahoma and Texas, said he cannot remember the candidate's name nor the year of the donation except that it was "some minor politico in county government who could help us with a building permit or something."
"I don't remember where it was," Sellers added. "I know I was never out any money personally."
Minahan denied in an email that any BCI employee had been reimbursed for campaign contributions, an action that would be illegal.
Former BCI employee Stephen Kelley of Phoenix said he was asked to donate to federal Democratic candidates, but he described it as "nothing nefarious."
Kelley initially denied making any contributions, but OpenSecrets.org shows he made two donations on Nov. 19, 2009, of $2,400 each to Reid.
The donations were made within two weeks of similarly sized donations to the then-Senate majority leader from four top BCI executives: Minahan, David Jaeckels, Timothy Allen and Kevin Theissen and his wife, Gail.
Efforts to reach Jaeckels and Allen were unsuccessful. Theissen declined to comment.
Kelley said he made the donations as a "private individual" and that he was not reimbursed for them.
He said the contributions appeared aimed at generating federal funding for the energy project to save the company at a time when banks and credit unions had nearly stopped investing in new buildings, BCI's core business.
"There were these talks about who they could get to help them," Kelley said of BCI. "They were just doing all they could to stay afloat, I think."
Campaign donations flow
On the state level, Minahan and three BCI executives and their spouses donated at least $48,500 to state political candidates since 2009, including $10,000 to Walker, $35,000 to Doyle and $3,500 to Sen. Alberta Darling, according to the Wisconsin Democracy Campaign database.
Katie Boyce, answering questions on behalf of the former governor, who now practices law in Madison, said Doyle "believes he had a conversation or two" with Minahan about funding an energy project but that it didn't happen.
Darling, a Republican from Minahan's hometown of River Hills, got $3,500 in contributions from Minahan and two other BCI employees since 2009. Darling, co-chairwoman of the Legislature's powerful budget committee, said she knows the Minahan family but was unaware of the WEDC loan.
Records show Minahan was also a longtime supporter of George, donating $15,650 to his campaigns between 1993 and 2003.
In 2003, George was recalled from office and indicted on five criminal charges of taking illegal payments and kickbacks on state projects and programs.
He pleaded guilty in 2004 to a single count and was sentenced to four years in prison and ordered to pay $568,600 in restitution.
Minahan did not answer questions about the involvement of George, who was released from prison in 2007. George, now a lawyer in private practice, also declined to discuss his role with BCI or the energy retrofit project.
"Let's just say it would not be appropriate for me to comment on it as an attorney," he said.
State Journal reporter Matthew DeFour contributed to this report.