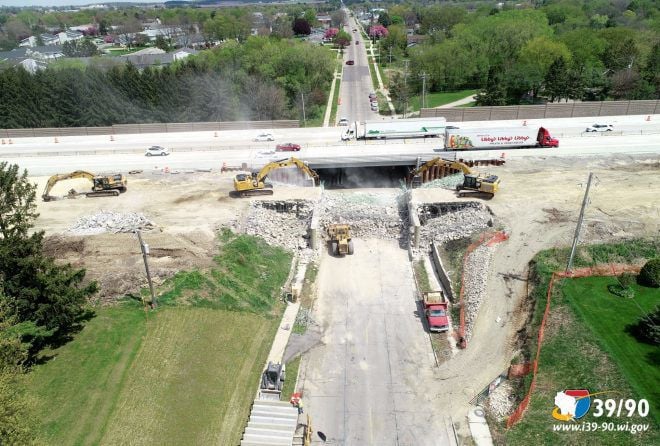 The bipartisan commission charged with evaluating — and ultimately recommending to lawmakers — the state's largest road projects has not met in nearly five years.
However, Gov. Tony Evers and his appointed secretary of the Wisconsin Department of Transportation, Craig Thompson, have said that will change this winter when the Transportation Projects Commission reconvenes.
A specific date hasn't been scheduled, but Thompson said the DOT has recommended meeting yet this year.
"I think the communication flow hasn't been as robust as it should be between the Legislature and us on some of these projects," he said. "There needs to be some reliable stability to that and I think that's what we've lacked here in the last decade."
Created in 1983, the TPC takes up discussion on the state's largest projects, including expansions that add more than five lane miles to a roadway or construction of two and a half or more miles of new roadway, such as a bypass.
Projects that exceed an inflation-adjusted price point also fall under the TPC's authority. That number currently sits at about $92 million.
"That's really why the TPC is so important," said Joe Nestler, the DOT's administrator of the Division of Transportation Investment Management. "They're high-dollar and if you're going to have impacts, these are the projects that are going to have the largest impacts."
The 15-member commission includes five members each from the Senate and Assembly, three citizen members, Thompson, who holds a nonvoting seat, and Evers.
Traditionally, the TPC meets once a year to discuss project study recommendations made in odd-numbered years and project enumeration, or approval to construct, recommendations made in even-numbered years. Recommendations go to the Legislature for approval.
However, the Legislature also has the authority to direct the DOT to study and pursue construction on a major highway project without TPC recommendation.
A spokesperson with the DOT said the only project to be enumerated without the commission's recommendation since 2014 is the six-lane expansion of Interstate 41 between Appleton and De Pere. That project is part of the 2019-21 budget.
In addition, projects already recommended by the TPC have proceeded, but Justin Shell, the DOT's chief of program development and analysis, said no new projects were added to TPC discussion since 2014.
"We weren't identifying new projects for enumeration, we weren't identifying new projects for study, but work on enumerated projects and work on projects approved for study was continuing," Shell said.
This isn't the first time the TPC has failed to meet. A DOT spokesperson said the commission didn't hold a meeting from 2002 to 2010. That span covers part of Republican Gov. Scott McCallum's term and the entirety of Democratic Gov. Jim Doyle's time in office.
Reconvening
Evers in August expressed interest in reconvening the TPC during a DOT podcast.
As governor, he serves as chairman of the TPC and is responsible for calling meetings. Former Gov. Scott Walker's last meeting was held in December 2014.
"Governor Walker believed the state should focus on maintaining existing infrastructure before taking on major new projects," Walker spokesman Jim Dyck said. "He still does."
Thompson said reconvening the TPC would open the door to more discussion on new and ongoing road projects. But he added that doesn't necessarily mean there will be an onslaught of large-scale road projects coming before the Legislature.
"I think the more information we can share with them — status, cost, where studies are at, conditions, all those sorts of things — are important for them to be able to make the right decisions," Thompson said.
No 'stones'
Thompson declined to speculate on why Walker chose to stop holding TPC meetings.
"We just want to have a more thoughtful, planned way that we move forward on this in the long-term," Thompson said. "It's not productive for me to start throwing stones at previous administrations or second-guessing what they did, but moving forward I think we need to stick to this."
Sen. Dave Hansen, D-Green Bay, who has served on the TPC on five different occasions including this year, said his hope is reconvening will allow for more bipartisan discussion on what projects the state should pursue.
"I think it's long overdue, I think we should meet again and take a look at all the projects and pick the ones we think are the most beneficial for the whole state, not just I-94 by Racine for Foxconn," Hansen said, citing an interstate expansion project south of Milwaukee that Walker pushed for to aid plans for electronics manufacturer Foxconn to locate in Wisconsin.
'Important role'
TPC member Rep. Mark Spreitzer, D-Beloit, said the commission is significant in regard to bringing legislators, stakeholders and members of the public to the same discussion when deliberating large road projects.
"I think there's an important role here that hopefully would — by including the legislature — help build support for future efforts to raise the funding we need for our transportation system," he said. "It's unfortunate, but under the last administration, the Legislature was really cut out of that role."
Republican members of the commission — as well as Senate Majority Leader Scott Fitzgerald, R-Juneau — did not return requests for comment on the TPC or plans to have the commission reconvene. A spokesperson for Speaker Robin Vos, R-Rochester, said he would not comment.
Peter Skopec, director of the Wisconsin Public Interest Research Group, which advocates for more public transit instead of highway expansions, said he's hopeful the TPC doesn't just become a rubber stamp for major road projects.
"For too long, the state has focused on adding lanes to highways, rather than investing in local infrastructure maintenance and providing transportation options that actually make our communities better," Skopec said in an email.
"Giving the TPC a more active role could help bring greater scrutiny to the process if it serves as a proper watchdog, but that would only be a start. We need genuine reform."