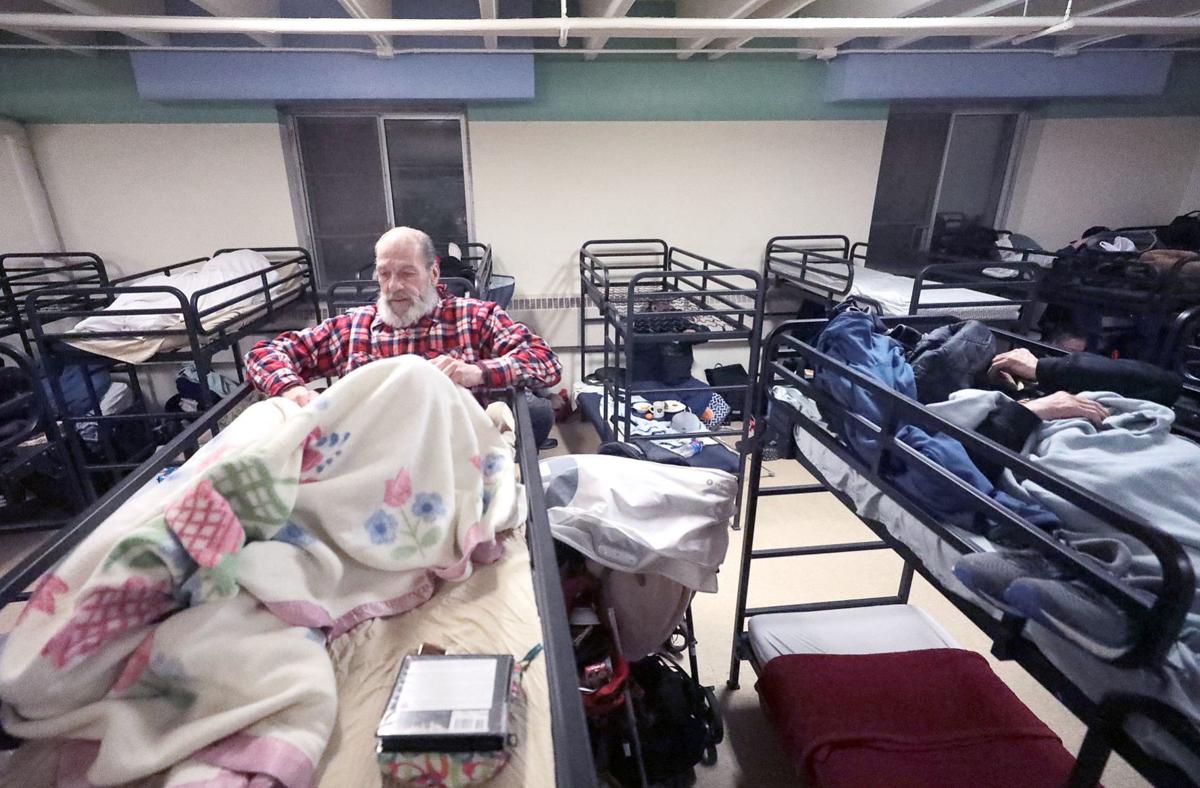 To the dismay of advocates, the bulk of what would have been Wisconsin's largest dollar increase ever to address homelessness is stuck in the Republican-controlled state Senate with only days remaining in the current session.
If the bills don't pass, they'll have to be reintroduced in the 2021-22 session, leaving prospects for the bipartisan series of bills in doubt.
The Legislature's GOP-controlled budget committee could also take special action to release the funds, but that is seen as unlikely.
If the bills fail, "it would be such a lost opportunity," said Joe Volk, executive director of the Wisconsin Coalition Against Homelessness.
The challenge is daunting: About 22,000 people in the state received homeless services in 2018. In one night in January 2019, volunteers counted 4,538 homeless adults and children, excluding those doubled up with others. And the state identified 18,854 homeless students in the 2017-18 school year.
A series of bills based on recommendations by the state Interagency Council on Homelessness created in late 2017 and initially chaired by then Republican Lt. Gov. Rebecca Kleefisch were passed overwhelmingly by the GOP-controlled Assembly last year and echoed in Democratic Gov. Tony Evers' first budget.
But the eight bills, which would provide $7.5 million in additional spending over two years, initially stalled in the budget committee and seven of them still haven't made it to floor of the GOP-controlled Senate for a vote. The lone bill that passed provides $1 million in additional funding to a grant program that supports emergency homeless shelters over the next two years.
Now, the Assembly has adjourned for the session and the Senate has signaled that its last floor activity will be on March 24-26. But the remaining bills are stalled in three Senate committees chaired by Sens. Devin LeMahieu, R-Oostburg; Chris Kapenga, R-Delafield; and Andre Jacque, R-DePere.
The Senate has so far given no indication it would take up the bills before they pass out of committee, and the budget committee won't release the money until the bills pass the Senate, interagency council director Michael Basford said. Senate Republicans are caucusing this coming week to shore up the final legislative calendar.
"All of this work, all of this agreement, is basically thwarted by three or four senators," Volk said.
In interviews, Democratic Gov. Tony Evers and Assembly Majority Leader Jim Steineke, R-Kaukauna, who sponsored and has become a strong advocate for the series of bills, held out hope that the Senate would act and vowed to resume their efforts in the next budget and legislative session if it doesn't.
Senate Majority Leader Scott Fitzgerald, R-Juneau, did not respond to a series of email questions about the legislation, providing a written statement instead.
"I've said multiple times that the Senate had an issue with the total price tag of the package," he said. "Despite that, I'm happy that we were able to pass new funding that the Joint Committee on Finance released just weeks ago. I'm certain that this is an area that the next Legislature will continue to study."
Jacque, whose committee forwarded the emergency shelter bill, said members take issue with specific elements of the other bills. "I think everybody cares about homelessness as an issue," he said. "(But) how do we make sure we're spending money in the right way? Details matter."
LeMahieu did not respond to requests for comment, and Kapenga was out of the country and unavailable for comment.
Evers said he had hoped for a bipartisan approach to addressing homelessness, but "at this point in time, the Republicans own it," he said."They're playing with people's lives."
Hope, disappointment
In the past three years, after a lack of leadership and inaction by both parties spanning decades, the Assembly and Senate created the Interagency Council, which in late 2018 produced an action plan that was seen as the state's most coordinated blueprint to combat homelessness. It recommended to more than double the state's comparatively meager $3.3 million in annual direct funding for homeless programs.
At the time, Wisconsin's direct spending paled next to Minnesota's $44.3 million and Illinois' $49.5 million, the Wisconsin Coalition Against Homelessness said.
In early 2019, Steineke and Republicans introduced legislation that mirrored recommendations in the council's action plan, and Evers funded the moves in his proposed biennial budget for 2019-20.
But in May, Republicans on the budget committee blocked the plan. Instead, voting along party lines, members set aside $7.5 million over the next two years for anti-homelessness measures, slightly more than Evers sought, but detached the funding from specific programs.
In June, the Assembly approved the package of eight bills, but the legislation stalled in the Senate, with advocates trying in vain to get them passed before winter's cold arrived. In January, the Senate approved and Evers signed the bill to deliver the $1 million for homeless shelters. The budget committee the next month approved a funding change under which money for the bill from the state's general fund would be repaid by a Wisconsin Housing and Economic Development Authority surplus.
But since then, not much.
The Senate's Utilities and Housing Committee, chaired by LeMahieu, held a hearing on four of the remaining bills more than 200 days ago but has not scheduled a vote, Basford said. The Public Benefits, Licensing and State-Federal Relations Committee, chaired by Kapenga, held a hearing on a bill before it more than 180 days ago and has no further meetings scheduled. The Local Government, Small Business, Tourism and Workforce Development Committee, chaired by Jacque, hasn't acted on two other bills.
"Who would have thought a Republican governor's modest proposal sponsored by the Republican Assembly majority leader would get hung up in the Senate," Volk said, referring to former GOP Gov. Scott Walker, under whose administration the bills originated.
Steineke said he doesn't buy arguments about cost, noting the money already set aside, the $7.5 million price tag is 0.009% of the $81 billion biennial budget, and that GOP lawmakers voted for a $250 million tax cut that Evers vetoed in late February.
"It doesn't wash with me that it's a fiscal issue," Steineke said. "We can have a big impact and do it in a way that's respectful of taxpayer dollars. We can show we're saving taxpayer dollars in the long run."
More frustrating, "We've never had a policy debate," Volk said, adding that skeptics and opponents haven't offered ideas or amendments. "It's just been nothing."
Some, Volk said, seem to believe spending money on programs attract more homeless people and produce encampments like those seen in large cities on the West Coast. Antagonism between the Senate and Assembly leaders may also be a factor, he said. Others note that the homeless are not a constituency that votes.
Jacque said the emergency shelter bill emerged from his committee after changes were made to let domestic violence shelters access funds and that he's given the other bills before his committee "a fair shake" given feedback he's received.
Broadly, "communication between the Assembly and Senate has been a bit lacking," he said.
Steineke said he hopes the Senate can at least pass some of the bills while holding off on those that generate the most concerns. "We'd be happy with anything at this point to keep the momentum," he said.
But Evers, Volk, Steineke, and Basford said they believe all the bills would pass with overwhelming support if allowed to the Senate floor.
Not going away
If the legislation dies, it will be "a huge defeat," Volk said.
"The issue isn't going to go away," Steineke said. "I'm committed to coming back next session to reintroduce the package of bills that don't get passed. I'm willing to make changes, if necessary."
Steineke's willingness to be a champion is critical because proposals from Evers would likely die in the current polarized environment, Volk said.
The coalition will continue pushing to get these bills and others passed, and the governor should use his executive power whereever possible to reduce the number of homeless people, Volk said.
Meanwhile, the Interagency Council will continue its work, Basford said.
"We are going to continue our work to better connect state agencies with (care coordinators) as well as provide technical support to agencies and communities, to provide services to homeless individuals and families to move people into housing as quickly as possible," he said.
Also, efforts will be expanding in the areas of rural homelessness, affordable housing development in urban and rural communities, and helping children and families, Basford said. "As we develop our plans, we look forward to working with legislators on both sides of the aisle to help Wisconsin's most vulnerable people," he said.
In addition, "we are in the process of working with (the Department of Health Services) and local agencies to quickly develop a protocol in the event COVID-19 has a serious outbreak among the homeless in Wisconsin," he said.